Congratulations to the users of the Apple devices who are running their devices on iOS 6.0 or 6.1, can now jailbreak their device using the Evasi0n untethered jailbreak for iOS 6 devices to fully unlock their devices from any security locks that Apple had put on them.
Today, just hours ago, a self-motivated team of hackers calling themselves as the Evad3rs Team has released the untethered jailbreak for iOS 6 devices. With the passage of time, the process of jailbreaking has become even more difficult because Apple has now implemented more security measurements to reduce the access to the boot ROM of the device that actually is the basis of all this jailbreaking stuff.
For those that are not familiar with the jailbreaking concept – it is basically a process that unlocks your device for third party application installations that are restricted by Apple, through a source called Cydia. The application ranges from small tweaks and widgets to huge games and applications for free.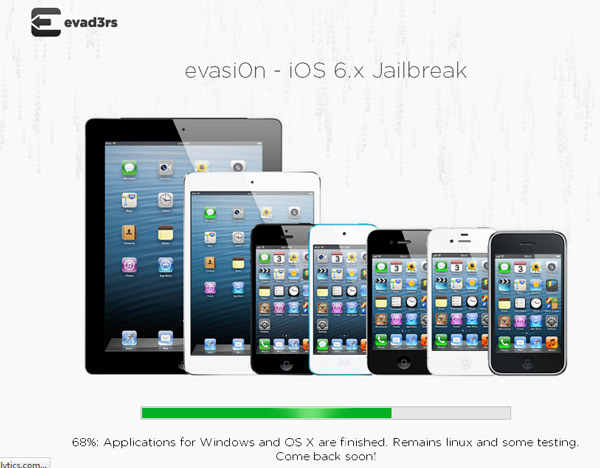 According to a recent report by jay Freeman, who is the owner of the Cydia store, has confirmed that over 22.8 million devices are running the Cydia service on them. Although this number is fairly small when compared to the total 500 million iOS users but still it is not negligible. More or less, whenever a new jailbreaks comes on spot, Cydia breaks new record in numbers which clearly shows the increase in number of people relying on the jailbreaking method.
Evasi0n untethered jailbreak for iOS 6 devices can be downloaded from this link. There are few things that should be taken care off before starting the actual jailbreak process
Requirements
In order to successfully complete the untethered jailbreak for iOS devices, you need to have the following
Windows Xp, Windows Vista, Windows 7 or Windows 8
Mac OS x 10.5 or higher
Any iOS device running iOS 6.0 or later
A USB cable to connect your device to the computer to start the jailbreaking process
Instructions before trying the untethered jailbreak for iOS 6 devices
Before you start jailbreaking your device, make sure to do the following things
Backup your device data using iTunes Software
Disable the passcode lock on your device
Do not perform any iOS or iTunes related operation until the Evasi0n jailbreak completes
If, for any reason, the process gets stuck somewhere during the jailbreak, reboot your device by holding down Power and Home until it shuts down
If you really want to thank anyone for the untethered jailbreak for iOS 6 devices, then the people you are looking for – the @evad3rs are @pod2G, @planetbeing, @MuscleNerd, and @pimskeks.
Disclosure: We might earn commission from qualifying purchases. The commission help keep the rest of my content free, so thank you!