Epomaker might be an unknown brand for many of us, however, they have some widely popular mechanical keyboards on Amazon. Among them, the Epomaker SK61 is probably the best-selling keyboard and the Epomaker AK61 is its successor. In this post, we are checking out the brand new AK61 mechanical keyboard.
Disclosure: I received the Epomaker AK61 in exchange for the review. We spent time testing the product to make sure this review is honest and unbiased.
Unboxing & Typing Test
Features & Performance
Epomaker releases 2 versions, which are the AK61 and AK61S, with the latter supporting Bluetooth 5.1 wireless connection. The unit in this review is the AK61 with Gateron optical switches which is available for around $60 on Amazon. This is the wired version, so you will need to use the included USB Type-C cable to connect to your computer.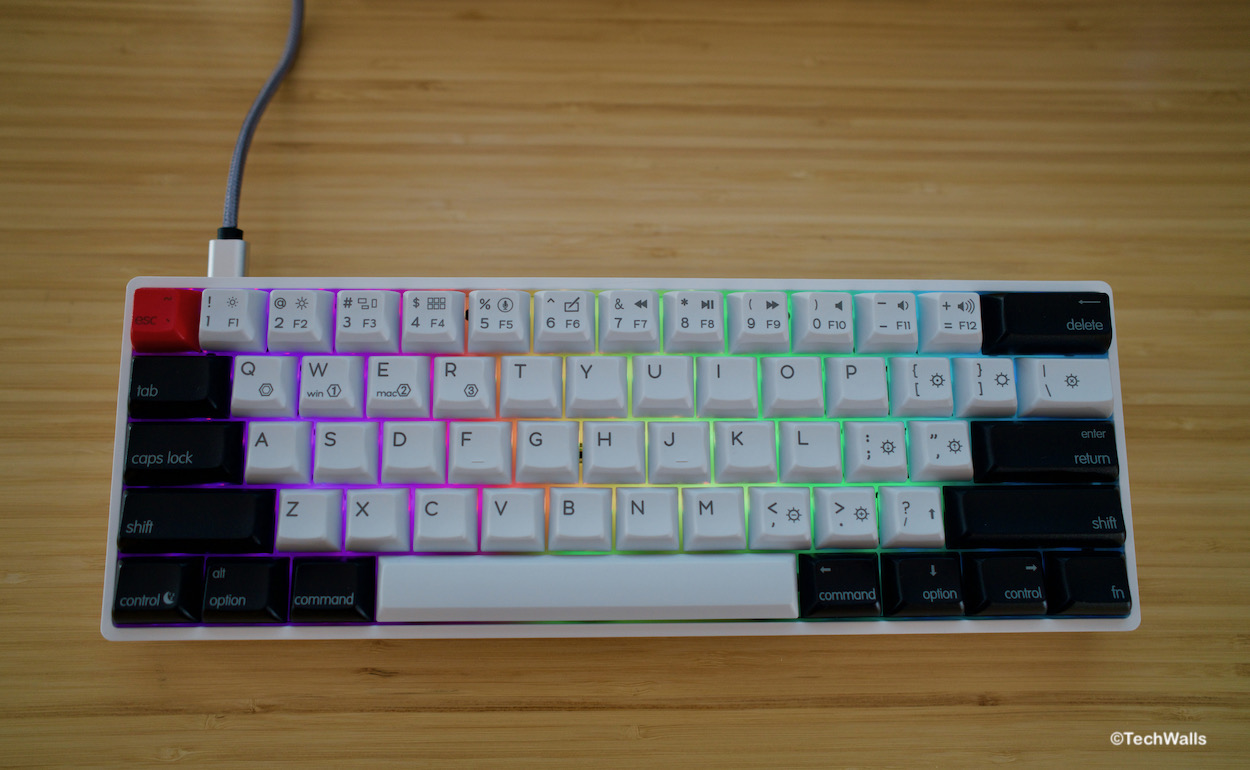 The AK61 has an amazingly small footprint, thanks to its 60% layout with just 61 keys. It comes with Mac layout of the box but there are extra keycaps for Windows, so you can make the switch easily. This is my smallest mechanical keyboard ever; My previous one was the Keychron K6 with 65% layout and 68 keys. Epomaker achieves this compact design by combining Function keys with number keys, arrow keys with some keys on the right side, and remove less-used keys like page up, page down, and home.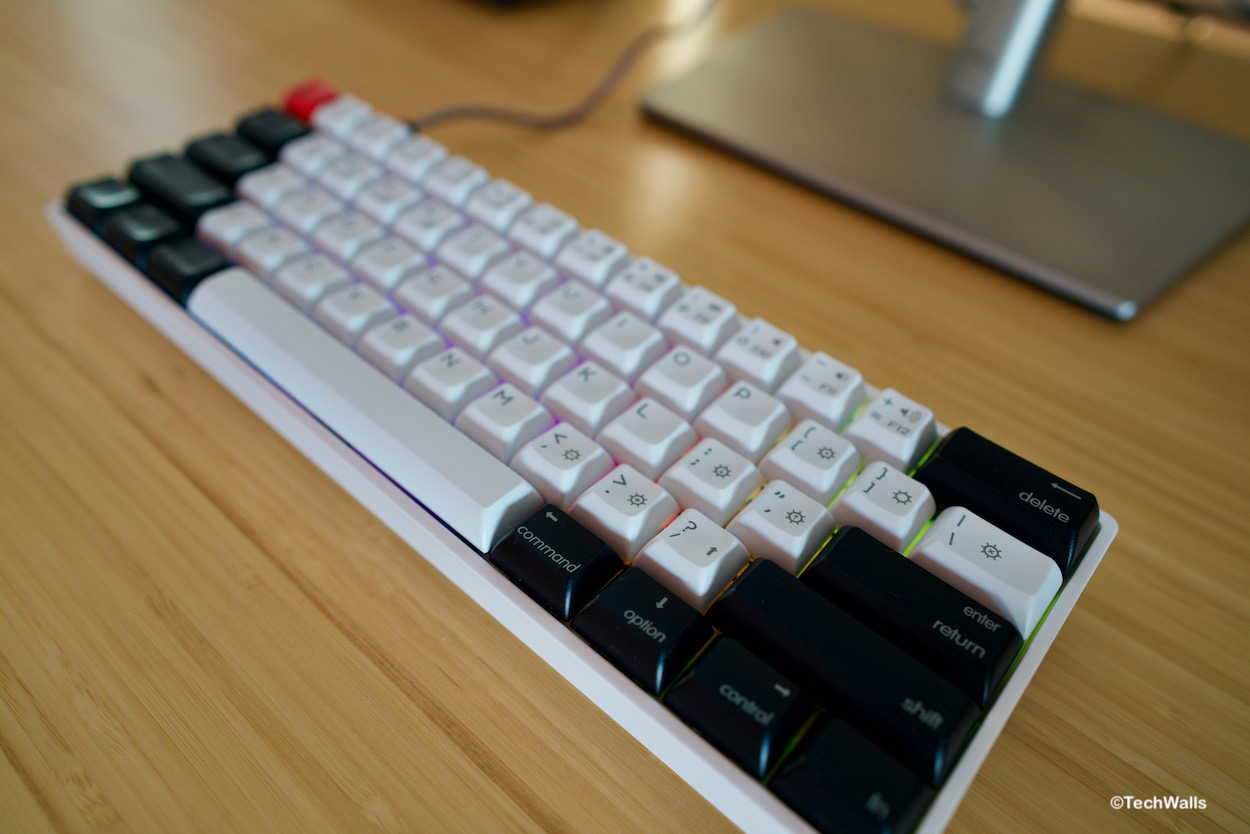 Instead of removing the arrow keys completely as seen on the previous SK61, the AK61 integrates them into command, option, control, ? keys on the right side. To use these arrow keys, you also need to press the Fn key at the same time. I appreciate the change because I am still using arrow keys frequently when writing and working with documents. Having said that, I won't recommend this keyboard to gamers because they would need separated arrow keys.
The keyboard's chassis is made of plastic but it feels very sturdy. I really like the choice of white/black color with red ESC key because it makes the look more modern. Epomaker uses PBT keycaps for this keyboard; They are proved to be sturdier and oil-proof after a long period of usage. The keycaps are durable but they are not laser-etched to let RGB light shine through like ABS ones.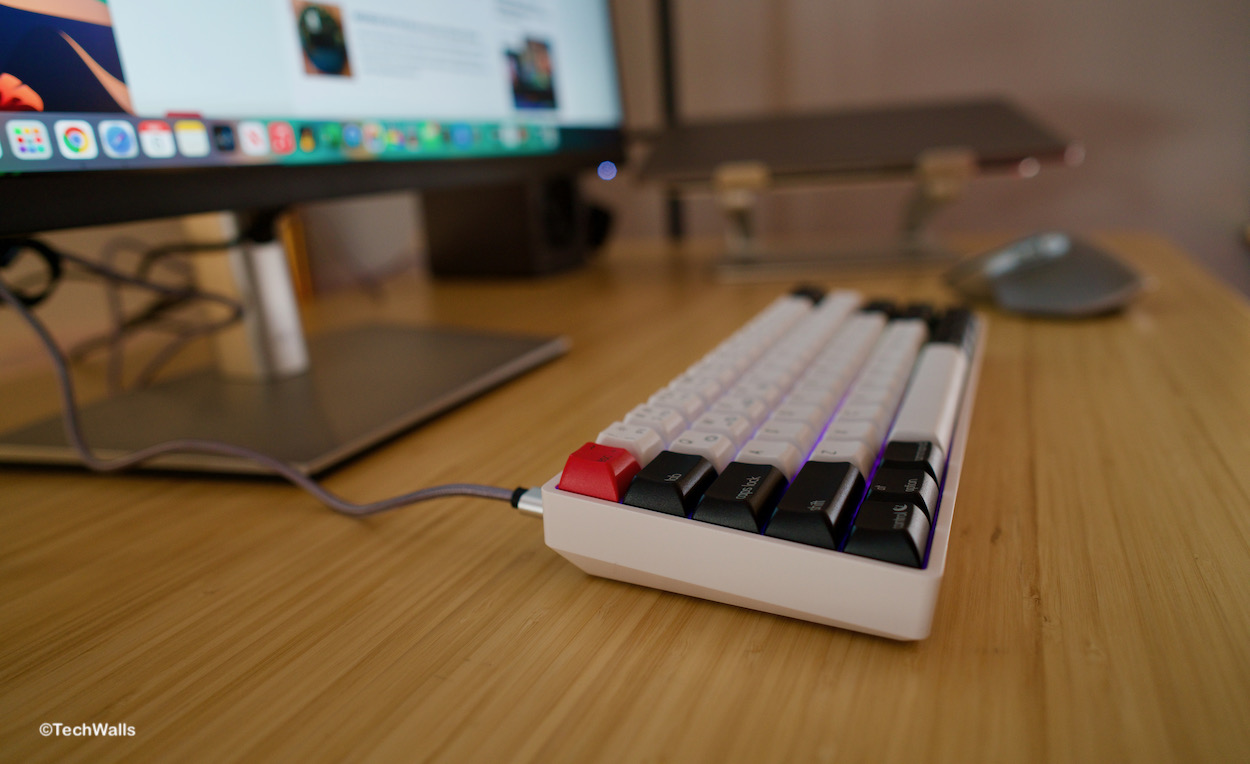 The AK61 is equipped with RGB SMD light with more than 16.8 million and you can even sync it with music in the music rhythm mode. Advanced users will also appreciate the N-key rollover and 3-layer programmable mode (user-defined mode, macOS mode, and FNX adjustable Function define mode).
Another notable feature is that the AK61 uses Gateron optical switches; You can choose among black, blue, brown, and red switches. As compared to mechanical switches, the optical switches are supposed to have longer lifespan and lower actuation force, which can be important for gamers. The Red switch is fairly quiet and doesn't have tactile feedback, therefore, it can be suitable for office use. Moreover, the switches are hot-swappable, that means you can alter the switches easily without soldering.
A similar keyboard with hot-swappable Gateron optical switch often costs from $70 to $90. Therefore, the Epomaker AK61 is a great value in my opinion.
Disclosure: As an Amazon Associate, I earn from qualifying purchases. The commission help keep the rest of my content free, so thank you!