When I was a kid, a vinyl record player was always a piece of technology in my dream because it was so beautiful and expensive at that time. It's been more than 20 years since the last time I touched a turntable.
The product I'm going to review in the article is much more compact than what I saw earlier. Let's check out the Electrohome EANOS700 Signature Retro HiFi Stereo System with record player.
Unboxing Video
Design & Features
Although this is a very new product, Electrohome managed to design it like a vintage one. The retro design is represented by the natural wood exterior with walnut finish, bronze-plated buttons and knobs, and the old-fashioned lighting style. Take a look at some product images below, I'm pretty sure you will love it at first sight.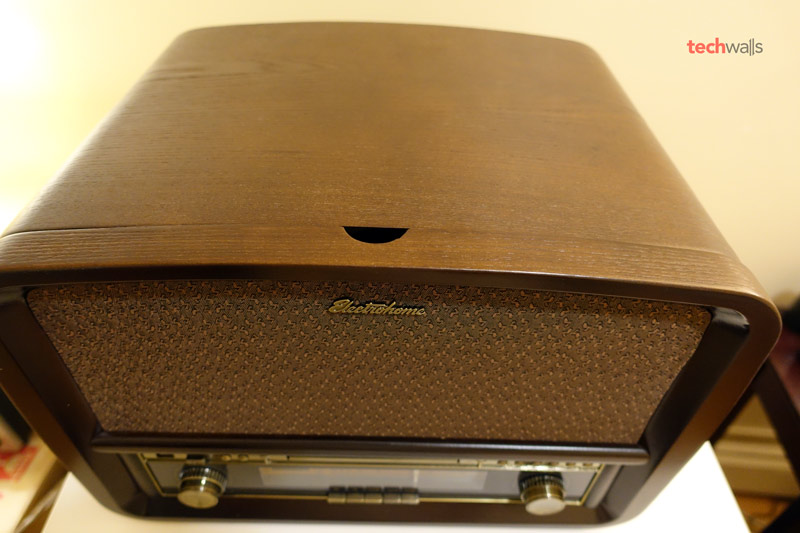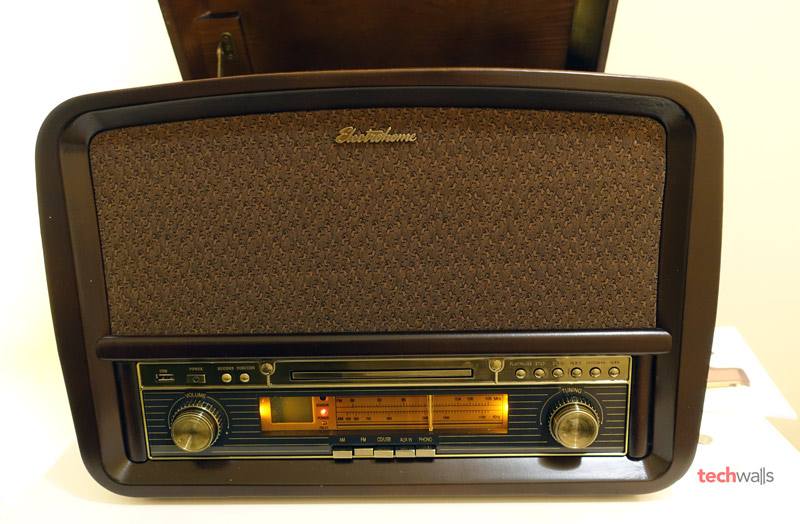 Inside the box, there are the player, remote control, a 3ft 3.5mm Auxiliary Cable, a 45 RPM Adapter and instruction manual. Lifting the lid on top will reveal the belt-driven turntable. I don't really like the phonograph because some of its materials look cheap. For instance, the needle-housing and the base of the piece are made of plastic. The platform seems quite wiggly and unstable everytime I try to press it.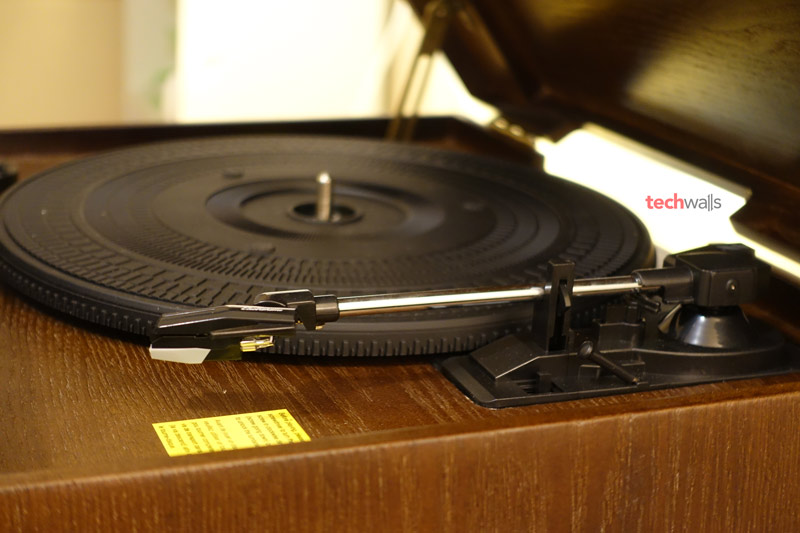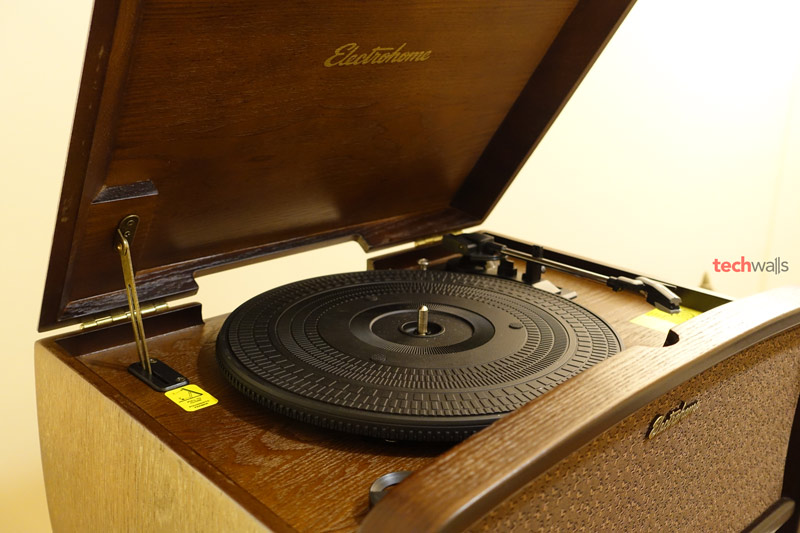 On the front of the system, you can find 4 speakers hidden under the grille and all controls are placed right below. There are a CD drawer, USB input, volume knob, power button, record button, function button, a display, AM/FM/CD/USB/Phono/AUX in, UP/P-P, Play-Mode, Open/Close CD Tray and Play/Pause buttons.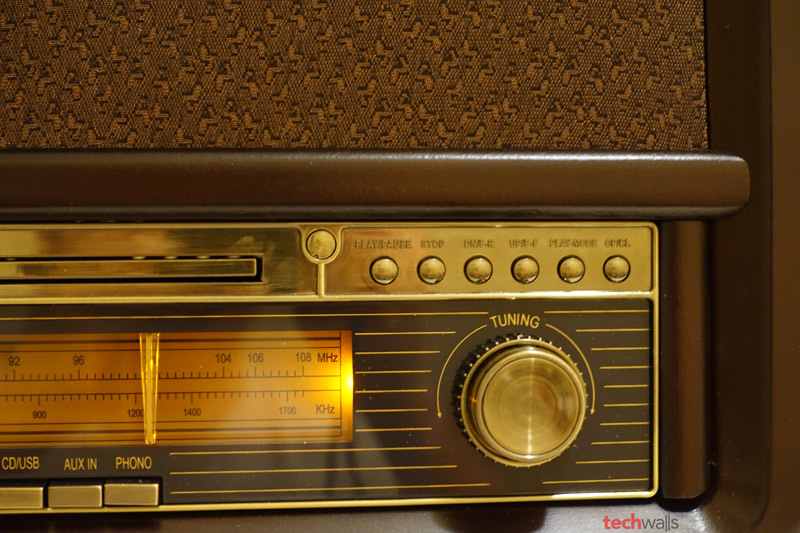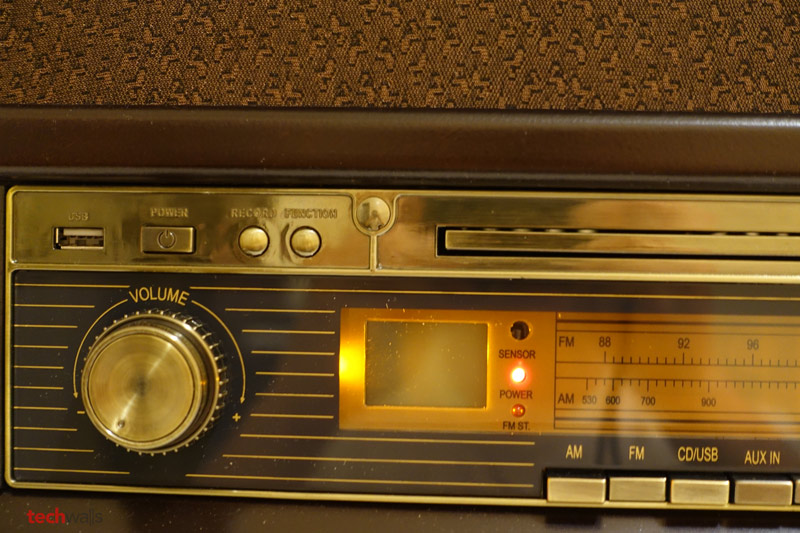 The system boasts of playing your entire music collection as you can play vinyl records, AM/FM radio, CDs, music from your USB and any audio source via the 3.5mm auxiliary input. Unfortunately, there is no Bluetooth or other Wireless technology. The system also offers the functionality of recording vinyl album directly to MP3 files on your USB drive, so you don't need to connect it to your computer to do the task.
Audio Quality
The Electrohome EANOS700 seriously failed in the section. As soon I turned on the system, it literally blew out. I heard an explosion from the inside and the smoke and smell came subsequently. After that, there's been always a very loud and consistent buzzing sound, even when I don't turn on any music. You can watch the video below to see the issue.
I guess my system can be defective or damaged during shipping because the product is highly-rated on Amazon. Unfortunately, I couldn't conduct a sound test because my unit is totally unusable.
Conclusion
Pros
Nice retro design.
Affordable
Cons
Some cheap components.
Defective
I can't recommend this product because my unit is defective, but give it a try if you can because many other customers are satisfied with the purchase.
Disclosure: We might earn commission from qualifying purchases. The commission help keep the rest of my content free, so thank you!