Do you often watch movies on your smartphone on trips? Do your kids watch their favorite cartoons on their iPads? I'm afraid the answers to both questions are yes. Then here comes the next question, where do you usually get the movies to watch on smartphone, and what about the kids on their iPads? You cannot always buy videos from Netflix or iTunes, don't you?
Now here is a solution for you. With a DVD ripper software, you can easily convert your DVDs at home into smartphone or iPad ready videos for you to watch on your trips, or for the kids after school.
When it comes to converting DVDs for mobile and portable devices, the DVD ripper software from Fengtao Software Inc is always a better solution. As a company dedicating to this field for over 13 years, its products receive very high rankings from millions of users around the world. Recently, the company just unveiled its 10th generation product line known to many as DVDFab 10, which is where the notable DVD ripper software belongs. Now let's see what this leading software can do.
What Does DVDFab DVD Ripper Do?
As suggested at the very beginning of this article, DVDFab DVD Ripper helps users to rip or convert their DVDs into versatile video files with appropriate formats to watch on many portable and mobile devices, like smartphones, tablets, PDAs, game consoles, and any other media playback devices, even some 3D ready devices. This is to say, as long as you have a device at hand ready to play back videos on, then DVD DVD Ripper can turn your DVDs into correct formats it accepts.
Do We Need a 3rd Party Decrypter?
Good question! As we all know, in the name of protecting copyright and fighting piracy, movie industry applies CSS copy protections on each and every DVD disc released by the movie studios. However, we believe people have the right to convert their money-purchased DVDs for their non-commercial home use. In order to help users with that purpose, the first thing DVDFab DVD Ripper needs to do is to break the copy protections on the DVDs before stepping any further. Luckily enough, DVDFab DVD Ripper has the decryption ability on its own, meaning users won't need any 3rd party tools for that target, it can handle all the known DVD protections, region codes and even the enhanced region codes. So, decryption is not a problem to worry about.
How Does It Process the DVDs?
DVDFab DVD Ripper has a very large collection of pre-configurations they officially called Profile Library where almost all the mainstream smartphones and tablets made by the major manufacturers are listed as supported devices, such as Apple, Samsung, Motorola, LG, BlackBerry, SONY, NOKIA and many others. The benefit of these pre-designed conversion configurations is that users do not need to set up all the complex parameters on their own, all they are required to do is to pick out the device and the let the software accomplish the rest.
Don't worry about the video quality when playing back the videos on the selected device, because developers have run enough tests at their labs. Only after they are sure the playback is absolutely okay, can the conversion profile make its way to the profile library. On the other hand, if you are a tech savvy who knows video and audio encoding and decoding quite a lot, and it happens that your device is not yet listed in the library, then there is no need to panic either. Apart from all the devices, users can also convert the DVDs into specific video format, and all the popular and peculiar formats are also available from the profile library. Simply click clicking the Video tab under the Format section from the profile library. Any possible video format you can think of is there.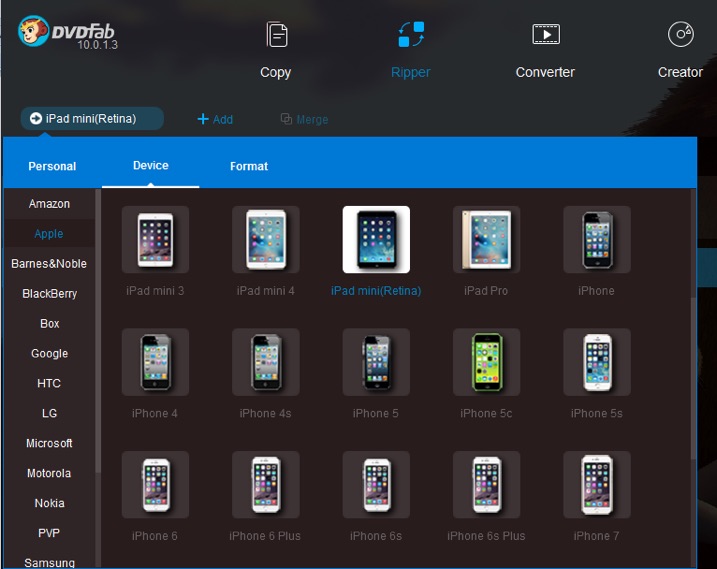 Many Custom Settings of Your Choice
One good reason of being an expert is that one can feel free to customize the video and audio settings to meet his very special needs. As far as this is concerned, DVDFab DVD Ripper shall not disappoint this group of users. The software offers quite many settings for users to customize, such as the codec, encoding method, resolution, bitrate, frame rate and output size regarding the video, or the codec, channel, sample rate, bit rate and volume regarding the audio, as well as the way to handle subtitles. My personal suggestion is that if you do have a very clear idea of what a slight change means to the output video, then you can go. Otherwise, don't mess up with all the settings here at the advanced settings panel, because you might very likely end up with a problematic video, either there is no sound but video, or could be the opposite. So do be careful.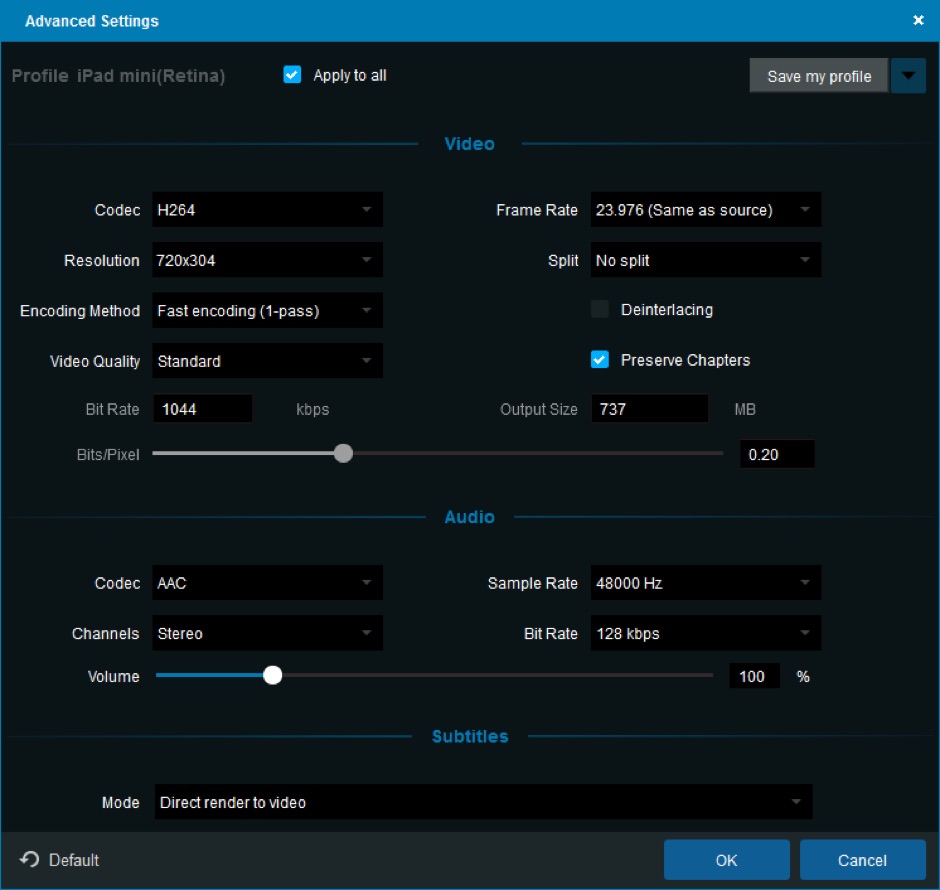 Besides the Advanced Settings panel, users are also given the freedom to accomplish many other settings at the video effect settings panel, such as trimming the video for the wanted clip, cropping the video to show the desired part on the screen, adding an external subtitle stream to go with the video if there is no matched subtitle from the original, embedding some text or picture watermark into the video, even adjusting the contrast, brightness, and saturation of the video.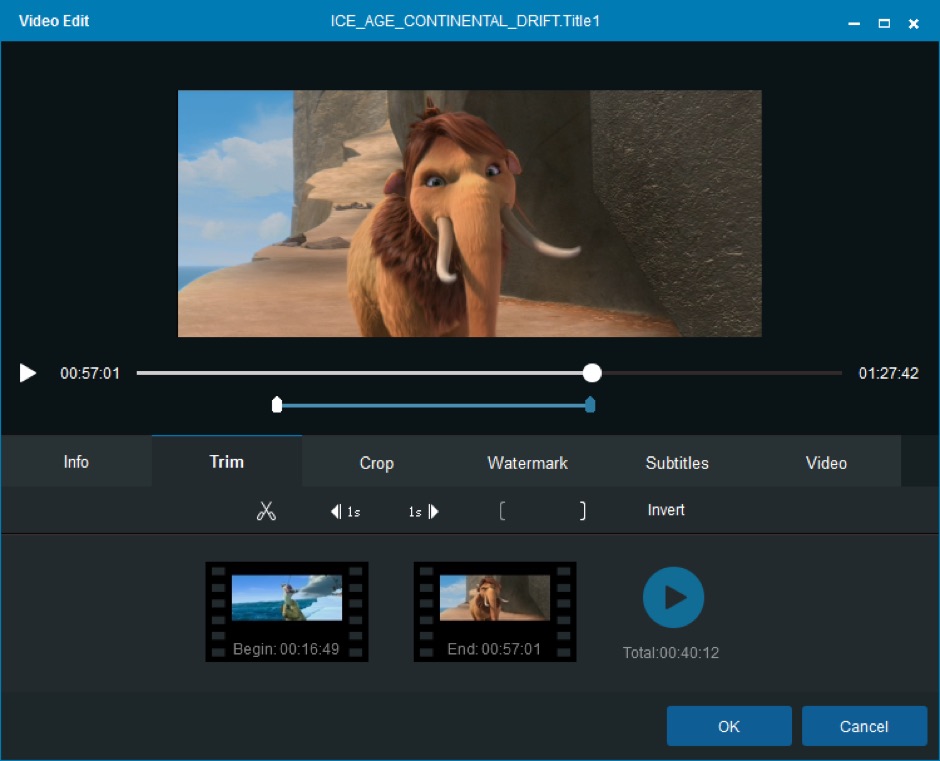 A Very Necessary Plus Option
Occasionally, some users might come across the need of converting the DVDs into audio files so that they can listen with their iPod music players. For example, campus students of foreign language schools who want to practice their listening skills may want to convert the listening materials on the DVDs their professors handed out into iPod compatible audios. When this is concerned, DVDFab DVD Ripper has a very useful plus feature which allows users to extract the audios from the DVDs and convert them into iPod-ready audio formats, or some other common audio formats such as WMA, WAV, MP3, FLAC, AAC etc, all they need is to select the correct video format from the Audio sub-section of the Format section from the Profile Library. What's more, if the music playback device they are using is capable of high definition audio playback, they can also choose to preserve the original quality of the extracted DVD audios, and to do that, just use the AudioCopy profile which should do the trick nicely.
Summary
To summarize this hands-on, DVDFab DVD Ripper has been in the leading position in its field for many years in the past, and with the newly released DVDFab 10, its crown title is further consolidated. It has become the indispensable DVD ripper software for millions of DVD movie lovers who use it on a regular basis. We have enough reason to believe that in the foreseeable future, it (be it DVDFab 11, DVDFab 12 or whatever version by then) will remain to be the best shot money can buy on the market, as behind the scene, there are hundreds of world's best developers constantly making improvements, and bringing in more robust features into this amazing tool. If you want more detailed information, or cannot wait to get yourself a copy, its official website is available at dvdfab.cn. The DVD Ripper software is being offered at very compelling prices varying from $49 to $74.9, depending on what license terms you choose.
Disclosure: As an Amazon Associate, I earn from qualifying purchases. The commission help keep the rest of my content free, so thank you!