Miss the old flip phones in the old days having two displays? A Russian company just came up with their new smartphone called the YotaPhone.
This smartphone is very different from all the other creative smartphones in the market consisting of a secondary e-ink display which is always on at the back and a primary display at the front, basically it's a smartphone with two screens.
YotaPhone was a concept phone a year back and is was voted as one of the best products at CES 2013. After a year of development the company is finally ready to start shipping the smartphone. The YotaPhone consists of a 4.3-inch display having a resolution of 720×1280, Dual core 1.7 GHz Snapdragon S4 processor, 2 GB RAM, 32 GB memory, 13MP camera and an 1800mAh battery.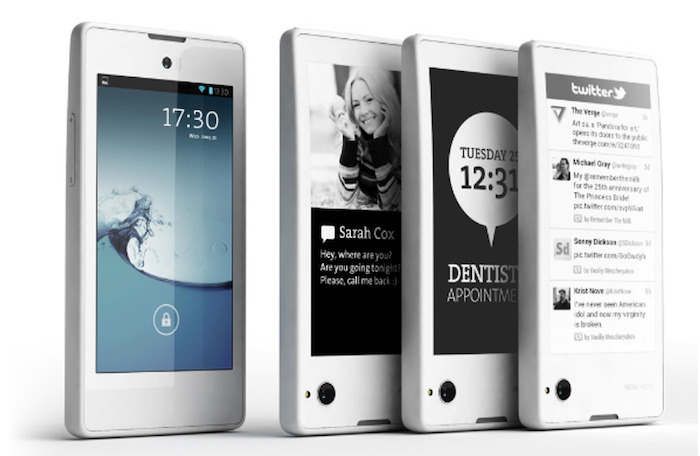 Now let's get to the really exciting part, the e-ink display on the back of the smartphone which is also a 4.3-inch display. It is a monochrome displays which looks good and also conserves the energy and because of its low power consumption property YotaPhone is using it as a notification center, so you do not have to turn your main screen on, again and again. E-ink display is also visible in direct sunlight so you won't have any viewing problems. The resolution of the screen is 360 x 640 supporting 16 scales of grey. You cannot interact with the screen much as it will only refresh the notifications from the smartphone like your messages and apps like Tweeter but there is a touch screen below for gesture controls. The company have made some apps specially designed for the e-ink display and what's more exciting is that e-ink display has been open to the developers so they can come up with more interactive apps for the smartphone.
For now the smartphone is available for pre-order on their. YotaPhone will launch in Russia starting tomorrow and will be priced around 19,990 rubles and will also be available in Europe, in countries like Germany, France, Spain, Austria priced at €499. As for markets like Asia and America the company hasn't shown any interest and maybe with time they too will get the smartphone.  Pre order from their official website.
Disclosure: As an Amazon Associate, I earn from qualifying purchases. The commission help keep the rest of my content free, so thank you!