I've always wanted to make backups of my old photos, my notebooks and CD covers but I hesitated to buy a scanner because most of the scanners are quite bulky and complicated to set up. Therefore, I was very excited when folks at Doxie sent me their new portable scanner, the Doxie Flip.
Scanning has never been easier and I really love using the device. I will tell you why in this review.
Unboxing Video
Design and Features
The Doxie Flip has the size of a 10-inch tablet, but thicker. This is one of the most compact and lightweight flatbed scanners as I know. It weighs just 1.26 lbs and measures 10.23″ x 6.46″ x 1.34″, therefore, I have no problem carrying it with one hand.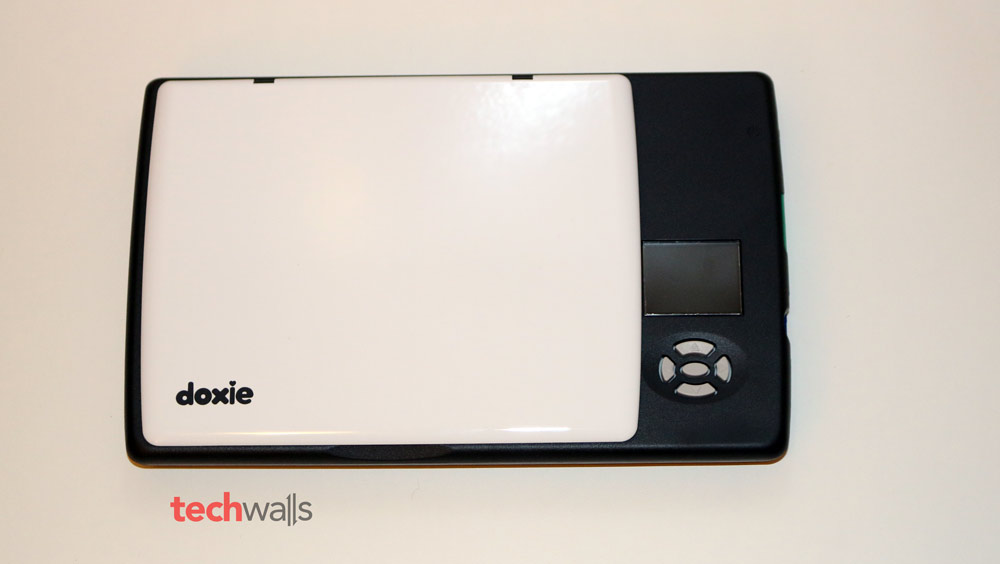 The Doxie Flip features a removable lid which makes the product much more flexible to scan your documents. You can open the lid and place your documents face down on the transparent window to start scanning. Or you can remove the lid, turn the Flip over, place on any surface you want to scan and press the button. Everything is so easy and there is no need to set up or connect the scanner to your computer.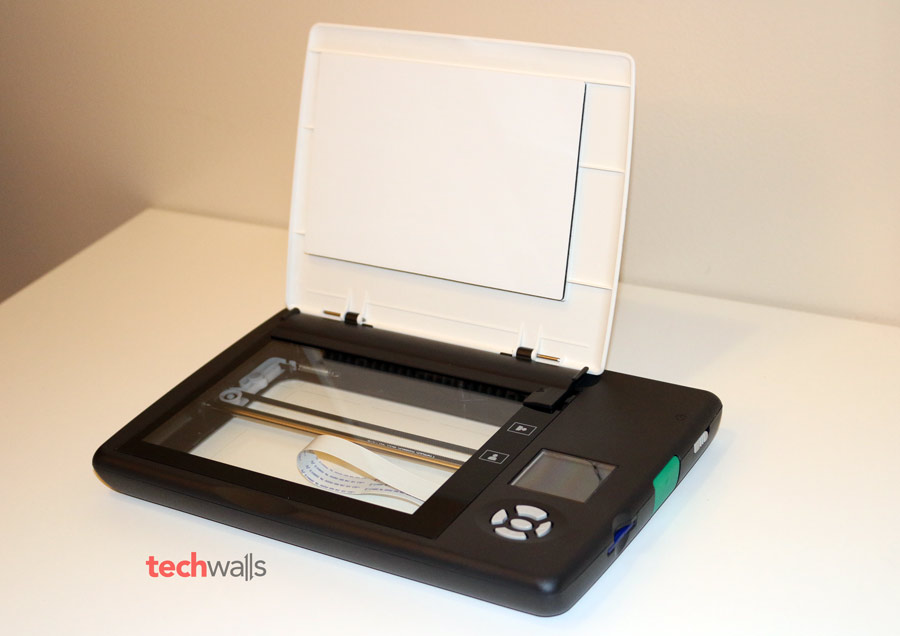 Just put your item/document on the scanning surface, press the green button on right side and you are all set. You can also adjust some settings like choosing resolution, setting sleep timer or preview your scanned images on the little screen right beside the scanning surface. The screen is tiny and has very low resolution, so you almost can't see details of your images. To check and save your scanned images, you will just need to pop out the included 4GB SD card and insert it to your computer.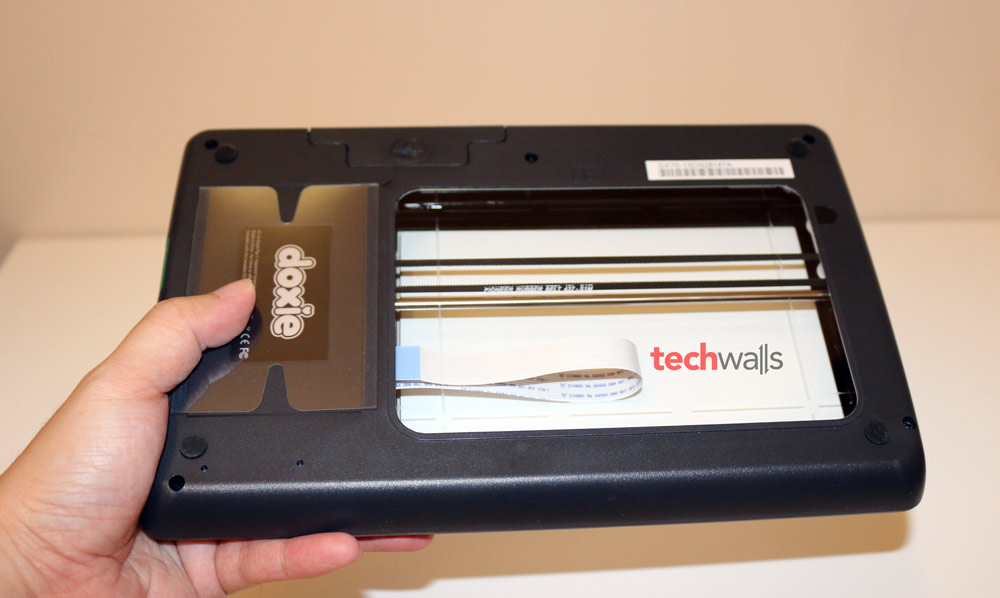 The Flip is powered by 4 AA batteries which is enough to scan over 200 images at 300 ppi. So, the scanner is completely cordless but I still prefer a rechargeable battery because I has a huge amount of documents and I also don't want to bring some spare batteries while I'm traveling.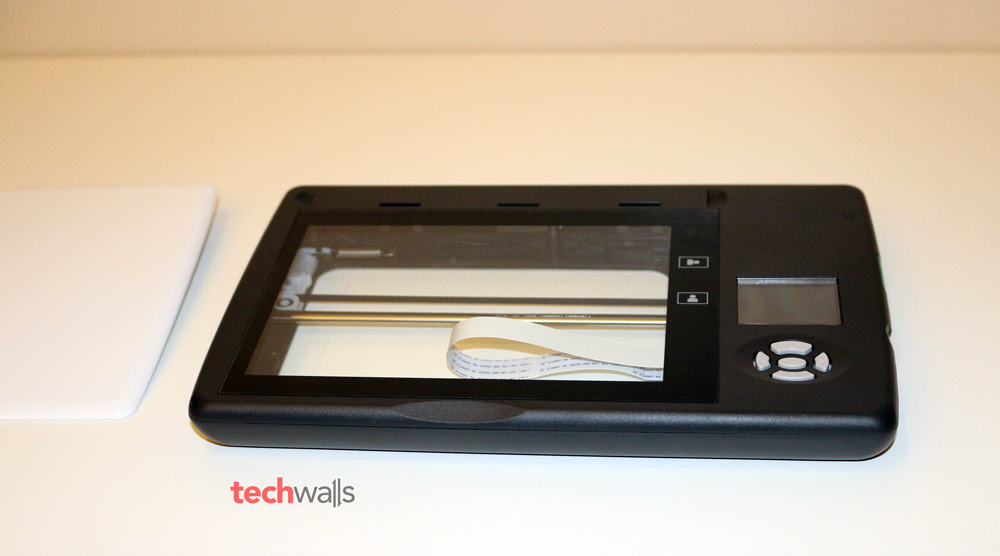 The scanning surface of the Flip can scan 4″x6″ photos and documents but you can install the Doxie software to use the AutoStitch. The feature will help you combine multiple scans to one image, so you will have no problem scanning big documents at all. You can check out some sample images below, one of them is the result of the AutoStitch feature, can you spot it?
How to Scan Documents with the Doxie Flip
Image Quality
Most of documents were scanned at 600 ppi and I was quite amazed at the quality. I scanned different documents like photos, magazines, postcards, fabrics and even my hand. The output images have excellent quality, they are bright, clear, high-res and have a good amount of details. The only problem is that they don't have accurate colors, the images are much brighter, so we may lose details sometimes. However, this happens on most scanners as it is almost impossible to retain the colors of the originals. You can see some scanned images below.
Conclusion
Pros
Compact and lightweight design.
Completely cordless.
Easy to use, no setup required.
Can scan almost any surface.
The Doxie app has some helpful features like Stitch or Staple.
Brilliant image quality.
Cons
Colors of scans are not accurate.
Still too big to carry around.
The Doxie Flip is on sale on Amazon for $149. If you want to digitize your old photos and documents, this is really a great choice.
Disclosure: As an Amazon Associate, I earn from qualifying purchases. The commission help keep the rest of my content free, so thank you!