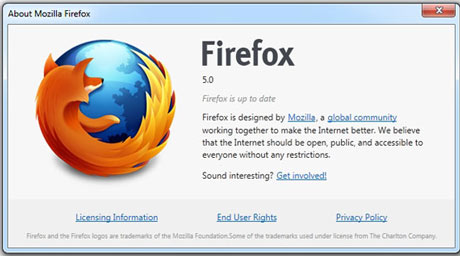 After the release of Firefox 4 three months ago, Mozilla has released the official version of Firefox 5 which is scheduled to launch tomorrow. And in the next 2 months, there will be also the Firefox 6 beta available.
Mozilla Firefox 5 will be officially released on June 21, however, it has been already available on Mozilla's servers and can be downloaded now. The new version has similar user interface as Firefox 4, there are some under-hood changes as follows:
Support for CSS transitions.
The option Do Not Track is moved to a more visible place.
Improved networking performance, canvas, JavaScript and memory usage.
Improved support for HTML5, XHR, MathML, SMIL and canvas.
Enhanced spell checking for various languages.
Increased integration on Linux.
Performance improvements for background tabs (by increasing the setTimeout and setInterval from 10 ms to 1000 ms).
WebGL fixes: a fix for cross-domain textures.
With the launch of Firefox 5, Mozilla will stop supporting Firefox 3.5 which is nearly 2 years old. Firefox 3.5 users will probably be forced to upgrade to 3.6.18 when Mozilla announced the official Firefox 5.
You can download Firefox 5 from the Mozilla FTP server.
Download Firefox 5 for Windows
Download Firefox 5 for Mac
Download Firefox 5 for Linux