How many times have you considered growing Instagram followers, and how many times did you actually go through with it?
I know you've most likely read it somewhere that it's wrong to buy followers. But you're still hell-bent on doing it anyway.
Well, I want to assume that's because you don't know what you're getting yourself into.
In this article, I'm going to show you reasons why you should avoid buying Instagram followers at all costs.
In addition, I'm also going to show you things you can do to boost your account instead of buying followers.
Reasons not to buy Instagram followers
You risk hurting your brand's reputation
You put the integrity and reputation of your brand on the line when you buy followers. How? You wonder.
Imagine you find out that one of your favorite brands is in the business of buying followers to boost their popularity on Instagram; how would you react? You'll definitely lose your trust in them.
Believe it or not, if you buy followers to boost your account, people will know eventually because your account will reflect a poor follower-to-engagement ratio.
Imagine an account with 100k followers getting just 30 likes and 3 comments on their post.
Bought followers are not real humans
Only humans react and engage with Instagram posts. Bots don't. Unfortunately, when you buy followers, the bulk of what you'll get are bots – fake followers who don't engage.
Having bot followers on your account can hurt you in two ways.
One, it can cause Instagram to flag your account and ultimately send you packing off its platform. Secondly, having bot followers who don't engage will affect your posts' reach.
If you don't have healthy levels of Instagram engagement, your content will lose its reach. The Instagram algorithm favors accounts that have high levels of engagement.
Buying followers will cause brands to overlook you for sponsorship deals
If you're an influencer looking for deals on Instagram, buying followers might do you more harm than good.
You're wondering how.
When brands want to hire influencers, they don't just look at the followers' count; they also consider the engagement levels.
Looking at your followers' count and engagement levels, they expect one to commensurate with the other. That is, if you have 10k followers, they expect to see your posts receiving thousands of likes and comments, not meager numbers like 30 likes, 2 comments.
When this is not the case, they sense foul play, and as expected, they jump to the next guy.
Every reputable digital outlet condemns the act of buying followers
Google the phrase "Dangers of buying Instagram followers," and tell me what you find.
Let me guess, a bunch of posts from reputable websites and outlets stating why you shouldn't buy Instagram followers.
Think about it, if names like BBC, Hootsuite, Hubspot, Adespresso, Influencer Marketing Hub, CNET, and the likes could condemn something, wouldn't you agree it's worth fleeing from that thing?
Buying followers will not bring any ROI or conversion
Every business investment is supposed to bring some returns on investment, right?
Well, that's not really the case with buying Instagram followers.
Bought Instagram followers are just there for the numbers. They don't engage. They don't get converted into leads. And they also don't patronize.
By investing in them, you're simply just gathering numbers to make your Instagram profile look more attractive.
Bought followers don't stay on your account forever
Over time, Instagram will purge fake followers off your account. So, if you like, you can buy 100k followers or 1M followers; you'll lose them all with time.
If so, what then is the point of investing in them in the first place?
Honestly speaking, I don't really see one!
What to do instead of buying Instagram followers: Use the Real Growth Technique
Elements of the Real Growth Technique:
Find out what your audience likes to see
Post at least once a day
Study and use quality hashtags
Use Stories effectively
Socialize, like, and comment on other accounts
Buy autolikes
Collaborate with others
Find out what your audience likes to see
Take a moment to check out the accounts of those who're already doing what you intend to do on Instagram.
For example, let's say you want to run a makeup page on IG, go to Google and search for the top-performing makeup Instagrammers. You can also search for relevant hashtags on Instagram like #Makeup, #Beauty, #Cosmetics, etc.
Whatever content type you see on these accounts is most likely the kinds of content people in that niche like to see. It could be behind-the-scenes, photos, live videos, tutorials-, animations, skit videos, etc.
Post at least once a day
Now that you know the kind of content that brings engagement in your Instagram niche make sure you post at least once every day.
According to Visual marketing tool Tailwind, the more often you post, the more likes and followers you get.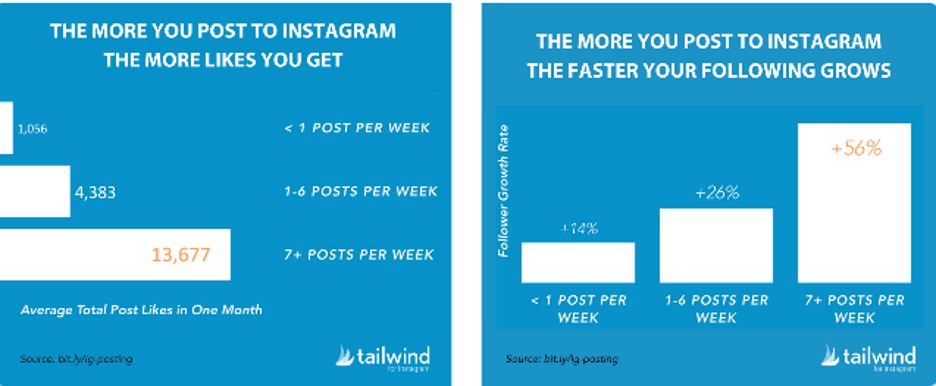 People often forget that the sole purpose of the existence of Instagram is for people to socialize. If you want your name to stick in the faces of users, you need to appear in their feeds almost every day.
If your daily schedule doesn't allow you to be available to post daily, subscribe to an Instagram post scheduling service like Buffer, Hootsuite, or Later.
Socialize, like, and comment on other accounts
The more people you socialize with on Instagram, the more popular you become. The meaning of that is if you know you want to grow your Instagram account, then you must be prepared to socialize more.
Take your time to search for posts that are similar to yours or which belong to niches that align with yours. When you find these posts, like them, comment on them, ask people to follow you (and tell them you'll follow back) and interact with them in various ways.
Buy autolikes
Even if you have all the time in the world, there's a limit to how far you can search Instagram for posts to like and comments on. By the time you search and engage with 100 per day, you may be too tired to continue.
Luckily for you, you can get an autoliking tool to do the job for you.
Instead of spending hours every day searching through Instagram for useful posts to like and engage with, an autoliking tool can find and like posts for you.
All you have to do is provide the system with some custom parameters to work with. Once you do, an autoliker won't stop scouring Instagram for posts relevant to those parameters until it's reached the amount of autolikes you paid for.
To get an autoliking tool to do your heavy lifting for you, you'll need to buy autolikes.
Why go the extra mile to socialize with people?
When you engage with the posts of someone who doesn't know you, they will want to find out who you are.
If you now have shared interests with them (maybe create similar content with them), they will most definitely hit the like button on your posts. And probably follow you, too.
Study and use quality hashtags
Hashtags are the biggest weapon you can use to increase your reach and exposure on Instagram.
Unfortunately, not everyone knows how to use hashtags. People just use them unsystematically.
We're going to change that now.
Although Instagram allows for a maximum of 30 hashtags per post, we recommend adding a maximum of nine per post. This is in line with the suggestion of TrackMaven.
To come up with the right hashtags to use on your post, try free hashtagging tools like Display Purpose, Focalmark, and AutoHash.
How these tools work is that you type in a few words about your photo/video, and the system recommends the top hashtags to use.
Use Stories effectively
Through the addition of the appropriate stickers, Instagram stories can now be used to reach new audiences.
The first kind of sticker is the "Location Stickers."
Location stickers make your stories appear in the public feed for a given location. With location stickers, you can make your stories appear to users in other countries or states who don't yet follow you.
Another kind of sticker is the "Mention Stickers."
You can use this sticker to give a shoutout to another person. Many people appreciate being tagged and gladly repost the story from their own profile, thereby exposing your story to their audience. This opens new doors of opportunity to reach more people.
The third kind of story sticker is the hashtag sticker.
Hashtag stickers work like the location stickers. When you tag your story using a hashtag, users searching for that particular hashtag can also get the opportunity to see your story on Instagram.
Collaborate with others
Another great way to extend your Instagram reach and grow your following is to collaborate with others, either through partnerships or sponsorships.
For example, Buffer once collaborated with Brian Fanzo, founder, and CEO of iSocialFanz, by taking over each other's Instagram Stories. Through the partnership, both were able to provide value to their respective audience and reach a new audience.
If you're in the business of selling mobile phones, you can collaborate with a business selling pouch, phone accessories, etc.
Disclosure: As an Amazon Associate, I earn from qualifying purchases. The commission help keep the rest of my content free, so thank you!