GoPro is set to roll out the three models of its new Hero 4 action camera family in October: the standard GoPro Hero 4, a GoPro Hero 4 Silver and the higher-end GoPro Hero 4 Black. Although the cameras have many similarities overall, there are slight differences that each cater to the needs of different users.
The three models all support the 1440p video resolution for ultra wide field of view on 1920×1440, 4:3 screen, 1880p video resolution for various field of views on 1920×1080 screen, 960p for ultra wide 1280×960, 4:3 screen and 720p for multi-FOV 1280×720, 16:9 screen.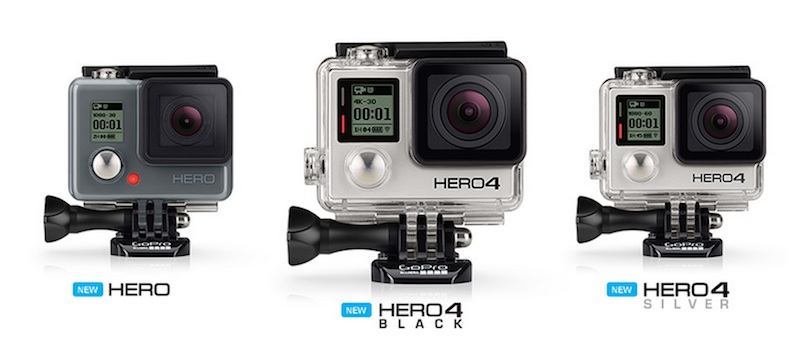 GoPro Hero 4 Black
As usual, the cameras can resist pressure for up to 40 meters underwater on an average. But there are stunning features added to the products' specifications, specifically the introduction of 30 frames per second of recording at 4,000 resolution for the Black model, a big leap from the previous version with only 15 fps.
The GoPro Hero 4 Black is considered the most powerful of the lineup with a new processor that's twice faster than it's predecessor's. It supports the Narrow, Medium or Ultra Wide field of views. Users can changer the ISO limit, exposure and color for videos and images. It's connectivity also supports Wi-Fi and Bluetooth. Those who want the best quality, professional looking videos for sports and action might find this camera the best fit for them.
This $500 camera features a variety of video resolutions with different field of views for a range of screen resolutions: it supports a 4K and 4K SuperView for ultra-wide field of view on a 3840×2160 (16:9) screen, 2.7K and 2.7K SuperView ultra-wide and medium FOV on a 2704×1520, 16:9 screen, and 2.7K ultra-wide video resolution for 4:3 screen resolution.
GoPro Hero 4 Silver
The GoPro Hero 4 Silver is designed for average action scenes. The $400 model sports a touch screen for smoother navigation and preview functions. The image sensor on the Silver supports 12 megapixel images at 30 fps, enough to give you the kind of video quality you want with a 4k resolution video recording for only up to 15 fps. It still has Wi-Fi and Bluetooth connectivity.
This model, however, does not support all of the video and screen resolutions mentioned for the Black version. It only has support for 4K ultra-wide field of view on a 3840×2160 (16:9) screen, 2.7K ultra-wide and medium FOV on a 2704×1520, 16:9 screen.
GoPro Hero 4
The Hero 4 is the entry level version of the camera lineup for $130. Its recording feature supports a full 1080p resolution at 30fps or 720p at 60fps. Its sensor allows for 5 MP images with 5fps.
Disclosure: As an Amazon Associate, I earn from qualifying purchases. The commission help keep the rest of my content free, so thank you!