When looking for a gift for my dad, I stumbled upon some different options and finally I decided to go with a smartphone. However, purchasing a smartphone for the elderlies is not a simple task. Specifically, my dad still wants a physical QWERTY keyboard along with a touch screen.
The criteria narrowed down my search to just a few smartphones because most of phones nowadays no longer have the keyboard. Then, I found out the Dell Venue Pro which used to be my dream phone a few years ago. This is even the most affordable choice, you can easily buy the unlocked off-contract version on Amazon for just $69. The phone was officially released in the U.S. in early 2011, let's check out my short review to see if this is still a good choice in 2014.
Overview Video
Design and Build Quality
The Venue Pro is a little thick and heavy compared to most recent smartphones, so probably you won't feel comfortable with it in your pocket. There is a 4.1-inch screen on the front with 3 Windows Phone controls, including Back, Home and Search. The black face is going well with shiny chrome sides, making the whole product more appealing. The plastic battery cover also looks good with textured pattern, but I don't really like the plastic camera cover because it is so vulnerable.
Those are not the most attractive design elements yet. Let's take a look at some images of the phone.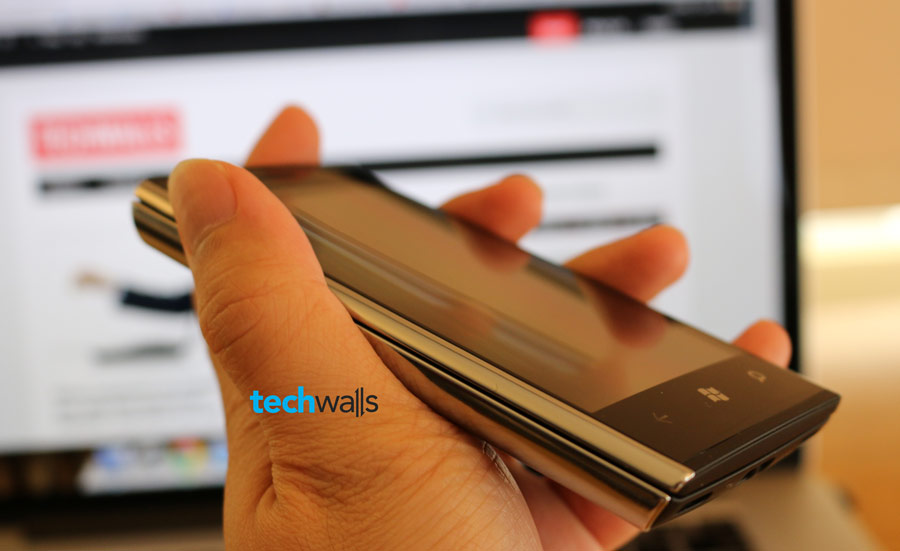 I'm always a fan of physical full-sized keyboard on smartphones and the one on Dell Venue Pro is awesome. This is what makes the phone thicker, just slide it down and the perfect 4-row keyboard will be revealed. The keyboard has soft touch and although the space between keys is minimal, you will still find it easy to type and it is 100% better than on-screen keyboards. The sliding mechanism is also very strong and sturdy, you will appreciate the sliding design more than ever.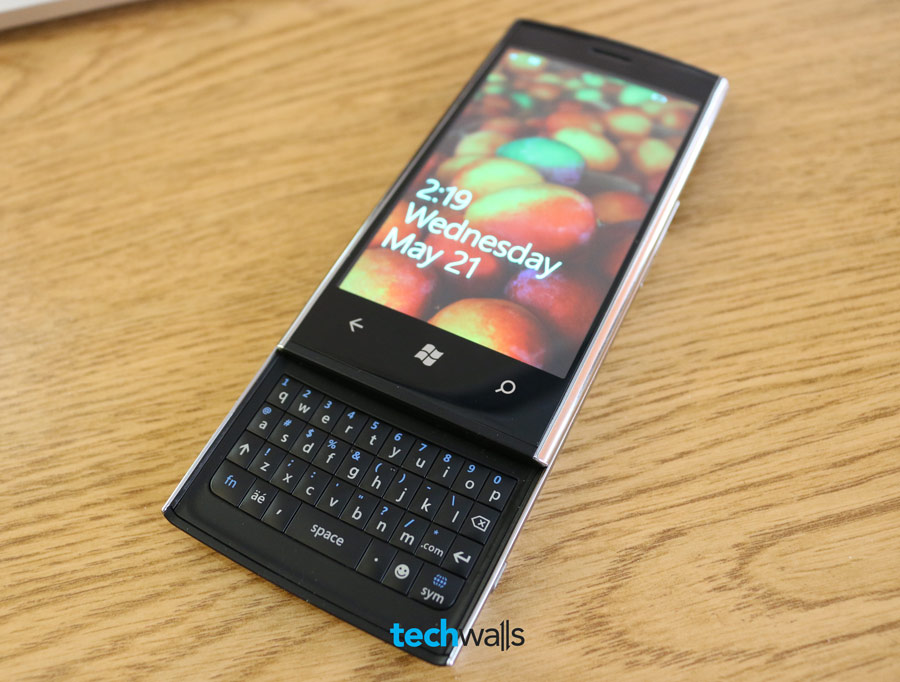 Interface and User Experience
There is not much to say in this section. This is almost the first time I've tried a Windows Phone and now I understand why it failed. The Venue Pro runs on Windows Phone 7.1 and powered by an 1GHz Qualcomm Snapdragon processor.
I like the home screen with colorful live tiles, the powerful Office productivity and Zune features. However, navigation and multi-tasking is too complicated. When I showed my dad how to make a phone call, manage contacts or compose a message, he was totally messed up.
The OS has good Outlook/e-mail support, sadly, its marketplace seems to be not attractive to developers. You might still see some popular apps, but the number is just a small portion of Play Store or Apple's App Store. The apps on Windows Phone are also less responsive and you should never expect they will receive new updates anytime soon.
Audio and Display
There is nothing special about the audio and display on this phone. The 4.1-inch 800×480 AMOLED screen is colorful but it is quite dim. You can also see that the text, pictures and icons is not as clear and crispy as on newer phones. However, it is still acceptable for a low-budget phone.
Camera
This is the worst camera I've used so far. The 5MP camera comes with LED flash and autofocus feature, however, all pictures are blurry and the color reproduction is horrible. This is a bad camera, even in 2011's standard. Take a look at some sample images, those are the clearest shots I could take.
Battery Life
The 1,400mAh battery is just enough to power the device for less than a day. If you are used to the battery on iPhone, this should not be a problem.
Conclusion
Pros
The full sliding keyboard is perfect, makes it easier to type text messages and emails.
Very affordable price.
Build quality is solid.
Good support for Microsoft's services.
Cons
Thick and heavy.
Huge gap between Windows Phone's marketplace and Google Play Store or App Store.
Horrible camera.
Short battery life.
Although the Dell Venue Pro is not blazingly fast and well packed with apps, it still can serve the basic needs of phone calls, text messages, emails and social networking. I love the design and one more plus is its cheap price, so I will recommend it as a backup phone or as a gift to your parents, as long as they don't care about camera.
Disclosure: We might earn commission from qualifying purchases. The commission help keep the rest of my content free, so thank you!