Chatbots are becoming commercially available to everyone. At the same time, their numbers keep growing as their applications are becoming more realistic each day. One of the reasons for this is that people in need of chatbots even have the option to create their own, without any programming language.
Thanks to platforms like SnatchBot and their Chatbot Creator, it is now possible for everyone to build their own chatbot even with the latest features like artificial intelligence. Today, we are going to talk about the steps you need to take in their Chatbot Creator to build a bot successfully.
Anyone can do it, and you will see how simple the steps actually are. So, let's get to it.
Step 1: Registering
The first thing you need to do is register/sign up on their official website to get access to bot building features. The registration is completely free, and you can do it two ways, by clicking on "Register" or "Login" in the upper right corner on their landing page.
If you click on Register, you will get this screen, where you will have to add basic information to create your account.
If you click on Log in, you can choose to log in through your Google or Facebook account.
Either of the options will register you successfully in a matter of seconds and completely free.
Step 2: Starting to Build Your Bot
As soon as you register, your dashboard will open. Here, you can see a lot of different features, analytics, and options. To start your bot-building journey, click on the "My Bots" button on the left.

After that, click on the "create bot" button in the upper right corner, and you will get this window.
Here, you can name your bot and give it the desired description. You can also instantly choose the language the bot uses.
Simply drag an image that you want to use as the icon of the bot and then click on upload.
If you check the "template" box, you will be able to choose from a wide range of premade templates made by SnatchBot. We recommend this for all beginners.
After creating your bot, you can already see your bot starting to communicate. However, your journey has just started.
Step 3: Adding Interactions
The first step towards making your bot more sophisticated and adjusting it according to your needs is to add interactions.

Here, you can see a lot of different, simple, and complex features offed by the platform. They have added bot functionalities for basically any need. And, what's even better, there is no need for any technical knowledge.
For now, click on "Bot Statement." It is the simplest interaction, and it's best for helping beginners understand what they are doing.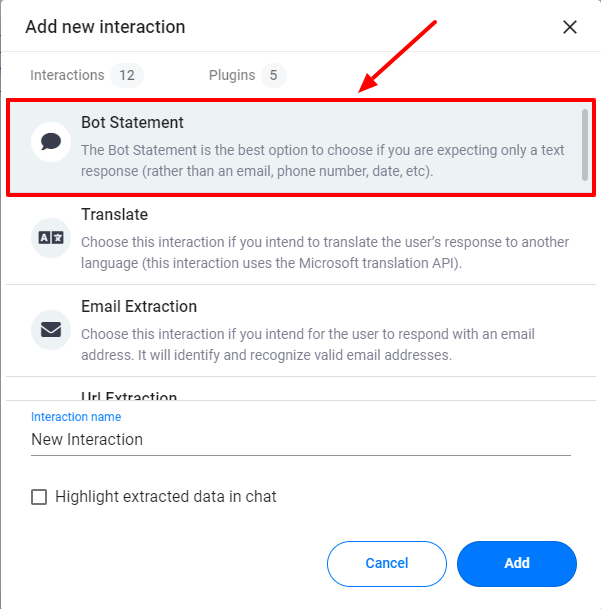 After that, you will see your added interaction pop up underneath your bot. The first thing you will notice is that it doesn't have a name. Make sure to name all of your interactions so you can distinguish them and know what they do. Click on the toolbar on the right side and then click "rename."
Click on the tick when you've written the desired name. Additionally, this toolbar offers other useful features like copy and delete. You can always find them useful.
By clicking on the interaction, you will see a lot of editing options located on the right side of the screen. The best place to start is by adding the statement that the bot is going to say when the interaction is made.
For example, if someone is on your site for a long time and your bot is going to offer them help automatically after a while, you can add something like this:

Step 4: Making connections between interactions
You will first have to add several interactions to your bot to be able to make connections. Repeat the process of creating an interaction and add as many as you want. Once you've done that, you need to click on your interaction and then click on "connections" in the editing area on the right.

Alternatively, you can click on the link symbol on the interaction.
When you click on Connections, you will get a lot of complex features on the right side. Still, even though they might be sophisticated, they are simple to use. However, for the purpose of this post, you should scroll all the way down and use the "Simple Connection."

All of the connections are built with the basic principle. If a condition has been met, then some action happens. The important thing is to try out different options until you learn all the potential this platform has to offer.
A simple example of how you can use interactions and connections is when your chatbot pops up to visitors and asks them if they need help. If they say "yes," then you can direct what the bot will do, and if the answer is "no," you will add different actions.
Step 5: Deploying Your Bot
These are the most basic configurations you can do on this platform. The important thing is to learn them and slowly explore all options. After you've configured a bot, you will have to deploy it for it to be practical. To choose where you want to deploy your bot go to "channels" and then click on what you need.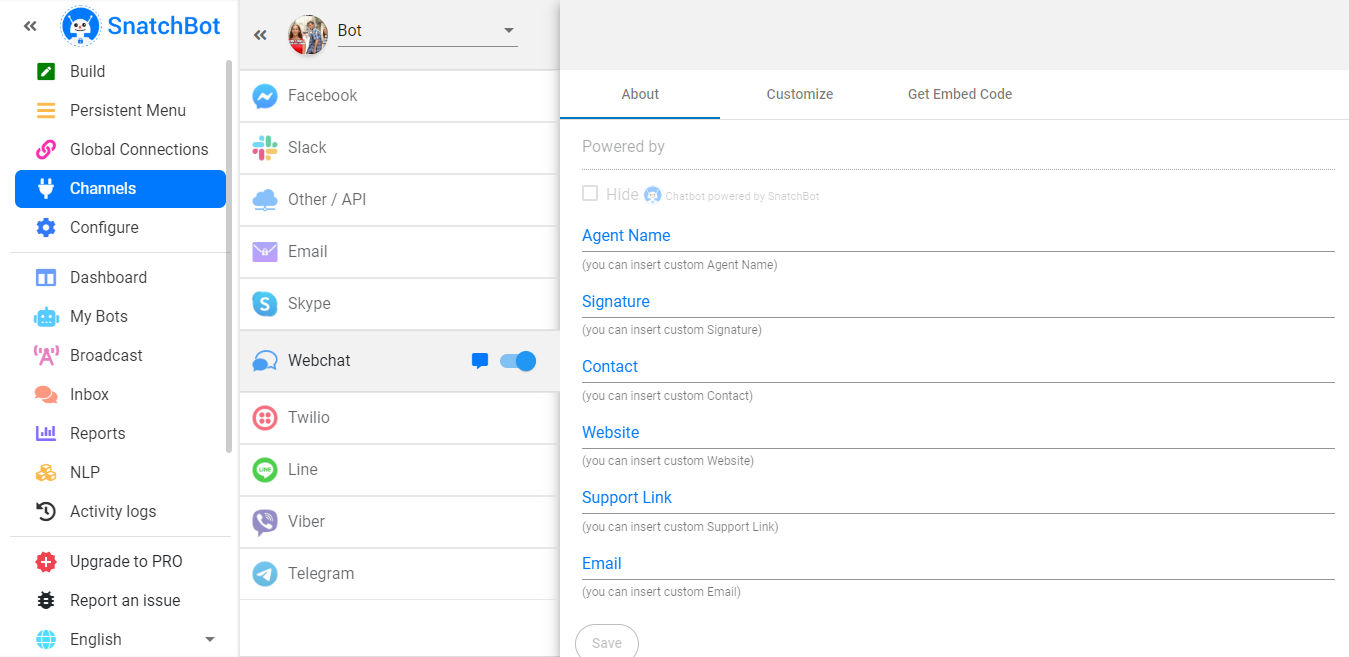 Snatchbot is constantly improving its platform, and they offer a lot of pre-set features which makes the use of the platform easy for everyone. Try it out, and you will see how good it is.
Disclosure: We might earn commission from qualifying purchases. The commission help keep the rest of my content free, so thank you!