The last month proved that remote work, mandatory or voluntary, utterly challenges everyone's preparedness to send staff home.
In response to the SMEs' financial struggle during this fierce economic downturn caused by the pandemic, ONLYOFFICE project went for a giveaway of 180 days of collaborative cloud for every team in need.
A secure collaborative environment
ONLYOFFICE helps distributed teams for a good decade: it offers seamless document collaboration, keeps tasks and projects organized, takes care of sales and invoicing, planning, corporate communication and many more processes.
As you stay safe at home, your data stays safe in the cloud: 2-factor authentication, a range of data control and monitoring options make ONLYOFFICE cloud a reliable environment for business collaboration that is 100% GDPR-compliant.
Online document editors
ONLYOFFICE editors for text documents, spreadsheets and presentations have high compatibility with MS Office formats and support all other popular formats, meaning that you don't lose touch no matter what software your distant clients and partners use.
Functionality-wise, you can fully work with complex objects and formatting, and enhance docs with additional plugins for translation, embedding YouTube videos, exporting to WordPress, checking thesaurus, etc.
Own document management system can be integrated with Google Drive, Dropbox, Box, and other storages to work with all documents centrally.
Document collaboration tools
Remote work involves many different kinds of interaction over documents. Here, ONLYOFFICE provides a variety of co-editing tools and types of sharing permissions to fit any form of distant collaboration.
To share some prepared information (e.g. product presentation), you can use the View Only permission that allows browsing the files without editing.
To get feedback on documents, share them for reviewing or commenting. This way your colleagues will be able to suggest changes with Track Changes mode or just leave their comments in the text, responsively.
To compare contents in two documents, use the Compare option and see all the differences between them highlighted. This is useful, for instance, if you receive a revision from someone in a form of separate document.
Forms and invoices can also be filled remotely with ease. Compose a document with interactive Content Controls and share it with form filling permission. You can create presets for content as complex as dates, images, multi-choice lists, and others.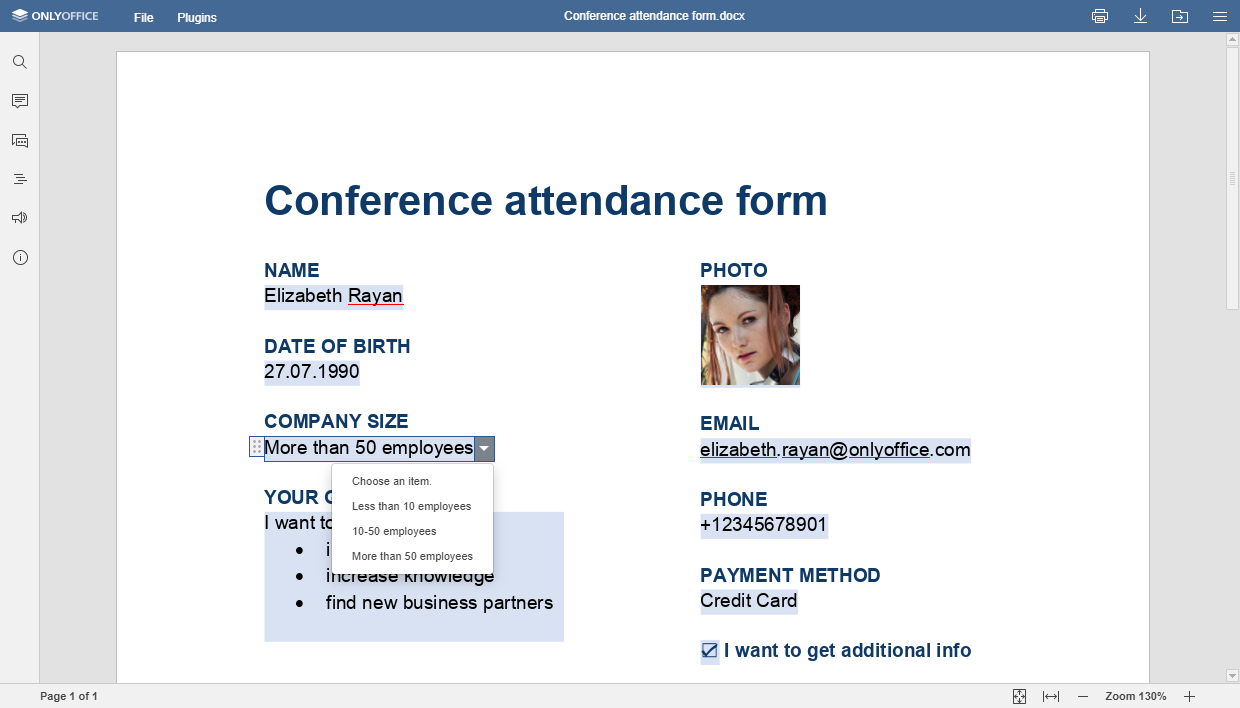 Need to work together in real-time without a chance to assembly a quick meeting? Share your files with full access, so everyone can collaborate with you right in the editor. Comments will help resolve issues, while mentions will keep it clear what is addressed to whom. For more intense discussion ONLYOFFICE offers a built-in chat window.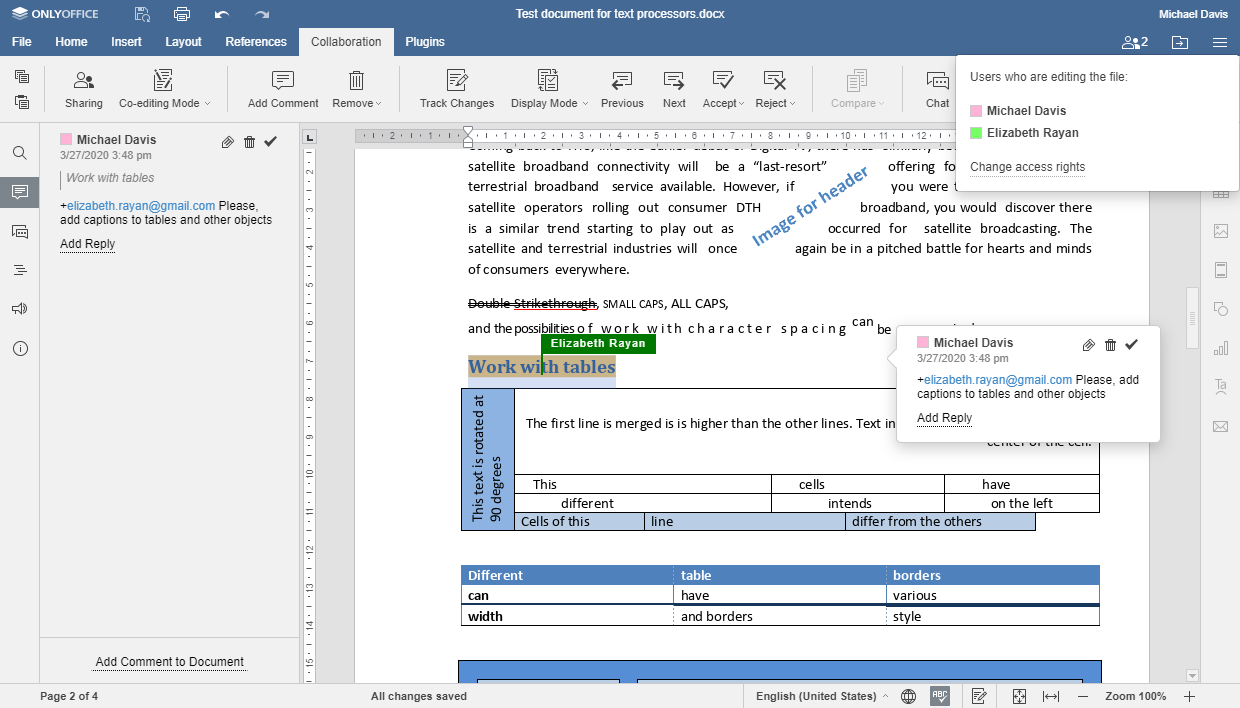 Sometimes collaboration becomes chaotic, especially when the team is big enough. If Fast real-time co-editing gets messy or you are simply looking for some privacy, use Strict mode and edit parts of the document by yourself.
To see each user's contributions or get back to accidentally deleted content, simply open the version history and browse document in different versions with each user's changes highlighted.
Remote PM, sales management and the intranet
To help plan day and week schedules, ONLYOFFICE gives multiple tools for organizing team projects: set milestones, assign tasks and add subtasks to them, then track progress using Gantt Chart and generate performance reports. When you are paying hourly jobs, there's a time tracking feature to manage time logs and estimate payments.
With full-featured calendars, no one will miss online meetings and important deadlines. Everyone can keep their personal planning and subscribe to common calendars to stay in sync with important events.
Your sales team will have all the instruments at hand: ONLYOFFICE CRM helps manage contacts and deals, create and send invoices and call clients from the home office using VoIP.
Corporate and personal mailboxes are easily organized with Mail module.
With user management system and company's online community in the cloud, users can communicate with each other, make announcements and mailings and open discussions.
Free desktop and mobile apps
Work can be done even without access to the internet using a free desktop version of ONLYOFFICE editors that can be connected back to the cloud any time to share and collaborate.
If against all odds users have to frequently travel, they stay connected to work using mobile editors for iOS and Android for working locally or in the cloud. ONLYOFFICE Projects app will help with planning and managing tasks.
Your emergency cloud at no cost for 6 months
Whether your company is in need for a reliable collaborative environment for remote work, or the economic consequences of the crisis are urging to cut costs, here's your team's chance to overcome the foreseeable lockdown at absolutely no expense.
ONLYOFFICE cloud service is currently free for a 180 day period for teams of up to 50 active users and includes 20GB disk space. The solution is generally offered free of charge for schools and non-profit organizations with no trial limits.
Disclosure: We might earn commission from qualifying purchases. The commission help keep the rest of my content free, so thank you!