Creating an online store proved a popular way to try and make money online in 2019 – either as a side-hustle or a full time endeavour. You can start an online store from anywhere in the world, as long as you have an internet connection. Creating the actual store isn't as technically challenging as it used to be, however obtainined storage space for all of your stock can prove problematic.
The cost in terms of time, effort and money, of finding and renting a warehouse; is massively off-putting, especially for those only looking for an extra bit of money at the end of the month. The risk just isn't worth the financial investment required.
However, there is an obvious solution to this common issue – Drop shipping.
With drop shipping, you do not need to stock anything, meaning you can easily run your own online store from your bedroom or sparer-oom; without the need for any storage space whatsoever. By combining your professional website with a virtual office address and perhaps even a phone answering service with local telephone number, you can give the perception of being a multi-million dollar company with a 'bricks and mortar' presence.
Before starting this tutorial, in addition to the normal cost of setting up a WordPress website, the fee for the required plugin is an additional one off cost of $89.
You will also need to use an 'approved' AliDropship Woocommerce theme and have an SSL for the site.
Setup Your WordPress Store and Use the WooCommerce Plugin
Before installing any plugins you should always backup your website and do some checks to make sure the plugin is not a security issue. WooCommerce is very well known and has been utilised by tens of thousands of people without any known major issues.
The start of this video, takes you through the process of installing the plugin.
Add the AliDropship Plugin
At the time of writing there is an $89 fee for installing the plugin. Go to alidropship.com and click to buy the plugin.
Once you have purchased the plugin, you will need to make a note of your license key and download AliDropship to your computer.
You will need to license key to activate the plugin once it is installed in the dashboard area of your website.
Now go back to your WordPress admin dashboard, click "Plugins" in the left-hand-menu and then "Add New" and then "Upload Plugin".
Browse to find the plugin on your computer then click "Install Now" and then "Activate Plugin".
Install the AliDropship Chrome Plugin
Go the the Google webstore on your Chrome browser and install the AliDropship extension by clicking "Add to Chrome" and then "Add Extension". The plugin should show on the top right of Chrome – near the search bar.
An Approved WooCommerce AliDropship Theme
Head over to Alidropship.com/themes/#woo and download your preferred them – there are free and paid-for options available. Please note some of the paid themes, use a thirdparty website for the purchase and download process.
An excellent free theme is Da Vinci, which is downloaded directly from the Alidropship website.
Once you have downloaded the theme to your device/computer, go to the WordPress admin dashboard and Appearance>Themes>Add New>Upload Theme.
Find the theme on your device and upload it, then click "Install Now".
Upload your logo to the admin dashboard area by clicking "Media" and then "Add New". You can then customize your theme via the "Appearance" menu item, by clicking "Customize". You may also want to change the background color and other settings in the Customize area.
Update the AliDropship WordPress Plugin Settings
In the dashboard area, click "AliDropship Woo" on the left-hand-menu.
Click on "License" in the side-menu and now add your AliDropship plugin license key and click "Activate".
Now click "Settings" in the side-menu and then "General".
It is advisable to change the phone number to your own, rather than your customer's number as default. This will mean that you will be the one to receive a phone call if there is a problem with an item purchased from the shop.
Check all the boxes in the Product Images section below, remembering to click "Save Changes".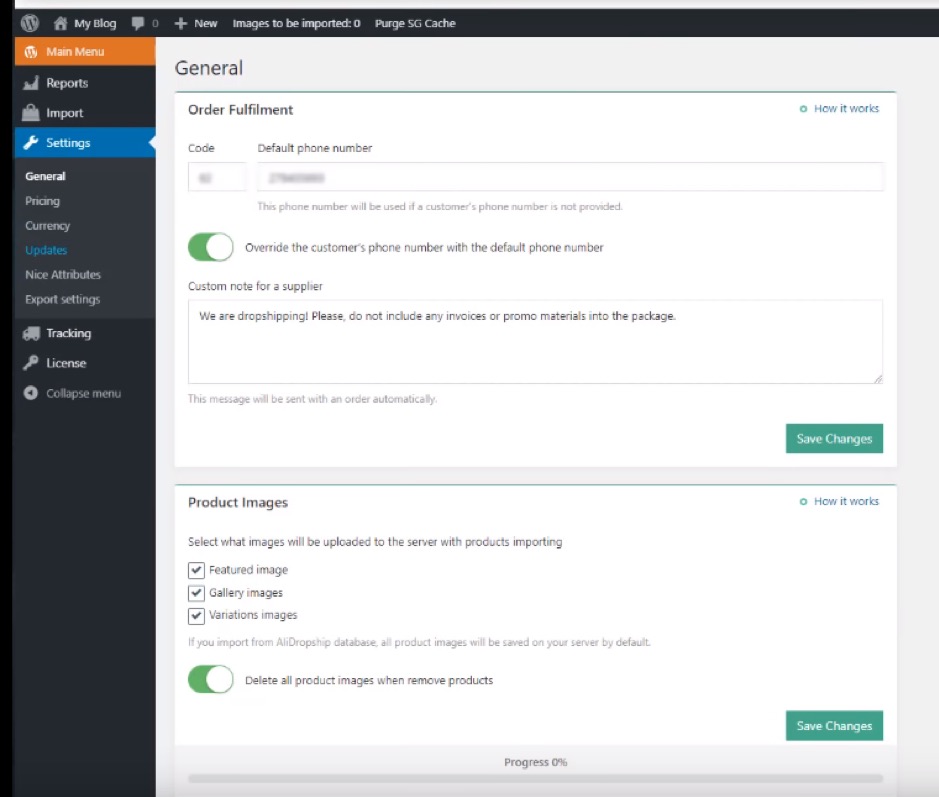 Next click the "Updates" menu item. Here it is important to change "When a variation disappears out of stock" to "set quantity to zero" so that visitors don't pay for products that don't exist!
Also click to activate "auto-update" using the button at the bottom. Finally click "Save Changes"
Add Products from AliExpress!
Simply go to AliExpress.com and search for items that you want to add.
On the search results page, simply hover over the products that you wish to add and click the pop-up-icon with the "+" symbol next to an image of a shopping cart.
The items should now show in the dashboard area of your shop – under the "products" menu item.
Ensure that you are happy with all the images pulled through from Ali-express. It might also be worth warning your visitors that the products are shipped directly from Asia and therefore may take a couple of weeks to arrive – this should hopefully help you to avoid any negative reviews. This is quite important, as you don't wanted to be hounded by angry customers and accumulating bad reviews.
Disclosure: As an Amazon Associate, I earn from qualifying purchases. The commission help keep the rest of my content free, so thank you!