In the constantly evolving market of 3D scanning, the Creality CR-Scan Ferret Pro emerges as a groundbreaking tool. Designed to cater to diverse needs with ease and precision, it brings together state-of-the-art technology and user-friendly features. Let's delve into what makes this scanner a must-have for professionals and enthusiasts alike.
Disclosure: This is a sponsored article; We were compensated to publish it on our website.
Specifications
| | |
| --- | --- |
| Technology | Color-camera Structured Light |
| Accuracy | 0.1mm |
| Resolution | 0.16mm |
| Single Capture Range | 560*820mm |
| Working Distance | 150~700mm |
| Minimum Scanning | 150*150mm |
| Scan speed | up to 30 fps |
| Light Source | NIR LD |
| Scanning Modes | Feature, Marker, Face, Body, Dark,Color |
| Output Formats | OBJ / STL / PLY |
| Color Scanning | ✔ |
| Outdoor Scanning | ✔ Support Scanning in Bright Sunlight |
| Ready to Print 3D Models | ✔ |
| Scanner Weight | 105g |
| Dimensions/Machine Size | 120*30*26mm |
| Compatible Systems | Android / Win 10/11 (64-bit) / Mac OS |
| Connector Type | USB 3.0/2.0 |
Advanced Technology Meets User-Friendly Design
The Ferret Pro is packed with high-end features that are set to redefine scanning experiences. Leading the pack is its Anti-shake Tracking – a cutting-edge one-shot 3D imaging technology that promises smooth scanning results even for those with shaky hands. This feature not only ensures precise scans but also significantly boosts the success rate of scanning endeavors.

But that's not all. The Ferret Pro comes with a built-in 24-bit full-color scanning capability, which means its 2MP high-resolution camera can capture full-color 3D models with unmatched clarity. Whether you're scanning an intricate piece of art or a human face, expect every minute detail to be replicated with precision, thanks to its unique face mapping algorithm.
For users tired of prepping metal objects with sprays for scanning, there's good news. The Ferret Pro can scan black/metal objects without spraying. This is especially beneficial for car enthusiasts who can now scan cars or car parts without any hassles. The process is simple: mark the car's surface, select the texture mode, and scan away!
Moreover, the scanner's outdoor scanning capability is a boon for those who love scanning on the go. Whether you're under the bright sun or in a shaded area, the advanced optical technology and intelligent algorithm ensure consistent performance.
Power-packed Performance and Compatibility
With the Ferret Pro, expect speed without compromising on quality. Its High-Quality Mode guarantees up to 0.1mm accuracy, ensuring that the tiniest details aren't missed. For those in a rush, the Fast Scan Mode, powered by the 3D Imaging Specific ASIC Chip, promises higher scanning efficiency, especially for larger objects.
Adding to its performance arsenal is the inclusion of the WiFi 6 Wireless Bridge. Offering speeds thrice as fast as WiFi5, this ensures smooth and swift data collection, which is essential for high-precision scanning.
Besides, the Ferret Pro stands out with its Scanning & Editing feature. Users can enjoy fast model sharing, an intuitive UI, and compatibility with leading 3D software. Whether you're looking to export in STL, OBJ, or PLY formats, the scanner has you covered.
Designed for Everyone, Everywhere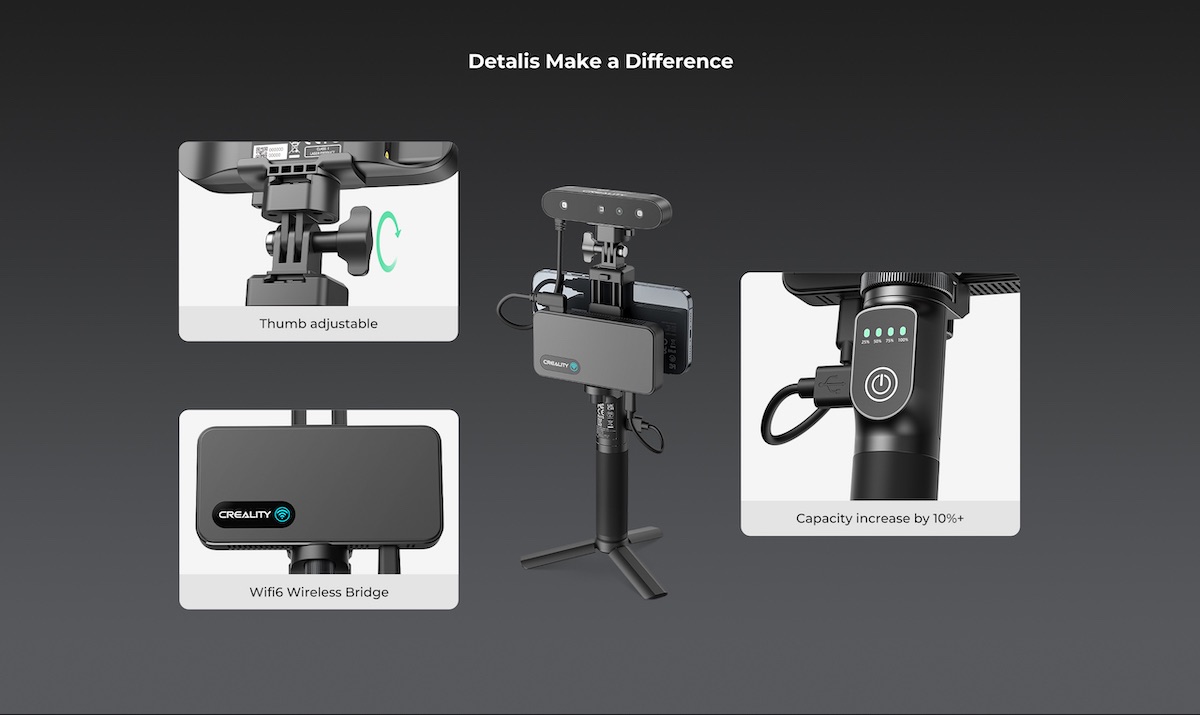 The beauty of the Ferret Pro lies in its inclusivity. Whether you're a novice or an expert, getting started is a breeze. With just a click, you can effortlessly generate models post-scanning, without delving into the intricacies of scanning processes. This is perfect for beginners keen on diving into the world of 3D scanning.
For those always on the move, the Ferret Pro, weighing a mere 105g (3.7 oz), is the perfect travel companion. Its compactness doesn't just promise convenience; it adds an element of fun to your trips. Scan sculptures, artifacts, or anything that piques your interest, and have a keepsake to cherish.
Lastly, for 3D printing experts, the Ferret Pro is a dream come true. It allows users to unleash the power of 3D printing by generating precise, print-ready 3D models without the need for manual creation in complicated 3D modeling software.
Limited-Time Promo
For those keen on owning the Creality CR-Scan Ferret Pro, there's never been a better time. Originally priced at $429, they're offering a Super Early Bird discount of 16% off from September 19th to 29th, bringing the price down to just $359. Missed the super early bird offer? Don't fret. Grab the Early Bird offer at 12% off, available from September 29th to October 9th for just $379.
But that's not all. Here's your golden opportunity to get the Ferret Pro for free! Purchase your CR Ferret Pro before 23:59(EST) September 29th, and stand a chance to be one of the TWO lucky customers to receive a 100% refund. The winners of this exciting giveaway will be announced in an October livestream.
Conclusion
The Creality CR-Scan Ferret Pro 3D Scanner is a convergence of technology, convenience, and innovation. It promises to make 3D scanning accessible, efficient, and enjoyable for everyone, from novices to professionals. If you're looking to step into the future of 3D scanning, the Ferret Pro is your ticket.
Disclosure: We might earn commission from qualifying purchases. The commission help keep the rest of my content free, so thank you!