The holiday season is just around the corner and if you are like me, finding an interesting gift for your beloved ones is always daunting. People have a hard time finding a suitable gift that demonstrates their thoughtfulness as well as matches the personality of the other person. Buying a gift from retail stores is fast and easy but your significant other might not appreciate it because many others also have it. The problem is that most of us are not skilled enough to create anything creative or artistic. Fortunately, you can easily make a DIY gift with a laser engraver like the Creality CR Falcon Laser 10W.
Disclosure: This is a sponsored article; We were compensated to publish it on our website.
The engraver uses infrared light to engrave or laser cut materials. Previously, it was often used by professionals or online merchants to create customized gifts for customers. Now laser engravers have become much more affordable and easier to use for hobbyists and small businesses.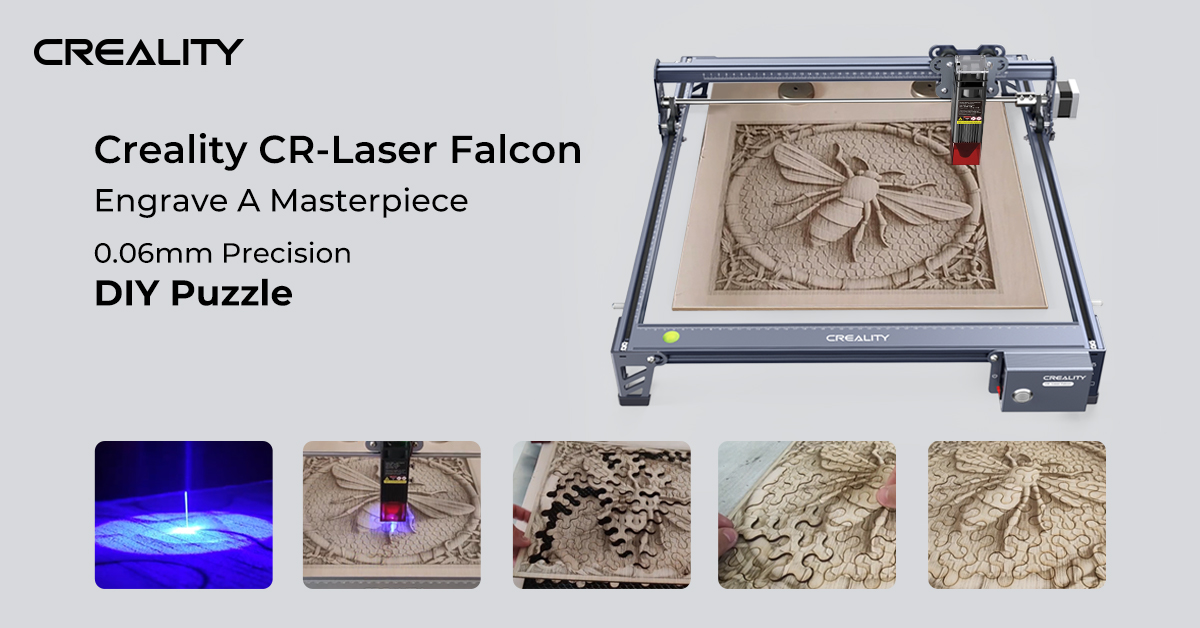 The Creality CR Falcon Laser 10W is their newest product coming with some important updates such as easy operation, 0.06mm precision, and 12mm one-pass cutting depth. Thanks to the advanced LD+FAC+C-Lens technology, the light spot is compressed to just 0.06mm and users will be able to craft out details accurately. On the other hand, the laser head is upgraded to 10W, providing more power, longer beam Rayleigh length, and stronger penetration. It is quite impressive that we can cut thick wood boards, acrylic, or even stainless steel up to 12mm. There is almost no limitation on the materials as we can engrave on flexible materials like paper and cloth to high-hardness materials like matte stainless steel, ceramic, or metal.
The product comes in a few pieces and it is quite easy to put them all together. Notably, it is even easier to set up and get it ready to use. Unlike some other engravers, you don't need to connect it to a computer. The Creality features an on-button operation; Basically, you can use this button to preview, start, pause or stop engraving. You will just need to see the integrated LED indicator to know its current status. The preview mode is really helpful, especially when carving expensive materials. You can import a file via a TF card or USB-C cable, so you don't have to rely on Wi-Fi network and use the engraver anywhere you want.
The Laser Falcon also features some advanced safety protections such as the detachable magnetic cover around the laser head (prevent the laser from dazzling the eyes) and gyroscope. The machine will stop operating and send alerts with the buzzer and an indicator when there is accidental tilt, flip or drop.
Creatlity has been well-known for its 3D printer and now they use its core technology on this engraver. Therefore, we can be reassured about the stable and silent operation, even at the maximum speed. It adopts dual stepping motors, built-in 32-bit main control chip, mute motherboard, and cooperates with self-developed algorithms to precisely control the movement of the left and right Y-axis. As a result, the body is more stable and more secure, improving the engraving accuracy in the meantime.
The work area is spacious at 400x415mm, moreover, you can use an optional riser kit to increase the engraving height to 15cm. This is really helpful when you need to engrave or cut large pieces, for instance, Creality engraved a guitar and made a wooden puzzle in their demos.
Finally, we could finally get rid of the headache during the holiday season by creating unique gifts for our friends and family. Creality makes it possible with their engraver as it is a reliable, affordable, and easy-to-use product. It is currently available for $519 and you can use the promo code Falcontechw to get $30 off. You can also find it on Amazon and use the promo code 055AK5P7 to 5% discount. Besides, Creality has launched a giveaway called "Who Are Creators of Masterpieces", you can visit this link and get a chance to win a free 3D printer, 3D scanner, laser engraver or coupons.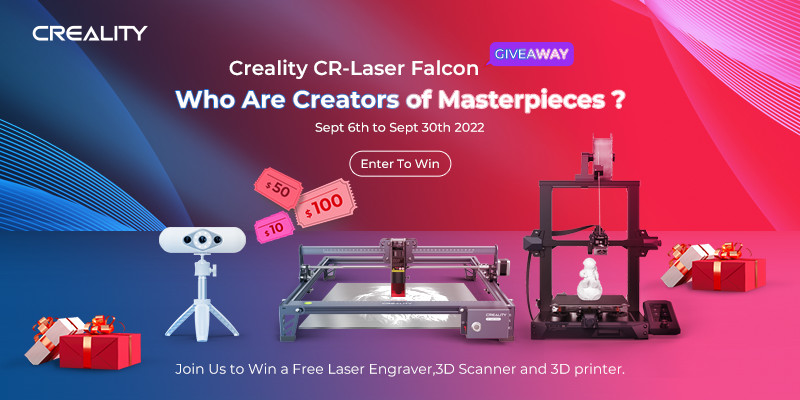 Disclosure: We might earn commission from qualifying purchases. The commission help keep the rest of my content free, so thank you!