When a tree becomes a hazard, grows too large, or simply needs to be removed for landscaping or developmental purposes, homeowners and businesses turn to professional tree cutting services. In the US, the cost of these services can vary greatly based on several factors. This article aims to break down the typical expenses associated with tree cutting services, offering readers a clear understanding of what to expect.
1. Factors Influencing Cost:
Size of the Tree: Naturally, larger trees require more effort and time to remove, and hence cost more. Generally, trees are categorized as small (up to 30 feet), medium (30-60 feet), large (60-100 feet), and very large (over 100 feet).
Condition of the Tree: A dead, diseased, or rotting tree might be more hazardous to cut down than a healthy one, impacting the cost.
Location: If a tree is located near power lines, buildings, or other obstacles, it might require more care (and potentially more equipment or labor) to remove safely.
Access: Trees that are easy to access (e.g., front yards) typically cost less to remove than those in hard-to-reach places.
Local Rates: Prices can vary based on where you live, with urban areas typically having higher rates than rural ones.
2. Average Cost Breakdown:
Small Trees: $150 to $450
Medium Trees: $450 to $700
Large Trees: $700 to $1,200
Very Large Trees: $1,200 to $2,000 or more
These are average ranges, and individual cases might fall outside these estimates based on specific conditions.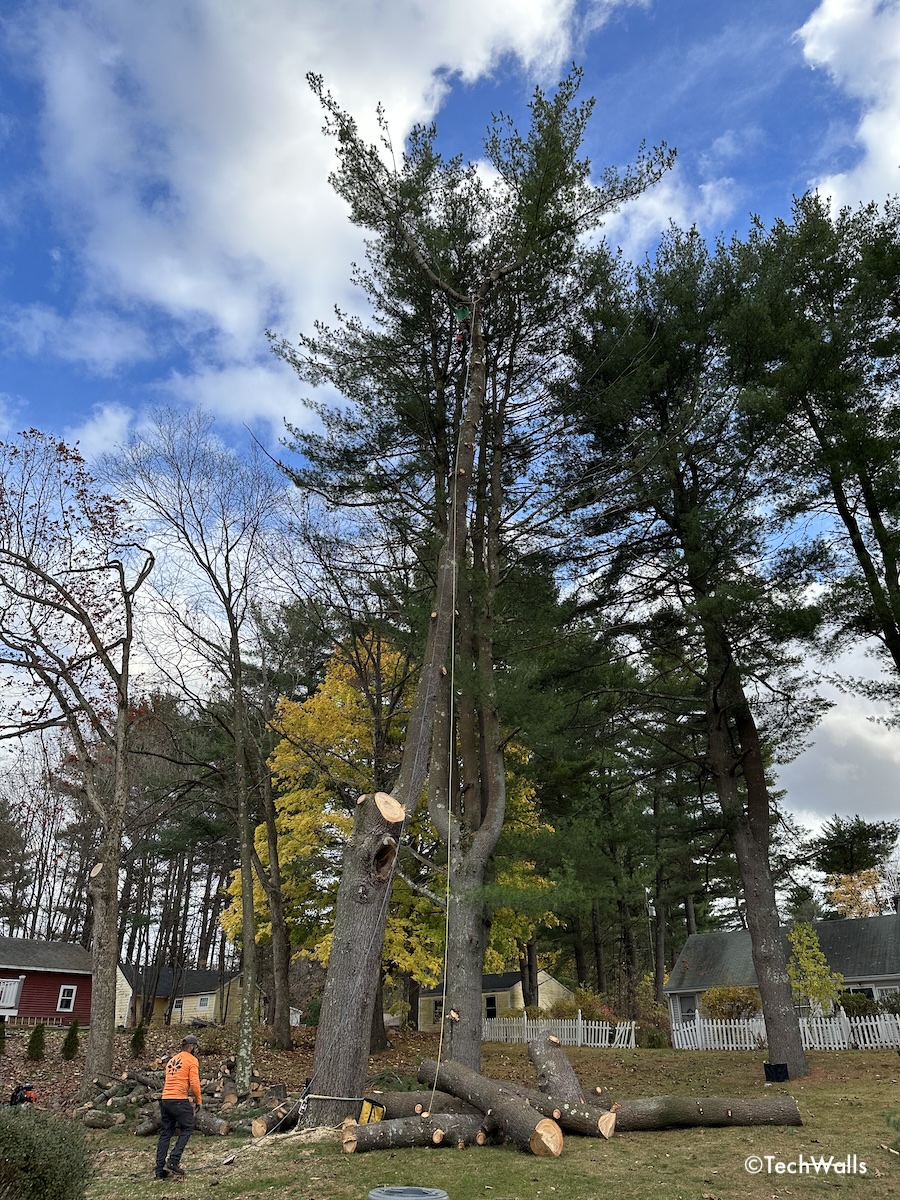 3. Additional Costs:
Stump Removal: If you want the stump removed as well, stump grinding services can cost an extra $60 to $350, depending on the stump's size and roots.
Tree Trunk Removal: Some companies might charge extra to cut the trunk into manageable pieces or to haul them away. This could cost between $50 to $100.
Branch Chipping: Instead of hauling away the branches, some prefer to have them chipped. This can add $65 to $150 to the total cost.
Travel Fee: If your property is outside the company's service range, you might be charged a travel fee.
Emergency or After-Hours Service: If a tree poses an immediate threat and needs to be removed quickly, companies might charge a premium.
4. Savings and Discounts:
Multiple Trees: If you're cutting down multiple trees at once, tree services might offer a discount.
Periodic Promotions: Some companies run promotions during off-peak seasons.
Local Subsidies: In areas prone to wildfires or where invasive species are a concern, local or state programs might subsidize tree removal.
Conclusion
The cost of tree cutting services in the US is influenced by numerous variables. It's always wise to get multiple quotes from different service providers to ensure a competitive price. Additionally, remember to check for the company's insurance, licenses, and reviews to ensure you're hiring a reputable service. Making an informed decision can save both time and money, ensuring the safety and aesthetic appeal of your property.
Disclosure: We might earn commission from qualifying purchases. The commission help keep the rest of my content free, so thank you!