Some users require extracting subtitles from non encrypted sources such as optical discs. For instance, one can extract non encrypted DVD subtitles to a hard disk from a DVD. Such subs can be then converted to Advanced Substation Alpha format, to use them with MKV (Matroska) video files. DVD Subtitle Extractor is a free software for extracting non encrypted subs from DVDs and for converting them to SUP, SUB or IDX files.
DVD Subtitle Extractor provides users with a simple wizard that allows extracting subs and enables the selection of subtitle tracks and chains, which can be used to create files in numerous formats, such as the native format of DVD Subtitle Extractor (BIN format), D2V and MPG. To put it in a nutshell, as explained by the developer,  this application is meant to convert subtitles "from DVDs and PGS (Bluray .sup) files", into Advanced Substation Alpha format by utilizing an OCR. This application is especially useful for people who wish to extract non encrypted DVD subtitles (soft coded subtitles) and  to re-encode them as Matroska containers or H264, ASSA and AAC formats.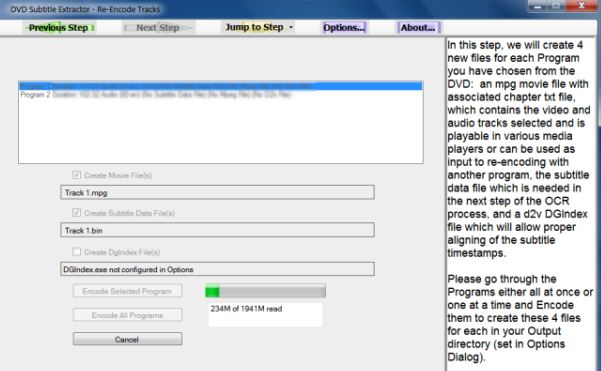 In the first step you will require specifying a DVD folder from your hard disk or a CD/DVD drive. After your subtitles are displayed, you can proceed further (by hitting the Next button) and choose audio tracks that should be converted, as well as the programs.
To test out things, a sample track can also be created. Furthermore, you can select a DVD Angle, as well as Split items by chapter or cell. Once done, you can proceed to create the chapter.txt / subtitle file and your MPG files. Hit Encode All programs, in order to initiate encoding. You can configure extra options for settings specific encoding features from Options. From this section you can select the track duration, format of the font, your output folder, etc.
Since DVD Subtitle Extractor is an open source software, you can also grab its source code from the Code Plex link given at the end of this post. Despite being a handy software, DVD Subtitle Extractor has a complex configuration interface and it can be quite difficult for common users to easily use this software, before having to look up a lot of the terminologies that are present in the form of interface options. For example, someone who wishes to convert DVD subtitles to convert them to a Matroska container, may not be familiar with the various parameters that may have to be set for an accurate conversion.
What will be much appreciated by a lot of users is perhaps easier labeling of interface items and some detailed documentation by the developer to walk users through the encoding process and possible issues associated with misconfigurations. DVD Subtitle Extractor compatible with the following Windows based operating systems:
Windows XP
Windows Vista
Windows 7
Download DVD Subtitle Extractor
Disclosure: As an Amazon Associate, I earn from qualifying purchases. The commission help keep the rest of my content free, so thank you!