The dynamics by which the world is changing calls for innovation in every field of production. Everyone is, without doubt looking for solutions to make work easier and with lesser burden.
Several industries, therefore, have innovated various techniques to curb the frequent challenges faced in the day to day work environment. The robotic industry is one of such industries.
The Universal Robots, founded in Denmark in 2005, has proved to be one major industry that has successfully managed to make the world a better place in terms of innovation, dynamism, time management, safety and development. You can read more on Universal Robots in this informative article.
Universal Robots was created with the aim of providing companies with robotic automation and hence leading to increased production. This massive purpose has been elaborately achieved by the company's product, collaborative robots; cobots.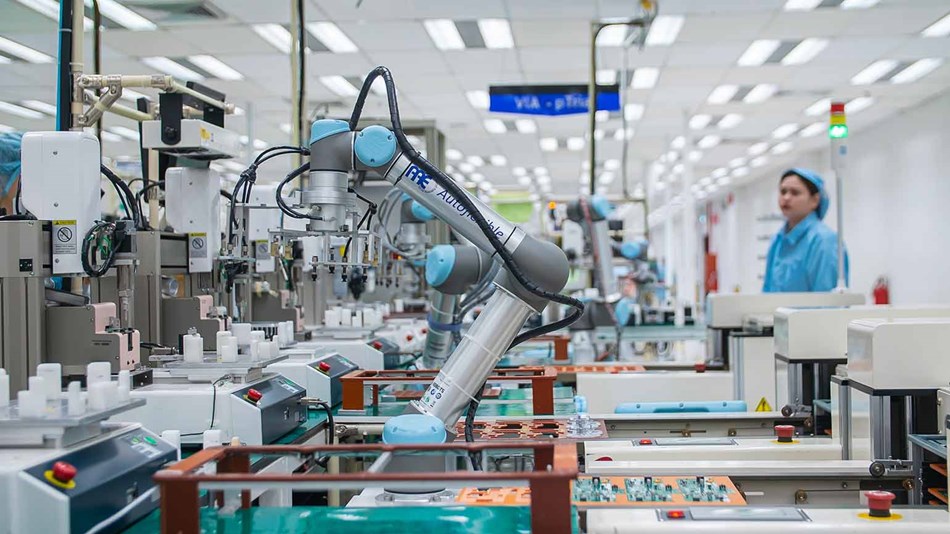 Universal Robots cobots
A cobot is an artificially intelligent robot that is meant to execute tasks in collaboration with human workers. Cobots from Universal Robots are equipped with arms with six joints. They can be easily utilized since their weights are low and they have a reasonable working radius.
Some advantages of cobots include:
They are not hazardous to the human skin thus making them safety-guaranteed tools. This makes it easier and safe for interaction with human beings since their use majorly involves the interaction with human arms.
They are not bulky. Their weights are low and thus easy to use and manage.
They are not limited. They can be used to perform multiple duties.
Benefits of Universal Robots cobots to industries
Many industries are currently syncing with digital innovation for increased productivity, versatility and time management.
The advantages of cobots have been felt by numerous industries including the automotive and land surveying industries. The cobots come in handy where the company demands responsibilities that can otherwise be harmful or too dense for the human hand. Cobots are highly utilized all over the world and more companies are beginning to embrace them for increased productivity.
Some companies such as the India-based automotive industry, Bajaj Auto Limited for example, uses more than 100 cobots in achieving maximum production. The robots work well in areas where humans can be exposed to strenuous and health-damaging activities. Cobots have also managed to achieve numerous workloads that could otherwise take longer time manually. These were the main reasons why Bajaj opted for the use of cobots in addition to flexibility.
The Pentik OY company, a ceramic factory in Posio, Finland, also uses cobots from Universal Robots. The cobots at Pentik OY are majorly used to:
handle glazing and clay-forming tasks.
improve ergonomics and throughput.
easily replace heavy and repetitive tasks such as glazing and moulding tableware, thereby ensuring a smooth outcome that also improves the ergonomics of the employees.
The cobots, together with manpower, has successfully managed to drive the company to a high level of performance, exceeding ten times the normal production.
Another company that has also hugely benefitted from cobots is the USA based company, Schaeffler Group USA. The company needed to automate its manual assembly lines and improve labor utilization and productivity and cobots came in handy. The cobots have boosted productivity due to their consistency and dependability. This in return, saves the company a massive amount of finances.
A Dutch multinational automobile manufacturer, Stellantis N. V has with time, invested in eleven Universal Robot cobots at it's factory in Italy in order to automate quality controls and complex assembly line operations for their new electric car, FIAT 500.
The cobots have managed to curb various challenges in various industries. The cobots have reduced workloads at a considerable pace, hence relieving workers from performing ergonomically unfriendly tasks. They have also reduced repetitive tasks and demands for manual tasks.
Universal Robot top competitors
Just like any other industry, Universal Robots is faced by competition. Several innovators and companies are joining the market of robotics and manufacturing and thus creating competition. An example of such companies is KUKA. KUKA is a company that is used as a supplier of industrial intelligent automation solutions. The company provides its clients with robot systems, mobility solutions, process technologies, guided vehicle systems and production machines.
KUKA offers services to similar industries to Universal Robots such as automotive, consumer goods, energy, Healthcare, e-commerce, electronics and other industries.
Another notable competitor is AIDA Engineering. AIDA is an engineering firm with its headquarters in Oyama, Japan. It majors in the refurbishment of metals, design, metal stamping presses, metal forming press, coil feeders and other products.
Maxnerva Technology Services is a holding company with its headquarters in Hamilton, Bermuda. It is also one of the major competitors of Universal Robots. Maxnerva deals with industrial solution, smart offices and new retail businesses.
ABB is also a major competitor. It is a company that provides robotics, electrification, digitalization solutions and automation to industrial customers. It works with four main businesses which are Motion, Electrification, Process Automation and Discrete Automation.
Universal Robots has saved various businesses from challenges and uncertainties. Businesses use cobots from Universal Robots to stay ahead of the rest in terms of good service and maximum production. Cobots are undertaking new roles in industries and reducing the cost of productivity, ensuring worker safety and ensuring competition. With the correct set ups, cobots can ensure maximum performance and set industries to high and quality production.
Universal Robots, under the UR Academy, is striving to reach out to many innovators and encourage them to increase their creativity levels by offering mentorship. They are committed to preparing students to pursue advanced manufacturing and robotics careers. The company's academy also is committed to offering world class learning and resources to all its students no matter the gender or the race.
Conclusion
We have been sure set on the right path to the future with Universal Robots. The world will be at a better place with the implementation of cobots in various industrial sectors. The use of cobots in the health sector can result to a beneficial change on preserving and even extending life. Manufacturing industries also will be on the frontline in achieving the envisioned success.
Disclosure: We might earn commission from qualifying purchases. The commission help keep the rest of my content free, so thank you!