We all remember the days of the first game consoles — those memories are still fresh and we can easily recall that awe and excitement they gave us. There are several decades between then and now, and gaming ecosystem has made a giant leap in evolution.
Developers and creators in gamedev industry create new technologies, methods and algorithms meant to capture the imagination of the audience. The advancements of the innovative world constantly bring unthinkable to the table whereas the expectations of gamers all over the world grow at a fast pace. So what the gamers want today?
New era of mobile games
According to Nick Yee's scientific framework, motivation to play consists of three components: achievement, social constituent, and immersion. As the years went by, gaming industry has been introduced to 3D, VR and AR. The gamers are getting extensively demanding in terms of everything — the game story, controls, graphics etc. In order to follow, the gamedev has transformed from a bunch of innovators somewhere on the backyard into a multi-billion dollar industry, where corporations hire neuroscientists, psychologists, and top-notch marketing experts.
We are lucky to witness the birth of the new genre of mobile games. As a matter of fact, it takes a lot of courage to take risks and introduce cutting-edge mechanics into innovative combinations. Strategy games are the most popular: they account for 30% of all mobile games revenue. On the other hand, AR refers to the main drivers of the gaming industry: the sales are expected to increase from $2.4 billion in 2018 to $48.2 billion in 2025. Pokemon GO by Niantic and Clash of Clans with million-dollar revenues per day drove people crazy because these games are easy-to-access.
Bringing together AR and strategy game is definitely a good idea. Integration of the AR into strategy game overlays digital content onto real-world environment of the user, allowing for long-sought full immersion. The convergence of AR and strategy was implemented in Clash & GO, new release from gamedev company with 10+ years of vast experience in the field.
Clash & GO is a mobile game that combines AR geolocation game, and a city-building strategy game featuring real-time battles.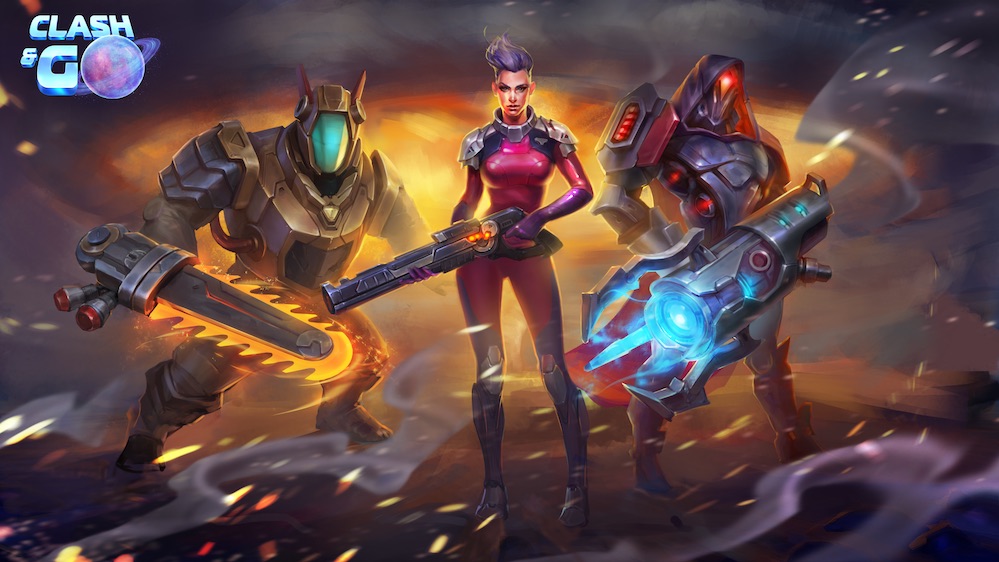 Become a warrior in virtual battlefield
The approach to the application development marks the new milestone for mobile games. Putting things apart, strategy games and AR games taken separately have a number of disadvantages: the most popular traditional city-building and tower defense games are constrained by the screen of the device. AR games such as Pokemon GO by Niantic imply little or no social interaction, and the gameplay leaves much to be desired. Clash of Clans has many analogues on the market, and just as Pokemon GO — lacks of social component.
The digital playground of Clash & GO continues on the streets, parks, backyards – simply everywhere. Then there is engaging social element: the game invites relatives, friends and neighbors to become companions (or rivals) in the battle for essential game landmarks.
Playing in two modes — strategic and AR — gamers act like commanders, travel the world, fight for buildings, capture and defend them, upgrade their property, units and heroes, extract antimatter and many more. One enters the world of asteroids, nanorobots, outer space troops, clan wars and artifacts. Dynamic and challenging, Clash & GO innovative universe opens new horizons for AR enthusiasts and strategy buffs. And it has very realistic starry heaven in addition.
A player will enjoy the following game features:
Augmented reality — the app user gets access to the unlimited open game world, which is a new way to play. An ordinary walk on the street can turn into a fierce struggle for survival and resources.
Cross-genre gameplay — Clash & GO is a one-of-its-kind sophisticated synthesis of genres, where familiar mechanics are combined with cutting-edge technology. Rich gameplay with limitless possibilities.
Constantly evolving dynamic battlefield — a player has a chance to manipulate and transform his virtual surroundings. Clash & GO dynamic universe is all about diversity and unexpectedness and never about recurring routine.
After the undisputed wild success of the Pokemon GO game, the players around the globe logically expect the gamedev industry to introduce something grandiose, unseen before and astonishing. With the well-balanced fusion of genres based on prominent technologies Clash & GO brings new and fresh experience, changing the perception of mobile games once and for all. The quintessential tech framework of Clash & GO basically blurs the borders between virtual and real environments, generates new dimension and brings the mobile game to a qualitatively new level.
About Clash & GO
Clash & GO is an innovative mobile game lying at the intersection of AR and strategy, officially launched on Aug 20 by Elyland. The company is based in Kiev, Ukraine. Elyland is an established game development company with a strong track record, uniting over 100 professionals into 10 years of success story. Andriy Semenyuk, founder at Elyland, put all his expertise, persistence and guidance to make Elyland one of the leading game development companies in the region with 6 projects boasting 77 million players.
Disclosure: As an Amazon Associate, I earn from qualifying purchases. The commission help keep the rest of my content free, so thank you!