Our outdoor decks bear witness to the passage of time, and often, the accumulated layers of paint they sport speak to the myriad of memories they've seen. When the time comes to rejuvenate these spaces, stripping away the old paint becomes paramount. I recently took it upon myself to test the effectiveness of the Citristrip Stripping Gel on my own deck, which has seen multiple layers of paint over the years. Here's a closer look at my experience.
1. Introduction to Citristrip Stripping Gel:
Citristrip Stripping Gel is lauded as a non-toxic, biodegradable paint and varnish remover. Its defining feature is its citrus scent, which is a breath of fresh air when compared to the intense chemical smells of many alternative products. Importantly, it boasts an eco-friendly composition, sans methylene chloride and NMP.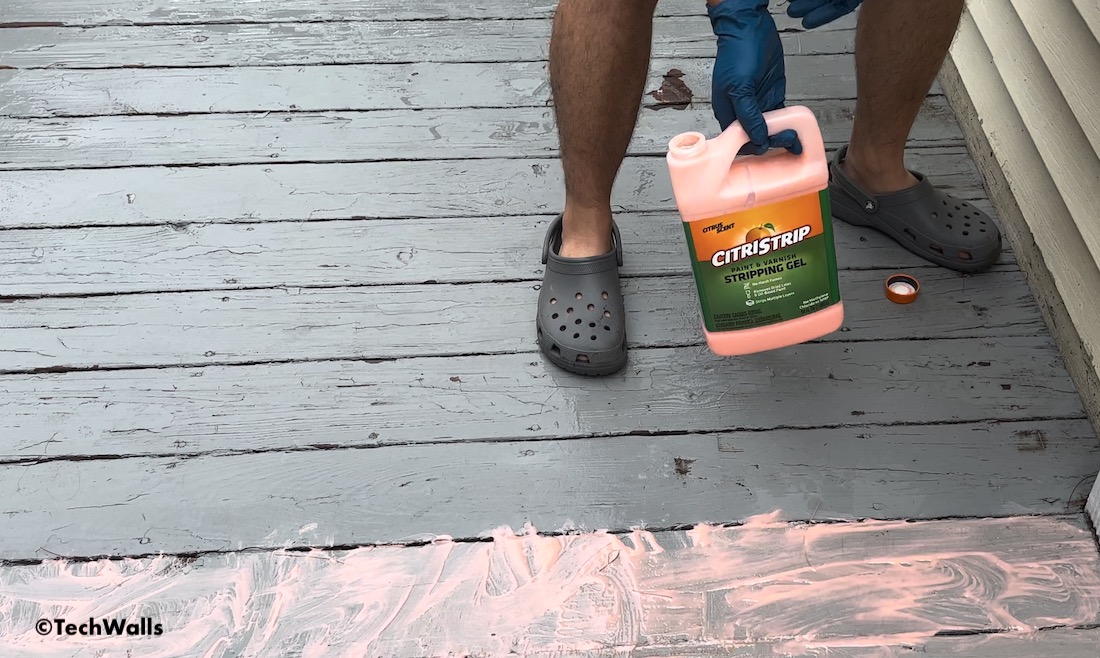 2. Application & Performance:
Upon applying Citristrip to my deck, I noticed that it effectively softened the top layers of paint, making them relatively easy to scrape away. However, when it came to the oldest, most stubborn layer of paint, Citristrip faced its challenge. This bottom layer resisted the gel's efforts and required more elbow grease than anticipated.
Additionally, the uneven and deteriorated condition of my wood deck added an extra layer of complexity to the stripping process. The uneven surfaces made scraping off the paint even more challenging. After multiple applications, I still can't remove all the paint as you can see here. I also used a power washer but that didn't help at all. Since the process is too time-consuming, replacing the old deck might be a better option. I also decide to keep using this deck for a few more years and instead of spending a lot of time and money on recovering it, I will replace it with a composite deck. It might be more expensive but it lasts longer and requires way less maintenance.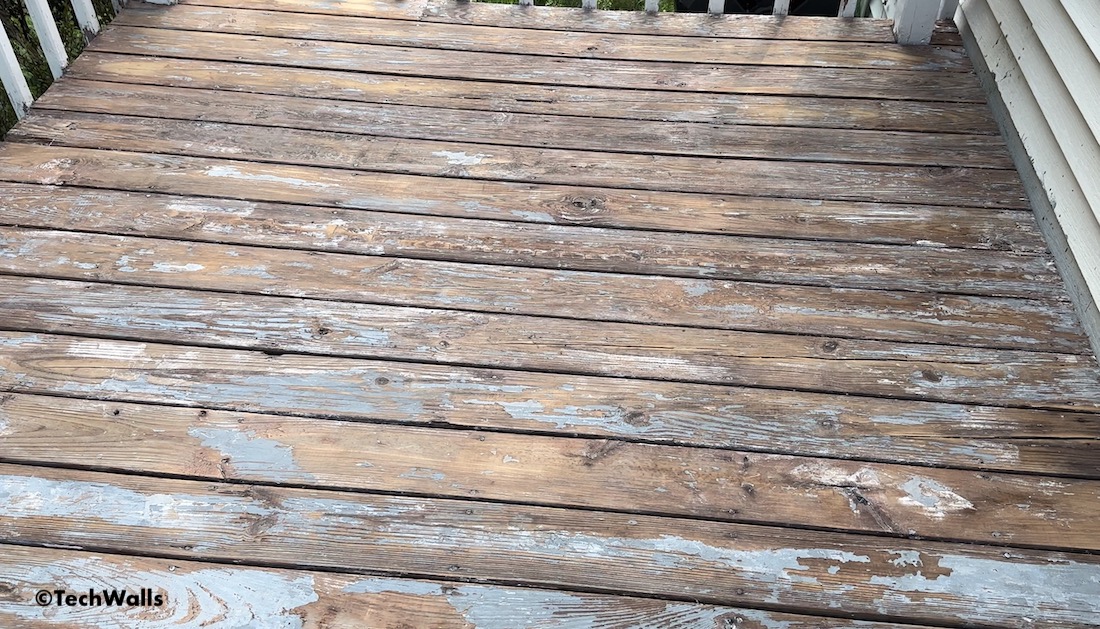 3. Notable Pros and Cons:
Pros:
Safety First: Citristrip shines in open spaces like decks with its non-toxic formulation. There's minimal risk of inhaling harmful fumes or experiencing chemical burns. Its citrus aroma is less assaulting on the senses than traditional paint removers. However, it is still recommended to wear gloves and respirator.
Thick Consistency: Ideal for clinging to vertical surfaces, making it a decent choice for deck railings and vertical panels.
Effective on Recent Layers: It works well on more recent layers of paint, reducing the effort required for those top coatings.
Cons:
Time Consumption: A significant waiting period is needed, often overnight, especially if tackling thick or multiple paint layers. If letting the gel sit for extended periods, wrapping it in plastic can prevent drying.
Struggles with Old Paint: As observed in my test, the gel found it challenging to penetrate the oldest layer of paint.
Wood Condition Matters: The uneven, aged condition of the wood can compound the challenge of scraping off the paint.
Conclusion
Citristrip Stripping Gel presents itself as a sensory-friendly option for those venturing into deck renovations. While its efficacy shines with more recent paint layers, it might grapple when faced with older, hardened coatings, especially on uneven surfaces. For decks with a complicated paint history like mine, patience, and a bit more manual effort will be key. If you're embarking on a deck revival journey, consider Citristrip, but adjust your expectations based on your deck's history and condition. You can spot test first to see if the paint can be stripped off easily before considering other options.
Disclosure: We might earn commission from qualifying purchases. The commission help keep the rest of my content free, so thank you!