Now it's another breakthrough device launched at the CES! News coming straight from Las Vegas that Steelseries has launched a device that would revolutionize gaming using iOS controller.
Steelseries named its controller as 'Stratus Wireless Gaming' and planning to do what many other iOS 7 controllers failed to achieve till date. It will be interesting to see how the company proves its mettle and win the minds of the interested gamers through its launch at the CES 2014!
Stratus has been adjudged as the first wireless gaming controller for iOS 7 in the world. The architecture of the console is almost similar to a normal gaming console and offers requisite buttons in the likes of buttons, sticks, pads and triggers.
This device is Airplay enabled – a much expected feature from an iOS friendly device and fits nicely in the iPad, iPhone and the iPods in which the latest iOS 7 is loaded. This device is said to be specifically designed for lightning equipped iPhones. I will be discussing about the features of this device in details below along with the price and its release date.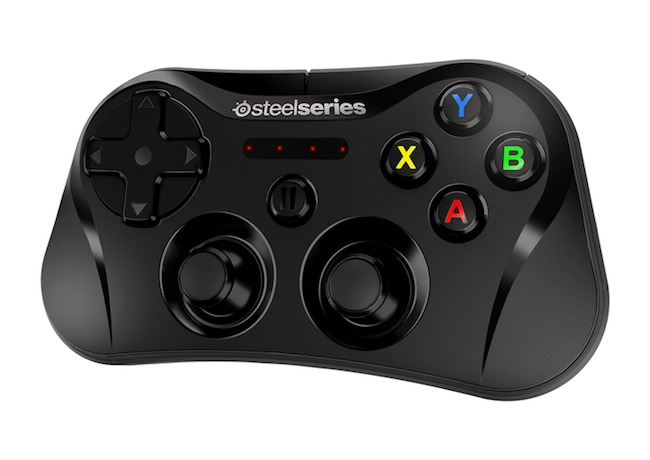 Stratus: In a nutshell
The world's first wireless iOS controller ever can be adjudged as a very viable option for all the Apple gamers. Unlike Moga Power Ace and Logitech PowerShell, this is a wireless module which connects via Bluetooth and you can connect four of these Stratuses into one single iOS device. So multiplayer won't be much of a problem. One of the special features of this controller is its D-pad with four shoulder buttons, four action buttons and dual analog sticks which can be used for precise controlling during gaming. If you are thinking of battery backup, i would say even if you get fed up of playing a game, the controller won't drain. With a 10 hrs of backup, it can recharge itself fully within two hours. All in all, it makes iOS gaming a heavenly experience.
The controller has a good response time and a very sleek design. In your hand it would feel perfect and if your hand is big, it would add some extra grip to it. But when it comes to button spacing, tiny hands would have the last laugh. One with larger hand would face precision problem in the button area while playing. So be careful and see it hands on before buying. I read at some site that the controller wasn't working properly with some of the games though theoretically it should work with all games on iOS 7 platform. Never mind! The price tag of this controller is around $99 which is okay keeping in mind the other iOS 7 controllers price tag. After its CES 2014 launch, it has been released worldwide – both online and offline. All in all, it's a device you can risk for if you are a hardcore gamer on iOS 7 platform.
Disclosure: As an Amazon Associate, I earn from qualifying purchases. The commission help keep the rest of my content free, so thank you!