Case Logic SLRC-205 SLR Sling is the unique camera case that has become so popular since its availability 4 years ago. Up till now, Case Logic still doesn't have competition in the camera sling market and that's why I'm very happy to get the product for review.
First of all, just take a look at the product photo so that you can get idea of its awesome design.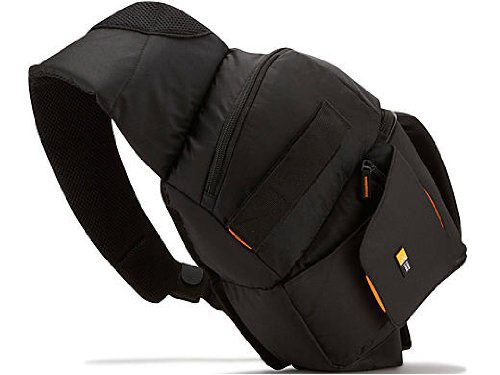 The sling is just around 1 pound and it looks pretty neat, but don't underestimate its abilities. It can hold most DSLR with the maximum size up to 7.9″ x 7.3″ x 7.9″ including attached lens. You also can trust the case because of its ultimate impact protection. The lid of camera compartment is lined with memory foam to protect your LCD screen and the innovative hammock system will protect your camera from the bottom of the case. I try to put my Canon T4i into the case and it fits perfectly and with all the protections, it will be very difficult for your camera to get damaged in normal use, except you intend to.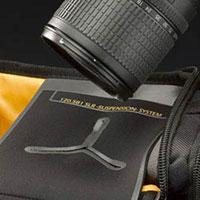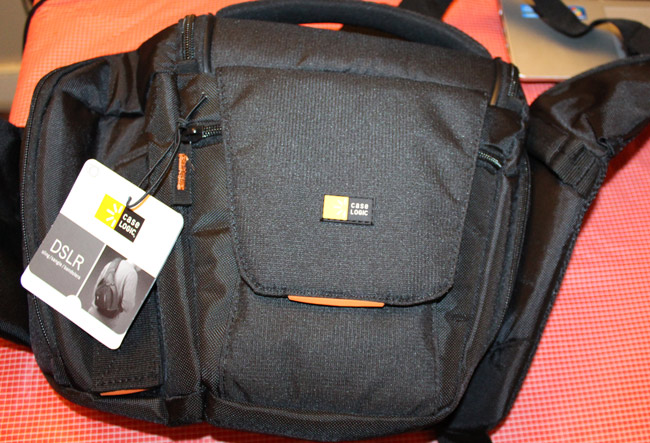 Moreover, the sling has some more features that could satisfy the needs of beginners as well as professional photographers. It has another compartment right beside to store an additional lens which could be measured up to 8.5 x 4 x 5 inches. Besides, it has a small compartment to store the cap and another one on the front to store your accessories such as charger or memory cards. That's not all, you would be more amazed that you also can bring your tripod or another gear just with the small case, there is the gear attachment system that you can fasten your tripod to the case easily.
Now, let's take a look closer at the sling case and how you can use it effectively. This is a cross-body sling, and here is how it looks on your body.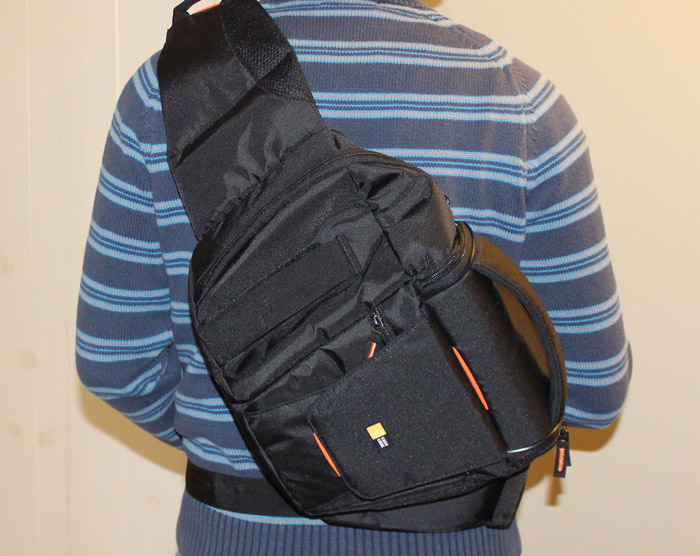 When you carry the sling, the camera compartment will be on your back. To get your camera, you will just need to swing the case forward and all you need is right in front of your stomach. The case is built with high-quality materials, so you will feel very comfortable wearing it. It can fit any person because the shoulder and waist straps could be adjusted, your camera will always stand stably during your activity.
The case is offering too much in a small package, however, nothing is perfect and this sling has some disadvantages as well. Let's check out all pros and cons of the sling case.
Pros
High quality material

Clean and compact design
Enough compartments to hold accessories, additional lenses and tripod
Easily to get camera within seconds
Enough padding to protect your camera
Cons
It could be too bulky for beginners, especially when you just need to bring a camera with attached lens.
Some photographers will need more space to bring more lenses.
Overall, this is still an awesome camera case and it's worth its popularity.
Amazon is selling the Case Logic SLRC-205 SLR camera sling at the price of $41.99.
Disclosure: We might earn commission from qualifying purchases. The commission help keep the rest of my content free, so thank you!