We live in a profit-based society, and economics is the moving force in our daily lives and for most business. Goods and services need to be provided and people do so with the expectation of getting compensated for their work.
When you're hired for a job, you enter into a verbal agreement where you agree to arrive on time and do what is asked of you. If a customer wants to buy something from you, you give them a price and the customer decides whether or not to buy it. This is the basis of commerce, and it will probably continue to be so for a long time to come.
Beyond that, we also live in an electronic world. More than ever, people are relying on debit and credit cards than on cash. We do our banking online and we can check our accounts from our computer, mobile devices, or tablets. ATMs are everywhere in stores and in banks. Many stores will happily accept a card that handles electronic payments. In fact it is becoming the norm to do so.
Ebay
Ebay is one of the first and foremost sites for purchasing and selling items online. Like a garage sale, it offers gently used items, but you can find almost anything you're looking for with a little determination. While most stores now use credit card swipe machines to ring up your transaction, an online buying and selling site like eBay has a shopping cart feature to check you out. Just give them your credit card information and you're all set. eBay also allows you to purchase items with PayPal, an online site specifically designed to make business transactions online. PayPal is a secure site and protects your specific account information. Another helpful feature on eBay is the feedback option that allows you to rate the service you received while there. This is a nice personal touch and makes you feel a little like you're interacting with a clerk in a brick-and-mortar store. Not only does it provide the site with useful information, it also lets future customers know what they can expect.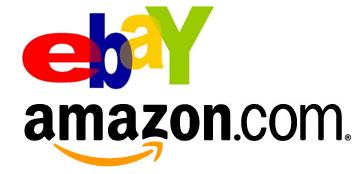 Amazon
Amazon is another valuable site for making online purchases. As with eBay, the range of choices is varied, and you can find almost anything you want. And as a customer, you can use the search engine to help you find it. It's customized so can you choose your parameters and be very specific about what you want. And, as with eBay, you can list items you want to sell along with the price you'd like to get for them. When you are buying items, you can view all the merchandise in each category at once This lets you conveniently compare prices quickly and decide which is the best bargain without having to go back and check several different items on different parts of the site.
There are many convenient ways to buy and sell online and many sites that provide you with a large number of items to choose from. In this electronic age, merchandise you need is as easy to access as sitting down at your computer, turning on your tablet, or looking at your phone and pressing a few keys.
Disclosure: We might earn commission from qualifying purchases. The commission help keep the rest of my content free, so thank you!