Bob Schrupp and Brad Heineck are two famous physical therapists on the Internet and you probably have watched some of their videos on Youtube. They created their own brand BOB AND BRAD with a wide product range including massage guns. Unsurprisingly, their products are highly praised on Amazon with thousands of ratings. The BOB AND BRAD Q2 Mini Massage Gun is not an exception and we're going to find out why people love it.
Disclosure: This is a sponsored article; We were compensated to publish this post on our website.
Box Contents
Inside the box, you can find a charcoal-colored nylon zippered carrying case which looks very compact and durable. Opening this case revealing the massage gun, a USB-C cable, and 5 head attachments. It doesn't include a charger but you can use your phone charger or just plug it to your computer to recharge the gun.
The default head is the big round one which performs well in most scenarios, however, you can try other heads to see if they are more effective on other parts of your body. Here are their differences
Ball Head: This offers medium pressure intensity and is designed to target larger muscle groups like hamstrings, glutes, and quadriceps.
Bullet Head: This offers the highest intensity and it is suitable for deep tissue impact. It could target areas in joints, palms, and soles.
Fork Head: This offers medium intensity and it is designed for neck, spine, and Achilles tendon.
Flat Head: The wide and circular head. It is good for general purpose and can be applied on all parts of your body.
Air Cushion Head: This is the most gentle attachment thanks to the air in the middle. It is ideal for sensitive muscle group.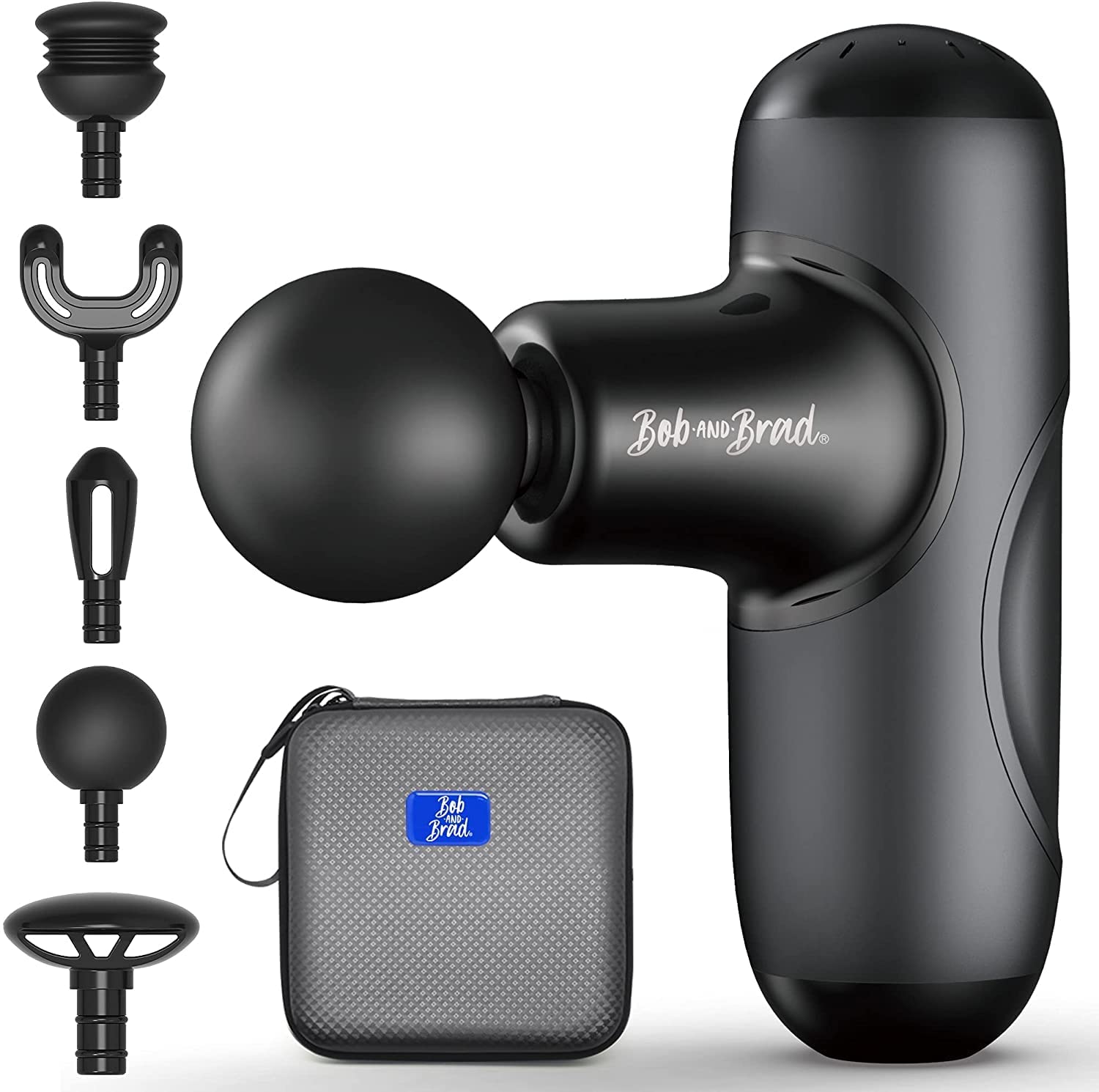 Features & Performance
Although the BOB AND BRAD Q2 is significantly smaller than the C2, its power can't be underestimated. They manage to find the right balance between power and size. The Q2 has 5 speed levels ranging from 1,800 to 3,000 rpm and and a vibration amplitude of 7mm. This is a little lower than the C2 but it is totally acceptable at this size. It is good enough to break up knots, relax tight muscles, and relieve hard-to-reach muscle groups.
This is a portable device that you can bring it with you anywhere, moreover, it weighs less than 1 lbs so you don't feel the weight during operation or transportation. Its battery could last up to 4 hours on a single charge, meaning you won't have to recharge it for a few weeks even when you use it every day.
The BOB AND BRAD Q2 is a mini massage gun with admirable capabilities. We totally recommend it for first-time users who are looking for a portable massage gun. The product is available for just $69 after applying an on-page Amazon coupon now.
Disclosure: We might earn commission from qualifying purchases. The commission help keep the rest of my content free, so thank you!