If you've been contemplating acquiring a trustworthy power solution, now is the perfect time. BLUETTI, a forerunner in renewable energy storage, launches its Prime Day Sale, featuring massive discounts up to $960, accessible even without an Amazon Prime membership.
Disclosure: This is a sponsored article. We were compensated to publish it on our website.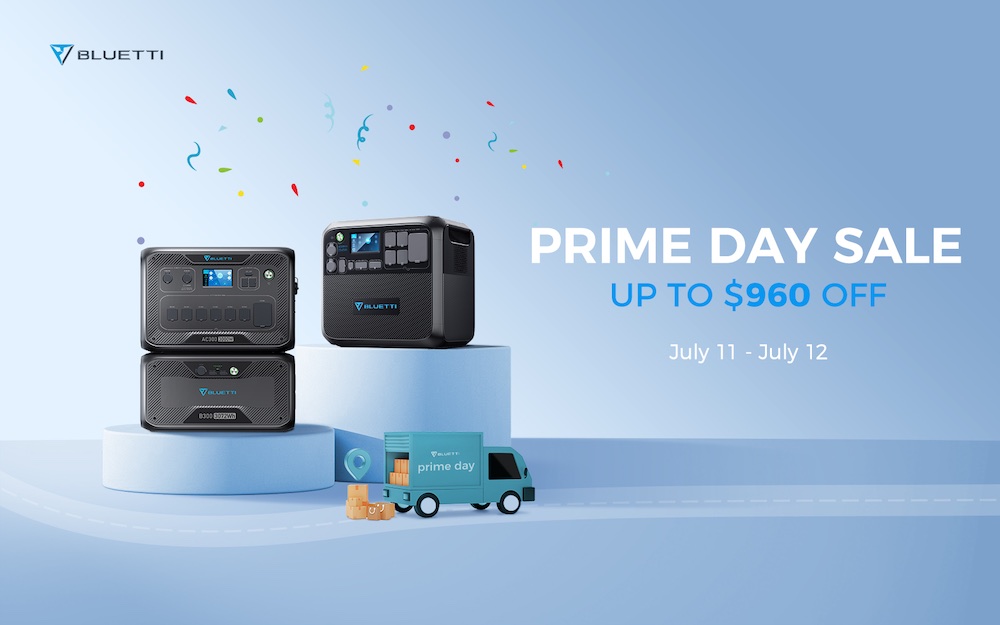 BLUETTI's products, inclusive of the AC200P, AC300+B300, and AC60+B80 models, will be available at unparalleled prices from Amazon and the BLUETTI website between July 11th and July 12th at 23:59 PDT. Whether you're planning an adventurous trip outdoors or require a reliable home power source, BLUETTI has the perfect solution.
AC200P: Top Selection for Off-Grid Living at $1119, Previously $1659, 32% Savings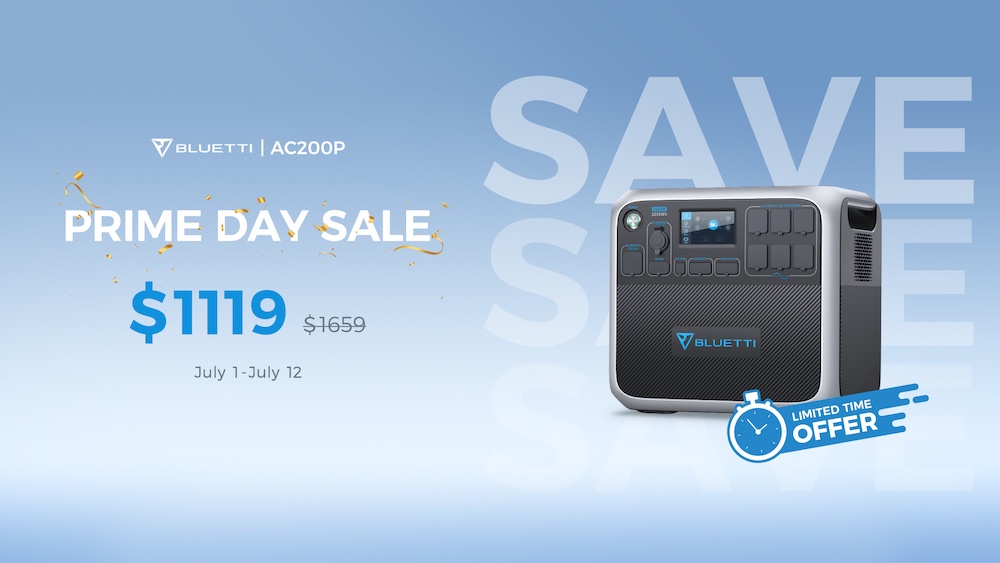 Here's exciting news for RV or van travelers – the AC200P power station is now available at the Prime Day price, a discount effective immediately until July 12.
The AC200P is the ideal power station for your travels, boasting a substantial 2,000Wh battery capacity and a potent 2,000W AC output (with 4,800W surge), capable of handling any RV appliance. The need to find campsites for energy recharges becomes redundant with the AC200P's impressive 700W solar charge feature. This solar generator provides a quiet, emission-free power source for cars and tents, making it the most cost-effective mobile power of its kind.
AC300 & B300: Powering Homes and More at $2,299, Previously $3,498, Save $1,199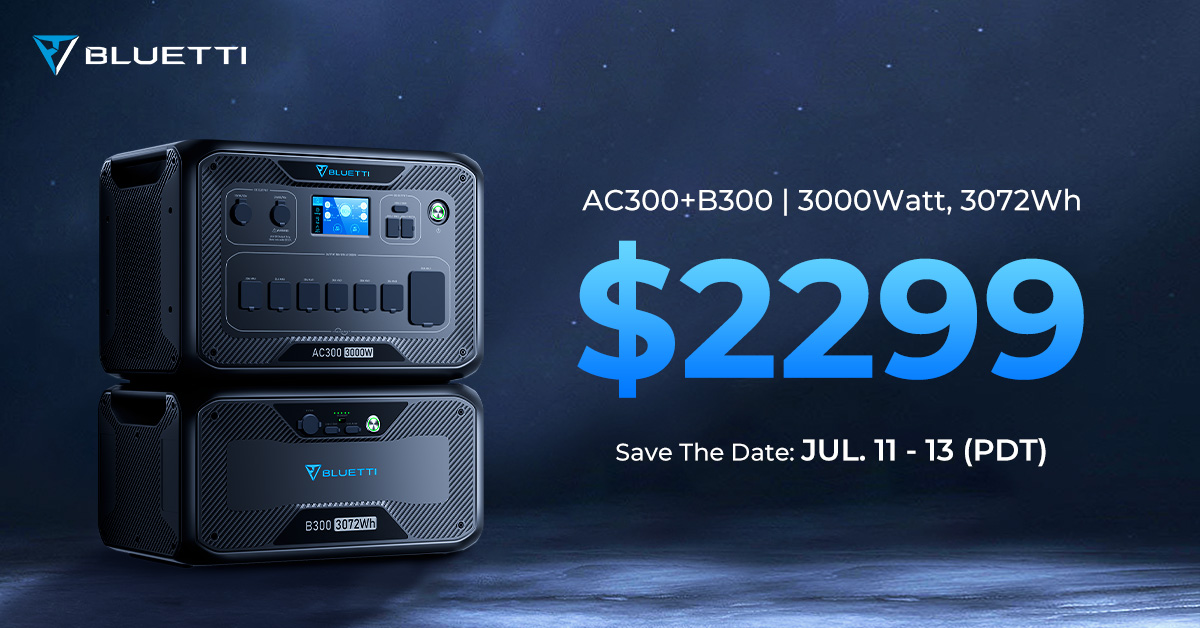 The AC300 power station is a revolutionary product for emergency power supply during blackouts. It offers a robust 3,000W AC output (6,000W surge) and 16 outlets, making it versatile enough to power most household appliances.
It also features an uninterruptible power supply function that switches from mains to battery power within 20ms. Connecting the AC300 to four B300 expansion batteries yields a colossal power storage of 12,288Wh, adequate for powering an entire house for days.
AC500 & B300S: Unleashing Extraordinary Power at $4,299, Previously $4,799, Save $500
The AC500+B300S combo outperforms its AC300 counterpart with improvements in power, capacity, and charging speed. This remarkable 5,000W continuous power (10,000W surge) solution can handle almost any power requirement. It provides a maximum capacity of 18,432Wh when paired with the B300S expandable battery, making it ideal for extended power outages.
The AC500 is a long-term investment due to its eco-friendly and safe LiFePO4 batteries. It has a 3,000W solar charging capacity, which can aid in reducing your utility dependence and saving on energy bills.
EB3A, EB55, and EB70S: Portable Power for Camping from $199, Save up to 33%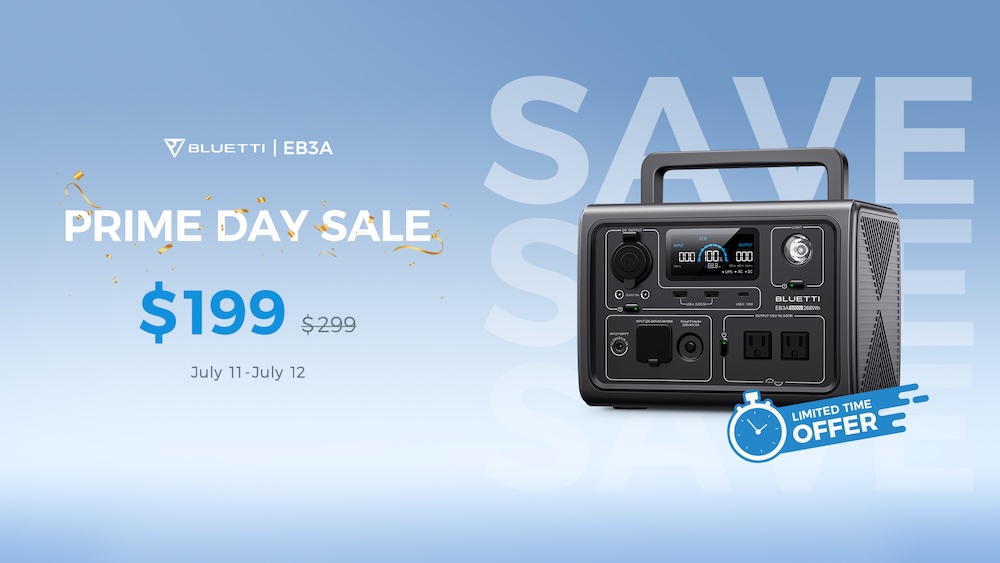 BLUETTI's EB3A, EB55, and EB70S are compact, portable power units that offer different capacities from 268Wh to 716Wh. Equipped with multiple outlets, these power boxes ensure your camping essentials stay powered. They also serve as excellent emergency power sources, with the EB3A capable of charging an iPhone 12 up to 25 times.
AC60 and AC180: Expanding Outdoor Capabilities
BLUETTI's latest products, the AC60 and AC180, promise to resolve power shortages during your outdoor adventures. The AC60 is IP65 rated for water and dust resistance and offers a 403Wh LFP battery. It can pair with B80 expansion batteries for a maximum capacity of 2,015Wh.
The AC180, a 1,800W/1,152Wh powerhouse, supports fast solar and AC charging, and is compatible with the B80, B230, and B300 extra batteries for extended capacity. The AC180 is available at an extended early bird price until July 20th.
The BLUETTI Prime Day Sale offers an excellent opportunity to procure superior power solutions with savings up to $960. These 48-hour limited offers also include free gifts on purchases over certain values, along with thrice the usual BLUETTI Bucks for orders placed between July 11 and July 12.
Disclosure: We might earn commission from qualifying purchases. The commission help keep the rest of my content free, so thank you!