BLUETTI launched their flagships, the AC300 portable power station and B300 external battery, last month but they went out of stock quickly within 2 weeks. The two products now come back for the Halloween and moreover, there are many more deals for the spooky holiday.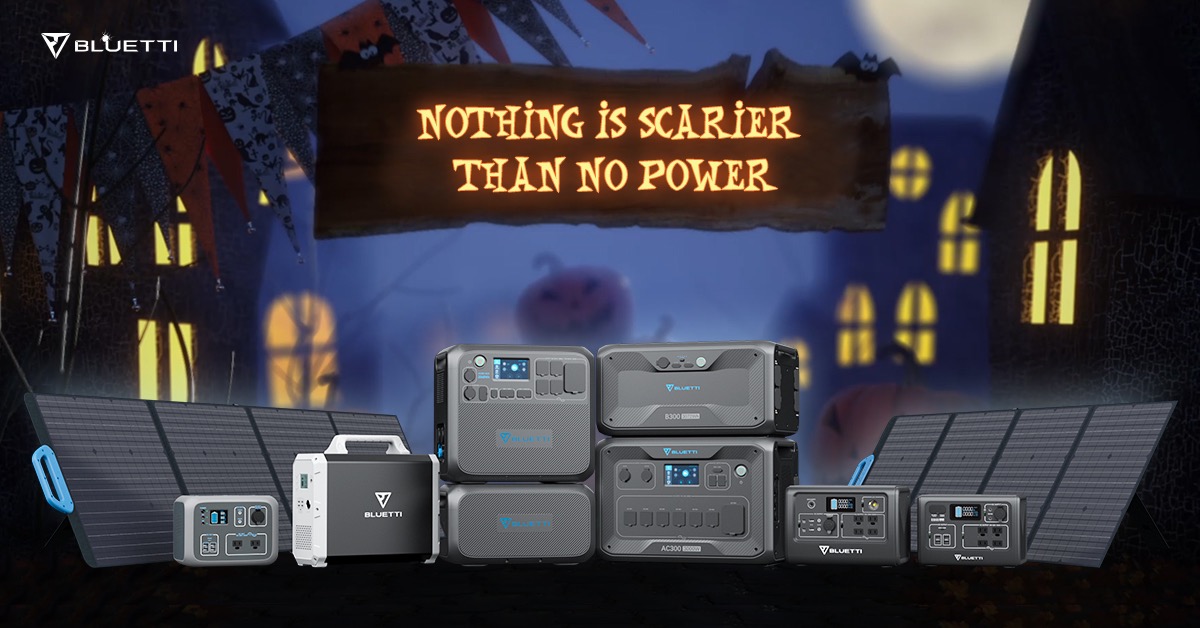 Disclosure: This is a sponsored post, we were compensated to publish this article on our website.
AC300 & B300 Bundle Deal & Tech Specs
We had a detailed post for the AC300 and B300 and you can check it out for full specifications. Here is a recap of their standout features.
Bluetti AC300 is 100% modular. It can reach the total of 12,288Wh after connecting to four B300 battery modules.
Being modular makes transportation easy and effortless because separate parts are portable and lightweight.
AC300 uses top of the range LFP (lithium iron phosphate) cells with over 3500 life cycles leading up to 80% of the original capacity (this is equivalent to approximately 10 years of service life)
It can receive 2,400 watts of unrivalled solar charging input, all held together by a 3000 watt pure sine wave inverter, able to adjust the AC charging rate.
The AC300 can be charged with both solar and AC simultaneously while connected to two B300 battery modules, adding up to 5400 watts of stunning charging rate, fill the 6kwh battery from 0~80% in only 1 hour.
It can be connected to the new BLUETTI Fusion Box Pro to double the voltage, power, and capacity up to 6000W, 240V, 24,576Wh.
Controlled by a smartphone app via Wi-Fi and Bluetooth.
BLUTTI is offering up to $3,900 off for AC300 bundles, let's check out the best deals:
3,000W | 6,144Wh | 600W Solar Panel Combo, From Camper To Your Off-grid Hut, Power At Ease
MSRP $7,444, Now For $5699, $1745 Saved, Get yours here.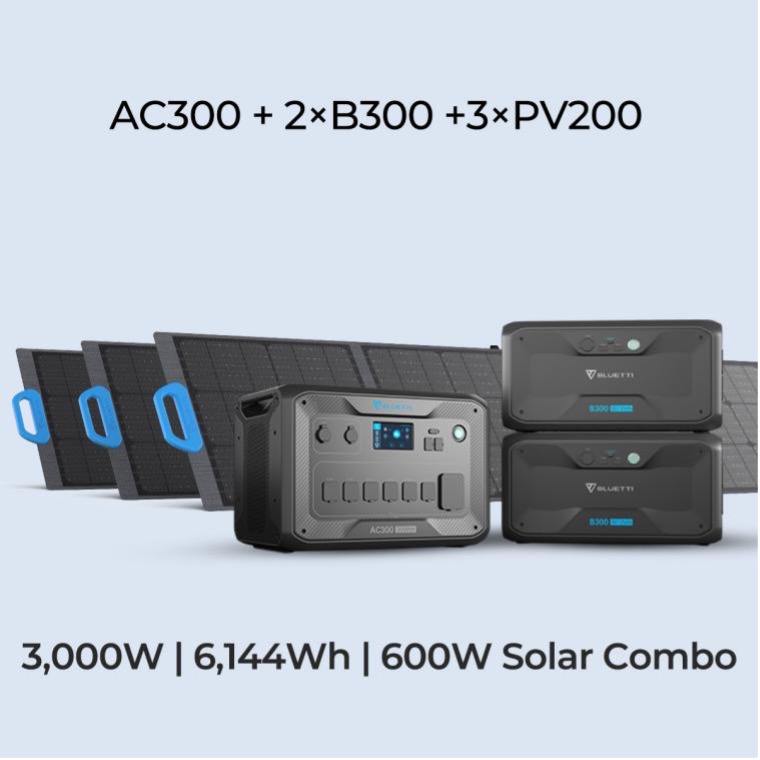 240V 6,000W | 12,288Wh Combo, Double The Power, Double The Fun
MSRP $11733, Now For $8899, $2834 Saved, get yours here.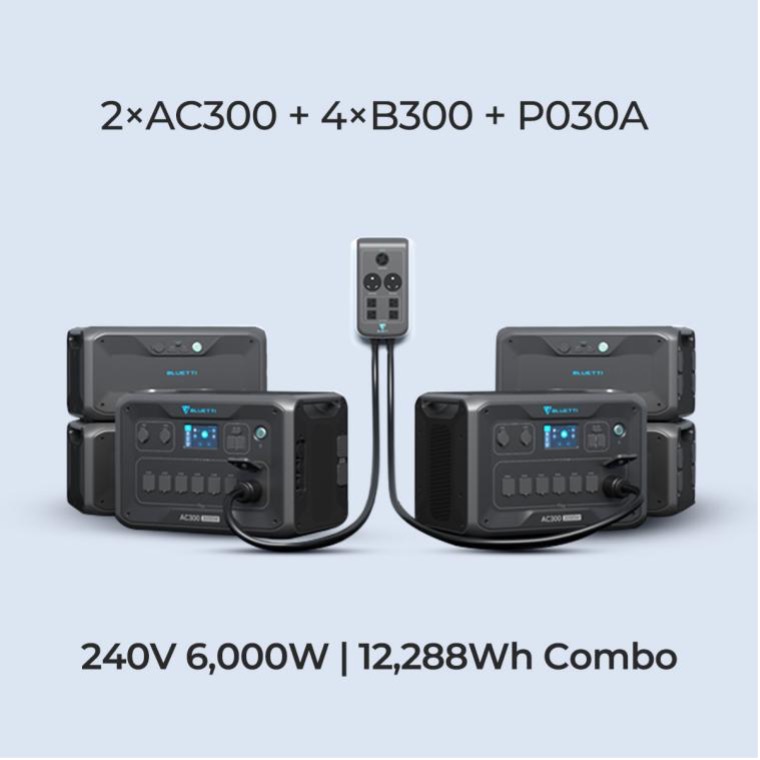 240V 6,000W | 12,288Wh | 1,200W Solar Combo, King-size Home Backup Package.
MSRP $15027, Now For $11099, $3928 Saved, get yours here.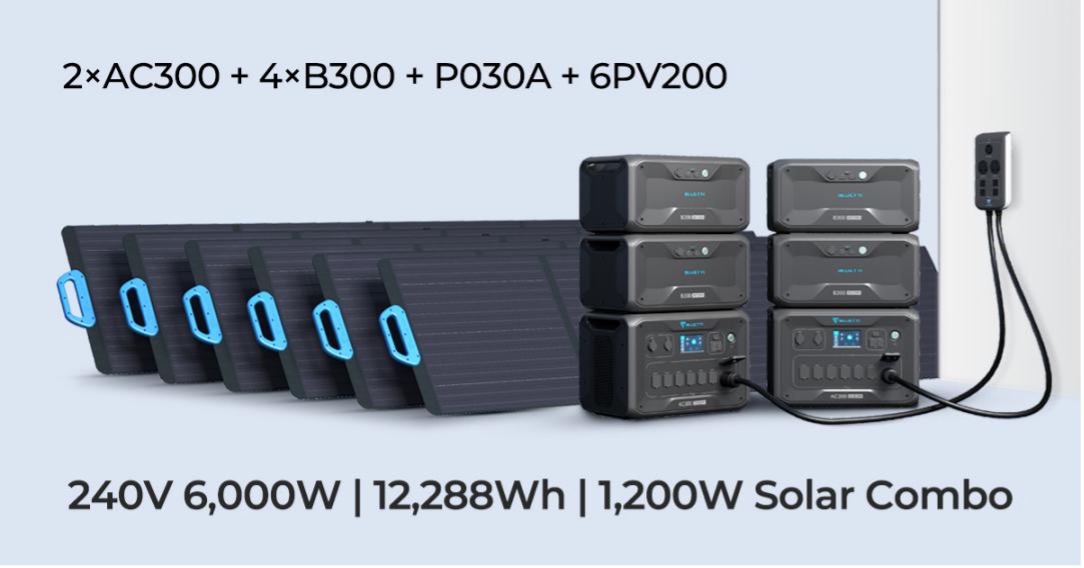 EB55 Deal – Now with Pumpkin Color
EB55 is ideal for camping, the portable station features a solid 537Wh capacity.
It uses LiFePO4 battery chemistry combined with a built-in battery management system for multiple layers of protection.
Over 2500 charging cycles before reaching 80% capacity.
It can receive up to 200 watts of solar input and 200 watts of AC power at the same time. A full charge takes just 2 hours.
State of the art pure sine wave inverter boasting 700W (up to 1400W surge).
The EB55 will be priced at $449 and we can get extra discount for solar panel bundles.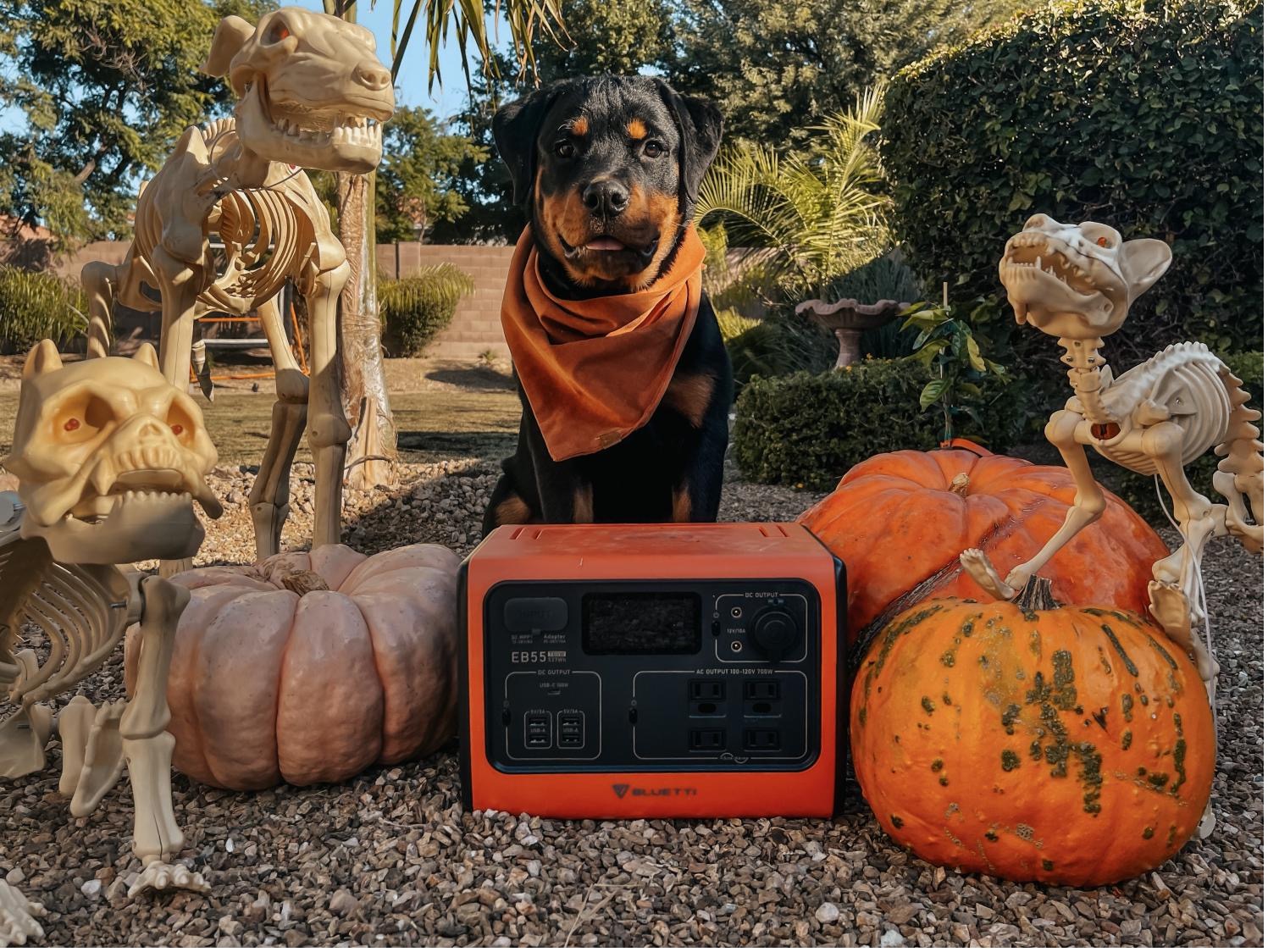 AC200 MAX & B230 Deals
The AC200 MAX is an upgrade of the popular AC200P with a standard built-in 2,048Wh LFP battery pack
Charging cycles: 3500+ times before reaching 80% capacity.
It can be connected to both the B230 and B300 battery modules. With two B300 units, the total capacity can reach 8,192Wh.
Features a pure sine wave inverter with 2,200 watts (4,800 watts surge)
It accepts up to 900 watts of solar input and 500 watts of AC input at the same time. A full charge can take just over 2 hours.
Control via the app or touchscreen.
Compatible with any solar array with MC4 connectors and total open circuit voltage (Voc) in the range of 10-145V/MAX.12A.
BLUETTI is drooping $200 off the AC200 MAX during the Halloween, check it out here.
All those deals are global and will start on October 28th and end on November 4th, 2021.
Disclosure: We might earn commission from qualifying purchases. The commission help keep the rest of my content free, so thank you!