Maxoak Bluetti is a new brand in the solar power station market but they've already had some successful launches in the last few years. Last year, their crowdfunding campaign for BLUETTI AC200 raised more than $6.8 million on Indiegogo. Then they released an upgraded version called AC200P and it is still available on Amazon. However, you'd want to hold off buying those products because they are releasing a much more powerful Bluetti EP500 in March.
Bluetti actually releases 2 versions called EP500 and EP500 Pro. They have the same size and battery capacity but the latter having higher power input/output and being more expensive. The EP500 and EP500 Pro will start shipping in June and August respectively. The EP500's super early bird price is just $2,799; That means you would get 30% off the retail price.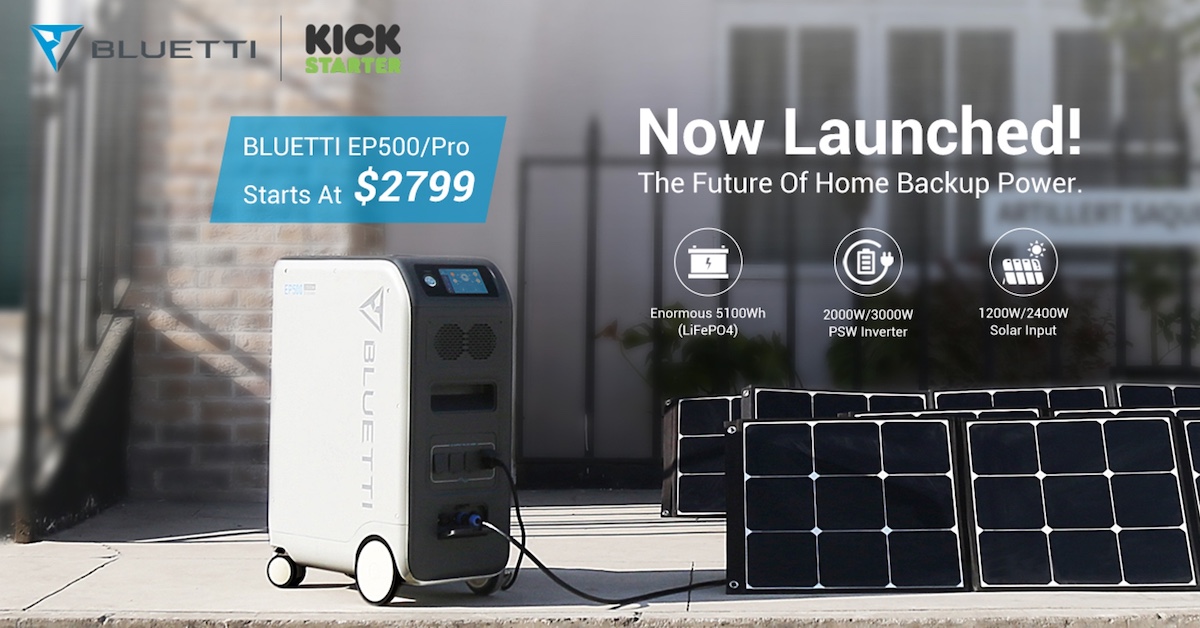 Specifications
Capacity: 5,100Wh 
Rated AC output: 2,000W, surge 4,800W
Battery Cell Type: LiFePO4 (with 3500 charge cycles to 80%)
Ports: 1×12V Cigarette Lighter Port, 1×100W USB-C, 4×USB-A, 2×12V/10A DC, 1×12V/30A RV, 2×Wireless Charging Pad, 4×100V~120V AC Output (US/UP) or 3×220V~240V AC Output (UK/EU/AU), 1×AC Input, 1×Communication Interface, 1×PV Input and T500 Input
AC Input: 600W
Solar input: Up to 1200W @ 70-145V With MPPT, fully recharged in 4 hours
Support simultaneous Solar+AC(1800W max.) recharge, fully recharged in 3 hours
Support home integration
Support Phone App control
Support UPS
Dimensions: 22.8 x 11.8 x 29.9 inches
Weight: 167 lbs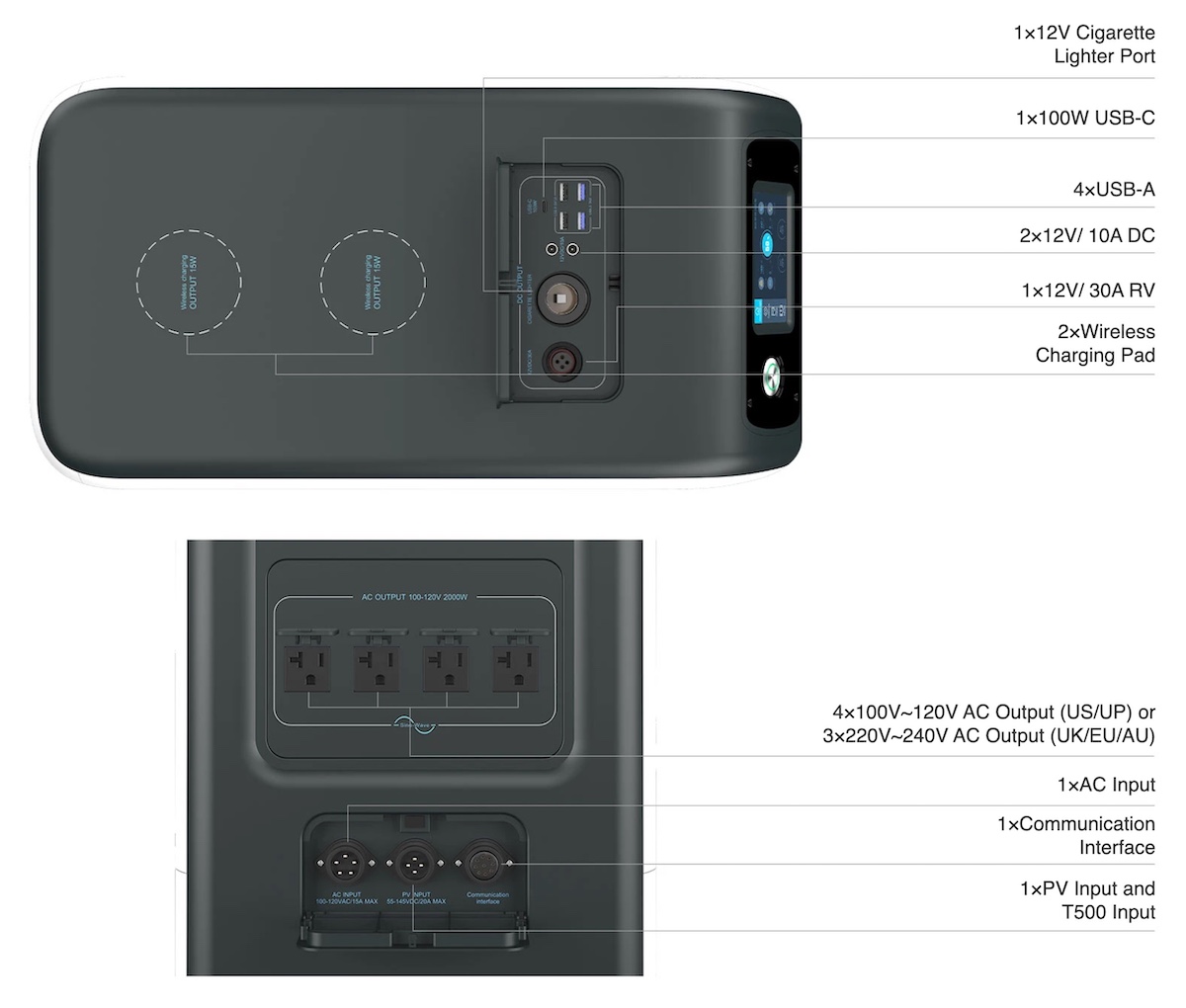 The EP500 features the 2,000W pure sine wave AC inverter and surge up to to 4,800W. It can power almost all your home appliances, off-the-grid cabin, your RV or Tesla car. The high power output is capable of running larger load devices such as coffee machines, fridges, hairdryers, air conditioners, electric heaters, power tools, etc. However, it might not be enough to power all appliances in your home. A solution is buying two EP500 units and connecting them to the Split Phase Box; Then, the power output will be doubled to 4,000W (or 6,000W with the EP500 Pro).
The biggest difference between the EP500 and other products is the large 5.1kWh capacity. It is still much smaller than Powerwall or SonnenCore but it has a portable design with 4 smooth-rolling transport wheels. It doesn't require any installation and looks just like a 20″ carry-on spinner suitcase. Specifically, the EP500 measures 22.8 x 11.8 x 29.9 inches and weighs 167 lbs.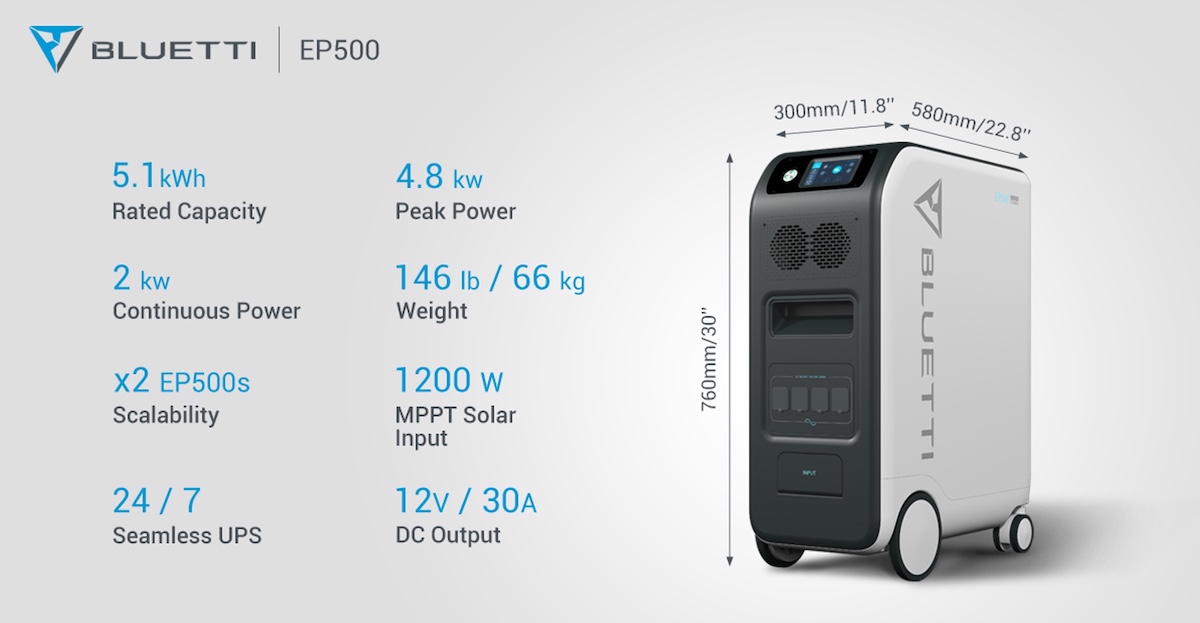 The product is made to replace gas generators which are noisy, polluting, require more maintenance, and can't be used indoors. The EP500 is safe for indoor use because it is virtually silent during operation, it does not run on fossil fuels and does not emit any fumes. It is powered by durable LiFePO4 battery cells with life cycle of up to 6,000 cycles (3500 charge cycles to 80%). You can recharge the battery with a wall AC outlet, solar power, car cigarette port, lead-acid battery, or gas-fired generator. The most eco-friendly charging solution is using solar panels but you will need to buy about 4-6 pieces to fully charge the EP500 in 1 day; Each Bluetti SP200 solar panel costs about $500. Of course, you can buy just 2-3 pieces and recharge slower to save your wallet.
With impressive max output and capacity, easy-to-use interface, wide array of ports, and rugged exterior, the EP500 is really a good deal if you can grab it at the discounted price. The product comes with 3-year warranty and lifetime tech support; You can also extend the warranty for $399 for 1 year or $699 for 2 years. The crowdfunding campaign is live now and you can visit this KickStarter page to get it.
Disclosure: We might earn commission from qualifying purchases. The commission help keep the rest of my content free, so thank you!