Portable power solutions have become an absolute necessity in our increasingly digitally connected world. While I already have some bigger power stations, I still need a portable one like the BLUETTI EB70S for my camping and road trips. The EB70S stands out as a remarkable portable power station that seamlessly blends efficiency, versatility, and durability.
Specifications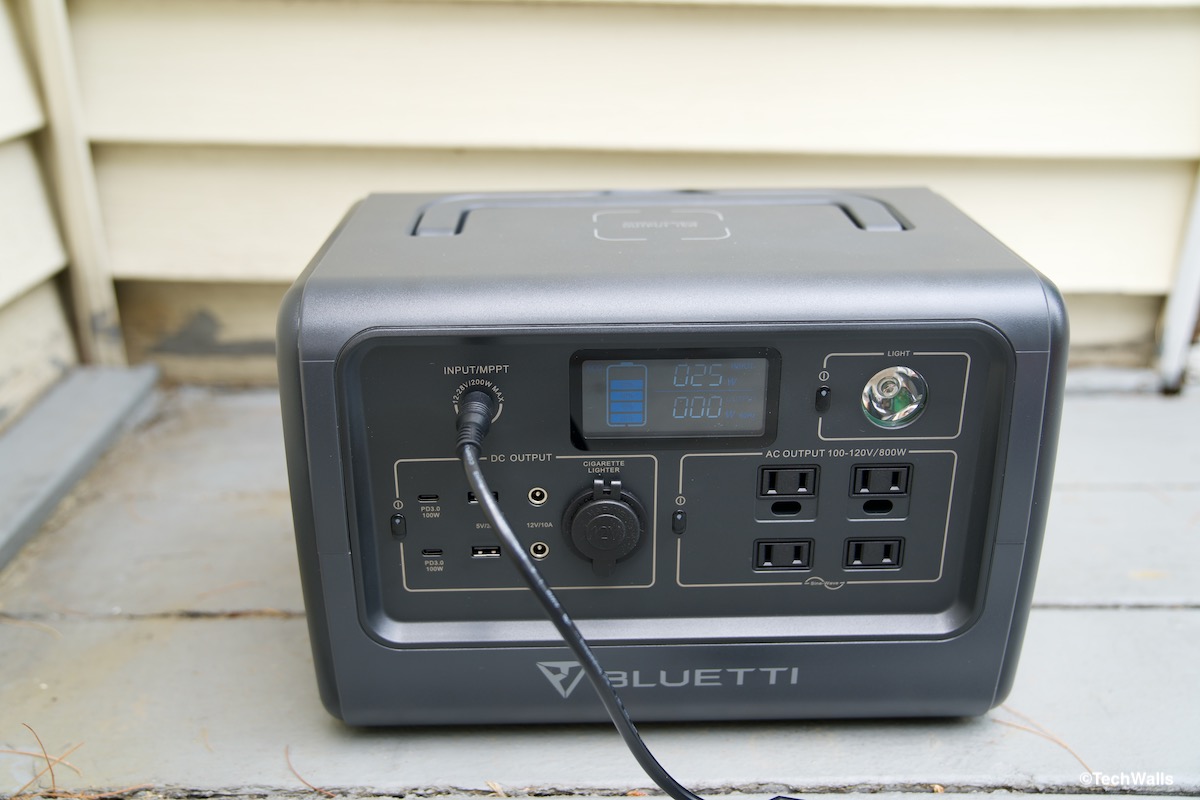 General
Weight: 21.4 lbs (9.7 kg)
Dimensions (LxWxD): 12.6 x 8.5 x 8.7 in (32 x 21.6 x 22.1cm)
Operating Temperature: -4-104℉ (-20-40℃)
Storage Temperature: 14-113℉ (-10-45℃)
Battery
Capacity: 716Wh (22.4V, 32Ah)
Type: LiFePO4 (Lithium Iron Phosphate)
Life Cycles: 2,500+ Cycles to 80% Original Capacity
Management System: MPPT Controller, BMS, etc.
Output
AC Outlets: 4 x 120V/20A AC Outlets, 800W Total
Inverter Type: Pure Sine Wave
Surge Power: 1,400W
USB-C Port: 2 x 100W Max
USB-A Port: 2 x 5V/3A
12V DC Outlets: 1 x 12V/10A (Car Outlet), 2 x 12V/10A (DC5521)
Wireless Charging Pad: 1 x 15W Max
Input
AC Adapter Input: 200W Max
Solar Input: 200W Max., VOC 12-28V, 8A
Car Input: 12/24V from Cigarette Lighter Port
Charging
AC Adapter (200W): ~4-4.5 Hours
Solar (200W): ~4-4.5 Hours (With prime sunshine, ideal orientation and low temperature)
12V/24V Car Outlet (100W/200W): ~7.5 or 4.0 Hours
Pass-through Charging: Yes
A Dazzling First Impression: Design and Build
Inside the box, you can find the power station, a 200-Watt AC adapter, a solar charging cable (DC7909 to MC4), and a car charging cable.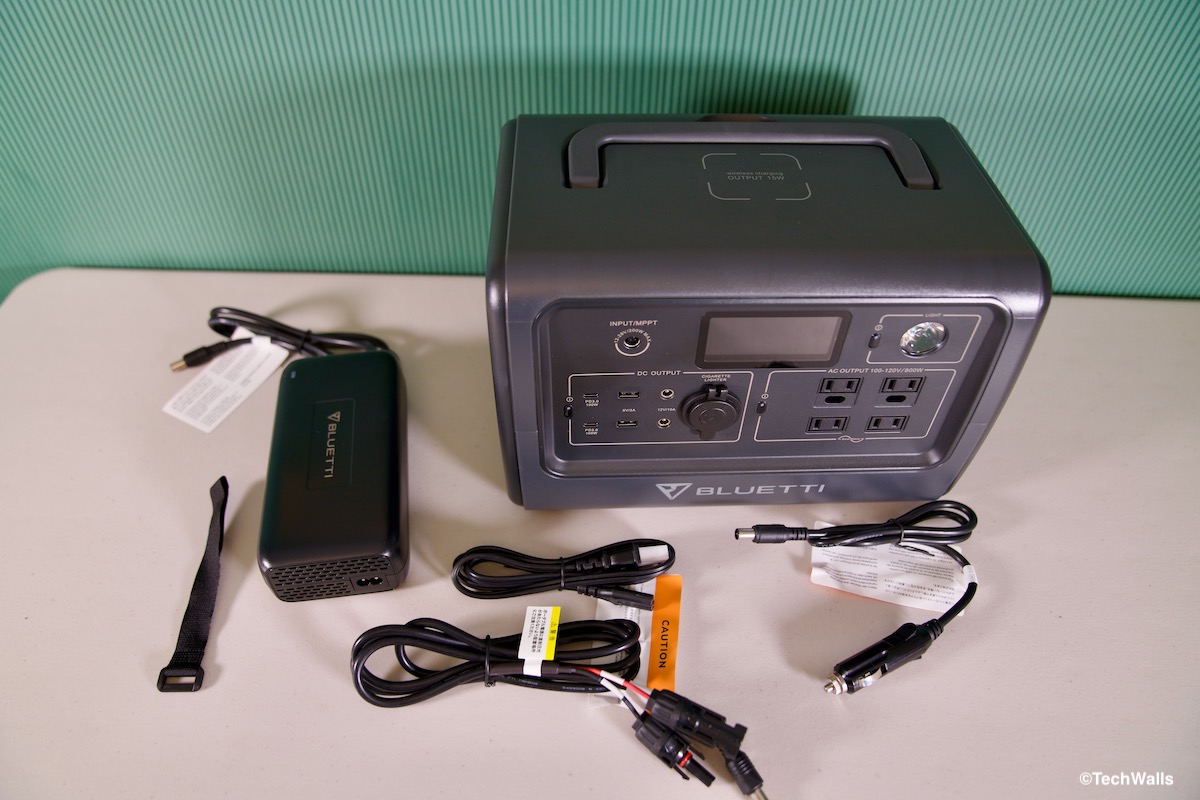 At first glance, the sleek design of the EB70S strikes a chord. I'm particularly impressed with its compact package and portable design with a fold-away handle. The handle doesn't take up any space on top and I still can carry it around easily. It's relatively lightweight at just above 21 lbs, making it easy to transport, which is crucial for any portable power station. Another nice touch is the LED light on the front; The light is small and not really bright when used outdoors but it still offers a flashing and SOS function.
Overall, the power station feels very solid and well-built. It's not just about aesthetics as it is crafted with durable materials ensuring longevity.
Power Performance: Capacity and Output
The EB70S displays impressive capacity and performance. It boasts a substantial 716Wh lithium-iron-phosphate (LiFePO4) battery, which offers great energy storage for its size. With 800W of pure sine wave AC output, it guarantees stable, efficient power supply to your devices. Four AC outlets, a wireless charger, and multiple USB ports, including PD and QC types, underscore the EB70S's versatility, allowing it to power or charge multiple devices simultaneously.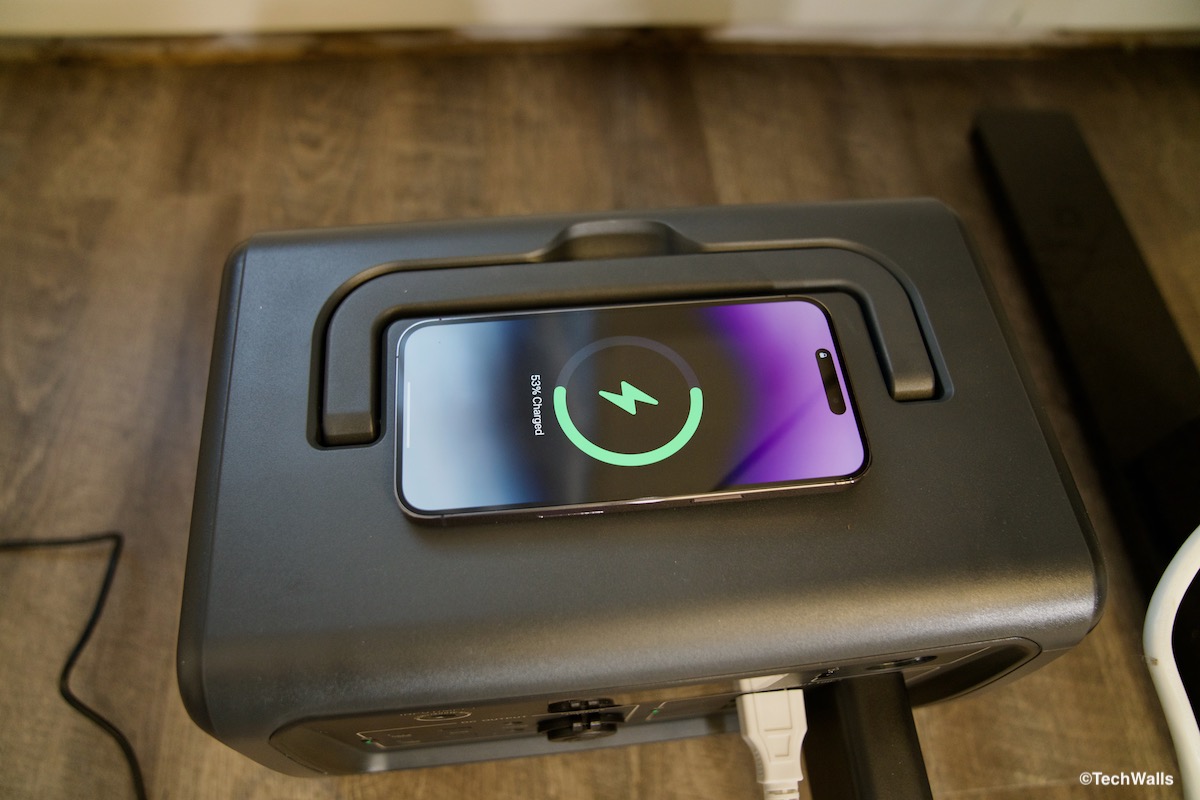 The EB70S offers a wealth of connectivity options. The power station includes two regulated 12V DC outputs and one 12V/10A car port, which provides power for devices like mini-fridges, CPAP machines, and even drone batteries. The array of USB ports – two USB-A, two 100W PD3.0 USB-C – cater to a range of devices from smartphones and tablets to laptops and portable gaming consoles. The multiple AC outlets make it possible to operate small appliances, making the EB70S suitable for both outdoor adventures and emergency home backup.
In theory, the EB70S can even power a full-size refrigerator for about 40 minutes but I'd not recommend you to do because it is reaching the limit of the inverter. If you plan to run large power tools or cooking appliances like air fryers or electric oven, the power station is also not a good option because those applications require too much power. The EB70S is more suitable for smaller workloads during camping trips, outdoor activities, or emergency situations. Due to inclement weather conditions, I had a few power outages during the summer and the Bluetti provides enough power to recharge all my mobile devices and power my laptop and lights for 2-3 days with ease.
If I just use the power station for my workstation including a 27-inch monitor, a MacBook Pro, and a fan, it could last 14 hours which is equivalent to 2 working days.
Charging Capabilities
The BLUETTI EB70S shines in its fast-charging capacity. The MPPT high-efficiency solar charge controller, coupled with solar panels, delivers quick solar charging times. Moreover, it supports up to 200W solar input, giving it an edge in energy management and sustainability. I used my 200W solar panels to recharge the battery and it took about 6 hours for a full charge. The power station can also be charged via an AC wall outlet or a 12V vehicle accessory port, ensuring flexibility and convenience for users on the move.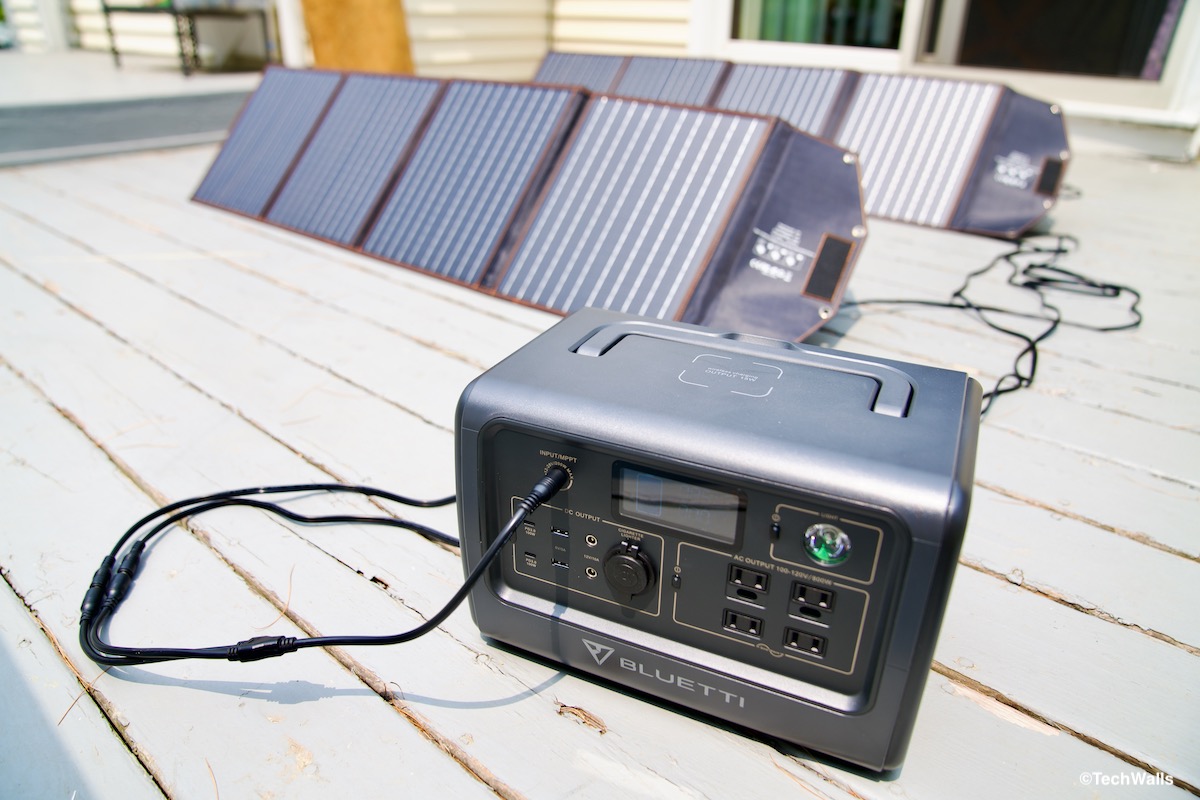 The Display: A Closer Look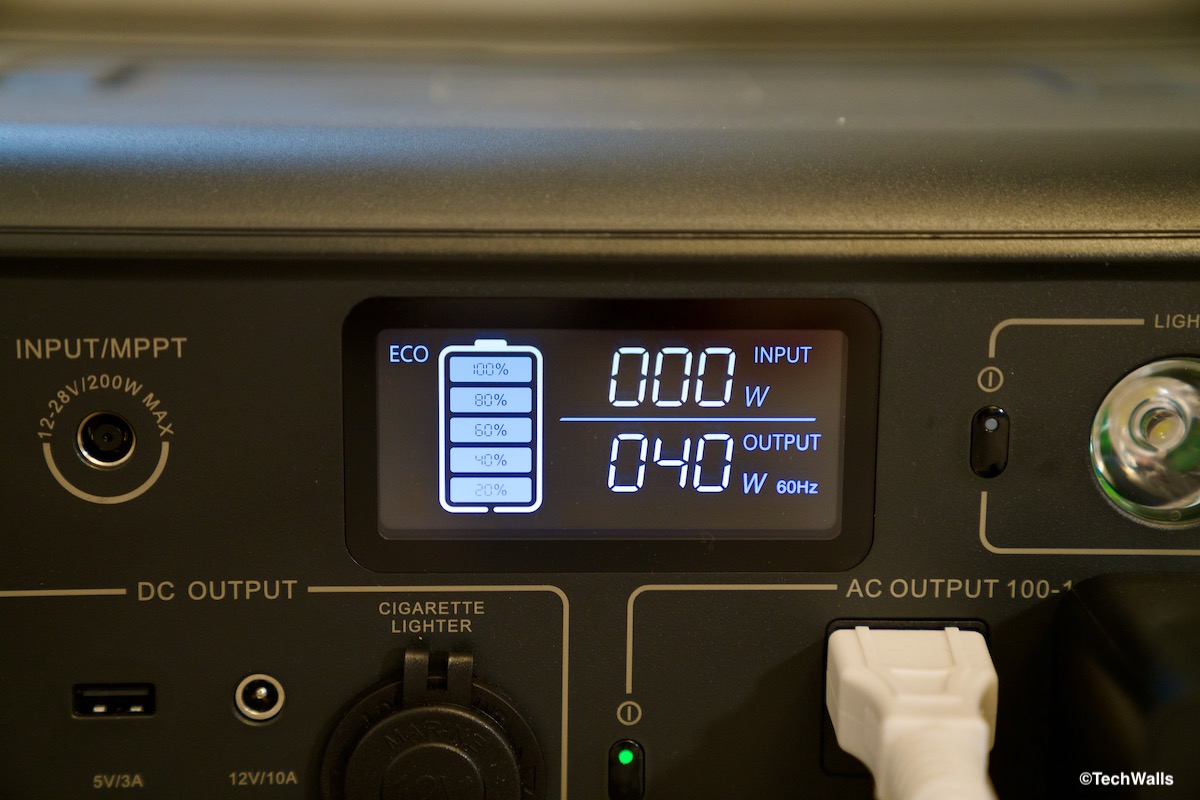 The EB70S's display, while clear and concise, could benefit from more detailed real-time information. Now it is just showing some basic information like battery capacity (in 20% steps), input power, output power, and some alerts. Other info such as exact battery level, remaining charge time, or remaining usage time is not available. A more advanced display would provide users with valuable insight into their energy usage, allowing for better power management.
Final Thoughts: A Power Station Worth Considering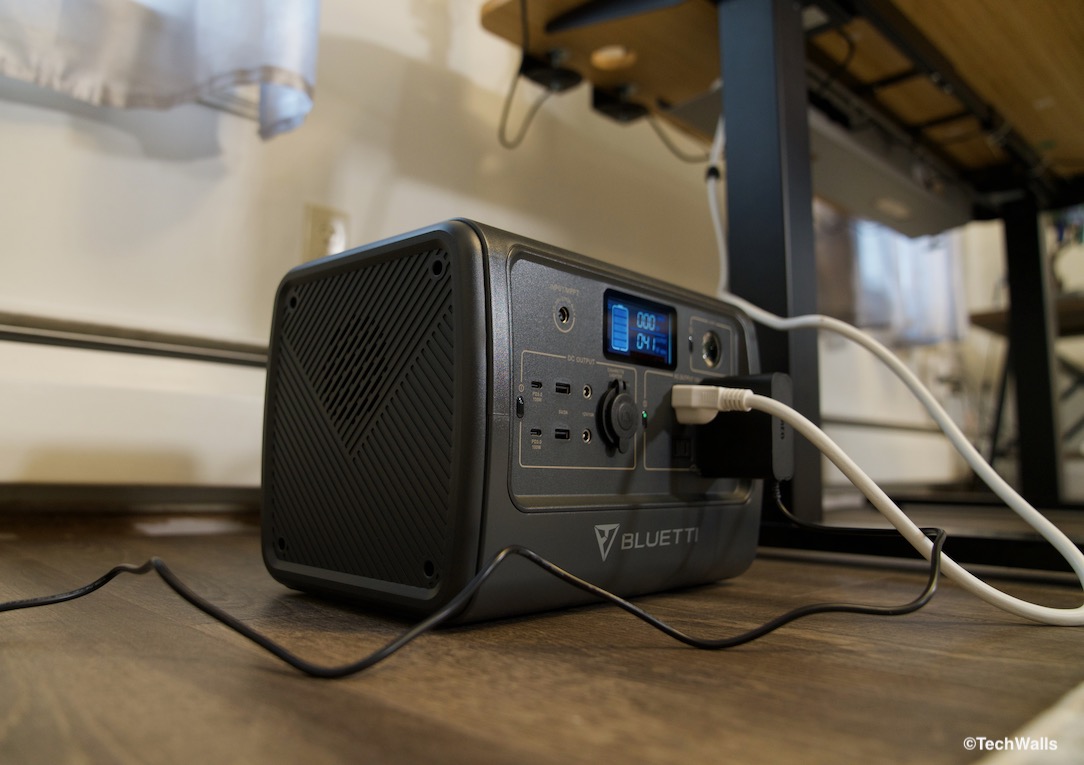 In conclusion, the BLUETTI EB70S is a top-tier portable power station that marries significant energy storage, fast charging capabilities, and versatile outputs in a compact and durable package. Its robust LiFePO4 battery, range of connectivity options, and the ability to charge from multiple sources make it a compelling choice for those needing reliable power on the go, especially at the price below $500. Whether you're heading for an outdoor adventure, prepping for potential emergencies, or simply needing a reliable source of power for your devices, the BLUETTI EB70S is worth considering. Its blend of performance, durability, and design certainly places it among the top choices in the market of portable power solutions.
Disclosure: We might earn commission from qualifying purchases. The commission help keep the rest of my content free, so thank you!