Studies have shown electric toothbrushes help to clean deeper and faster than manually brushing. Most dentists and hygienists are recommending patients to make the switch. Electric toothbrushes are very common and can be bought from most retailers. There are big names such as Sonicare, Philips and Quip that have different models and types. While these brands are recognizable, there are more less-known brands available on Amazon. We were able to check out one of the brands, BlueReeze and their M10 Pro toothbrush. The pricing is affordable and we will look into the build quality and cleaning aspect in the next section. Will this toothbrush stack up against the rest?
Product Overview
Firstly, let's discuss what comes included with the product. The first thing we noticed about the M10 Pro is the inclusion of ten brush heads with purchase. This is uncommon as most brands may give one or two. Brush heads are one component that will need frequent changing to keep the brush clean. This is the same as switching a manual toothbrush up. These heads are made to last for three years which is a good investment. Next, there is a travel case which helps in transporting for vacations, work trips, etc. Lastly, there is the included USB cable, unfortunately, it won't fit inside the travel case.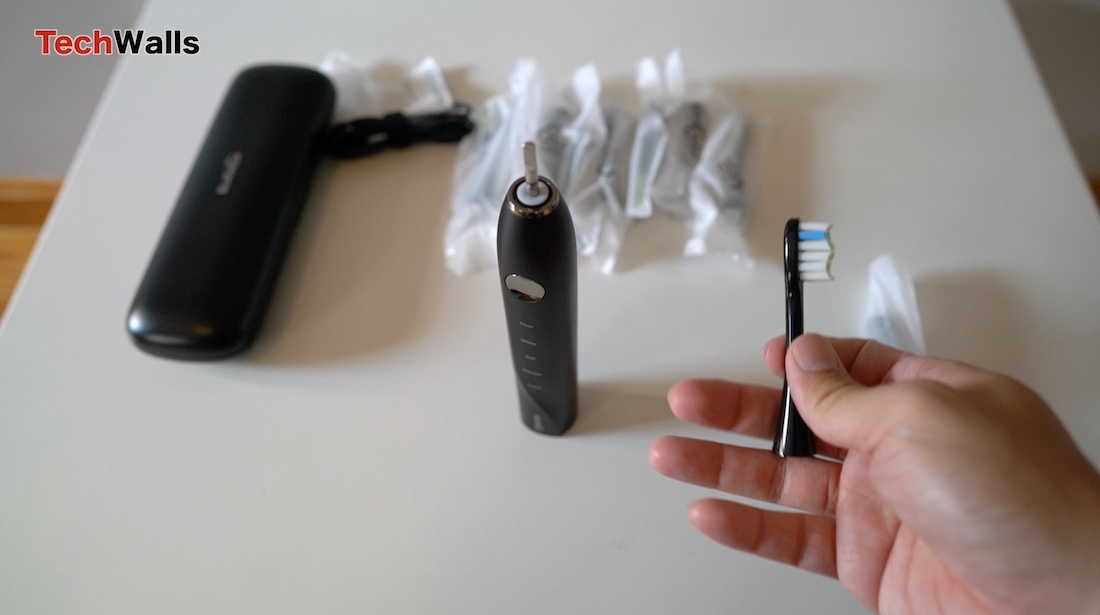 The M10 Pro features a 40,000VPM motor to clean your teeth. Cleaning power is said to be 10x that of a normal manual toothbrush. The toothbrush also has five different modes to choose from. These modes are whitening, cleaning, polish, soft and massage which helps gums and tissue. The clean mode provides a two minute timer to ensure a full and proper clean. BlueReeze also included a timer to help you adjust your brushing area. The toothbrush also features a IPX7 waterproof meaning you can get this wet and use while in the shower without worries of damaging the battery.
Battery life is a major factor on toothbrushes. The M10 Pro can last up to 30 days on a single charge. A full charge takes about four hours. There is no charging cradle, just the USB cable that is plugged on the bottom of the toothbrush.
Pricing
BlueReeze M10 Pro is available on Amazon for $34.99. At the time of writing this article, there is also a $15.00 off coupon that can be applied. This brings the total down to $19.99 which is very competitive in the market considering the brush heads and travel case.
Good buy or no?
Here at TechWalls, we have reviewed many different toothbrushes in the past. The M10 Pro provides a great value for someone looking to purchase an electric toothbrush. The included toothbrush heads reduce the need to buy them every so often since each brush lasts 4 months. The battery life is very good, but I wish there was a charging cradle to store and charge the toothbrush after each use. One other thing I do like is the different modes and timer. These are neat features that help sell the product.
Do you own this or looking to buy one? Let us know!
Disclosure: We might earn commission from qualifying purchases. The commission help keep the rest of my content free, so thank you!