One of the biggest issues that are being faced by every person who knows a personal computer is the security threats and viruses that hit the system every now and then, damaging critical system files and stealing some very personal and important data.
Not every antivirus provides the best security from these threats. But recently, I came across with Bitdefender Internet Security 2014. I was literally surprised to see that it had everything what I needed for. Security for my personal data including credit card details and email logins, Trojan horse and phishing attacks, Bitdefender Antivirus had every feature and option to protect my identity and my PC as well. So, let's dwell further into the great and awesome features of Bitdefender Internet Security.
Solution to Every Problem
Bitdefender Internet Security 2014 includes many features that cover all aspects of security threat and virus alerts. You get anti-spam, anti-malware, parental control, anti-theft, identity protection and even file encryption to block access to your private files.
One Click User Control Panel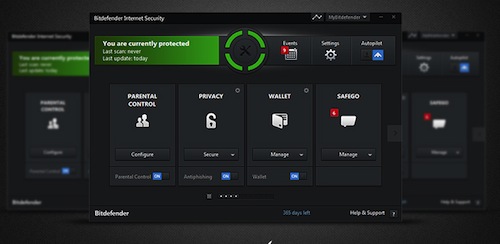 One of the best things I noticed while using Bitdefender Internet Security is the ease of use and navigation between different features. When you first install Bitdefender Internet Security 2014, you are presented with a menu that shows you all the necessary tools in one small screen. This is the main control panel from where you can select and deselect any option you want.
You just need one click of button to enable or disable a feature of the Bitdefender Antivirus. This is something that majority of the people working on tight schedule will really need. They do not want to spend an entire minute figuring out where to disable or enable a certain feature at a specific time. It has all sorts of features and if it was not for the best user interface, it would be extremely hard to find the right one for you. Everything about it looks perfect. I will break these down for you.
Since there are many security features that you can use, the control panel allows you to add 9 features to it for easy access. The first four of these will be display on the main screen every time and the rest will be at the back.
Bitdefender Autopilot Mode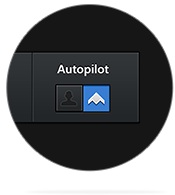 The control panel also features an Autopilot mode which can be enabled by clicking on the button situated at the top right corner of the window. By enabling this mode, Bitdefender Antivirus automatically takes action to various situations without disturbing you or showing you an alert dialog box interrupting your work, every time it detects something suspicious.
Lightning Fast Scan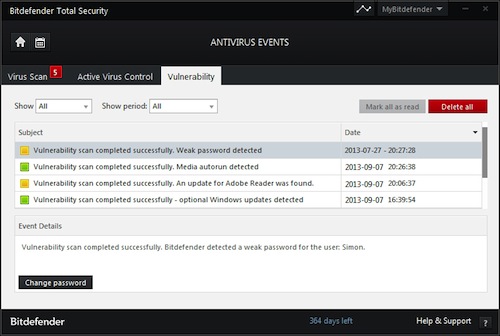 Not everyone has a top notch computer with a high end quad core system running on gigs of RAM and capable of handling any resource hungry process. Majority of the people reside in mid level category that does not have high end systems. When we talk about other antivirus products, they do provide the best level of security but with an additional weight on the system which makes it slow for you if you are working side by side. Bitdefender Antivirus Scan is the fastest one I have seen so far, without using much of the resources and giving me enough room in my computer to run other software as well.
99% detection Rate
I ran a sample test on few files (roughly 500) from my USB that were infected when I plugged in my USB to my office computer. Bitdefender USB Immunizer was able to detect almost every file that was suspicious except for 1 or 2 files. This gives it a 99% detection rate and that is not bad at all considering how fast it is.
Verdict
You might ask, why go for Bitdefender when there are tons of other available in the market. Well, if you ask me, feel free to test any one of them but instead of wasting your time, just try Bitdefender Internet Security 2014 once. Starting from $49.95 for 1 PC for whole year is great considering how great this product is. In this price, you get total security protection both offline and online. For more details visit the company's product page.
Disclosure: As an Amazon Associate, I earn from qualifying purchases. The commission help keep the rest of my content free, so thank you!