This is no longer a Hot-Wheels and Dress-Me-Up Barbie kind of world. These toys are anachronisms. And I think we all know that. We also know how excited toddlers get when they detect a mobile phone's presence. They want to hold on to it and play with it, instead of with stuffed animals and other doohickeys.
As harsh as this reality seems, it will be wise if our new generation is well-acquainted with all things technology before entering the interactive world that we live in. They're going to have to reconcile themselves with the advanced technology now being used and learn to live with it.
Psychologists believe that childhood is the prime of teaching children and shaping them to become good adults. The toys that children fancy can be a helpful tool. All that we've got to do is know what toy to present them with.
Simple Legos and Mechanos are obsolete. We've accumulated a little something that might be a complete buyer's guide.
Don't want those tantrums now, do we?
Creativity
3Doodler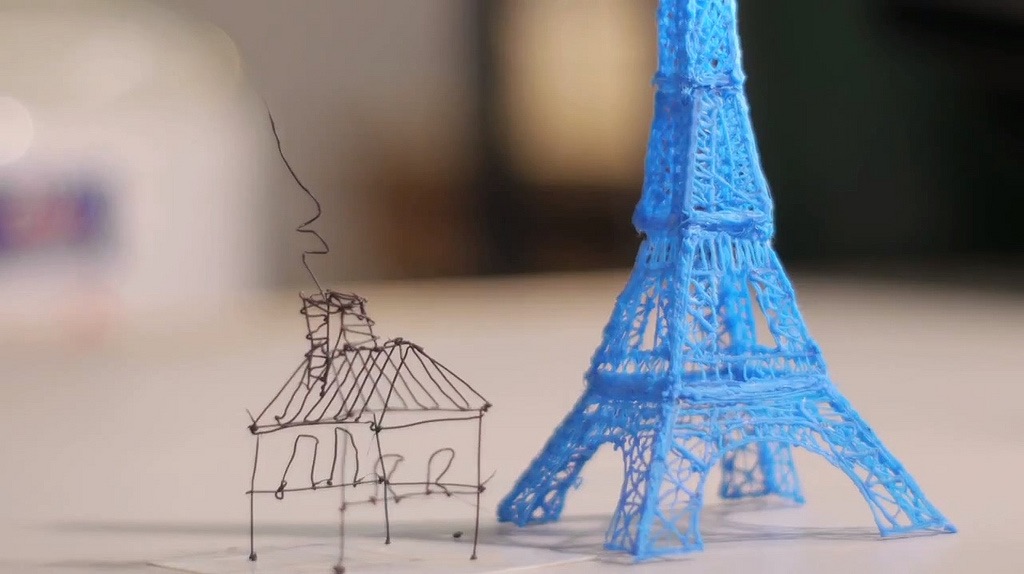 If you are tired of watching kids using the gadgets like Smartphone and tablets and you belong to the school of thought which thinks technology is more harmful to the kids then you are not 100% right. There are a lot of tech toys which can bring creativity in your kid to the complete new level. In this scenario, one of the best gifts for your kid will be 3D printing pen like 3Doodler.
3D Printing is gaining momentum and a gift like 3Doodler can really boost your child's creativity. One can design 3D sculptures, fine art models, and futuristic designs.
Price: $99.
Coding
Computer science is the high of educational institutions nowadays. Students matriculating from medical backgrounds are deviating from their originally intended course just to mesh up with bachelor programs in IT and computer science fields. Software engineers are statistically known to earn more than the other professions, as this area is of both freelancing and regular work domains.
Expose your children to the wonders—or horrors, as some students would say—of coding with the following programming-based toys.
1. BBC Micro: Bit Programmable Board
The BBC micro:bit is a programmable board designed as a hardware and hacking utility. The creators—BBC—have done a phenomenal, out-of-the-box job with this plaything.
This toy has a programmable LED display, buttons, motion detector and sensors on board—all of which can be targeted through drag-and-drop code block editors, or other supported text editors. The instructions and commands are incorporated into the board with Bluetooth functionality. The website of the developers, micro bit, contains abundant tutorials and DIY's to help children engage with the board. This toy was manufactured with the 10+ age group in consideration. Given how interactive and full-of-teaching-potential this device is, the excitement and the thrill can also rub off on teenagers.
Price: $29
2. pi-topCEED Desktop Computer
pi-topCEED is a Raspberry Pi-powered desktop computer. It's basically a London-based startup, the primary objective of which is to teach kids coding during a gameplay. The desktop is designed for ages 8 and above.
pi-topCEED's features and specifications include a 14″ HD screen, and some add-on hardware such as optional extra speakers, and the pi-topPROTO, which is a board designed for prototyping electronics.
A machine as sophisticated as this is probably more suitable for older kids.
Price: $115
3. Raspberry Pi Project Books
These are readable, actually. For those who can't seem to wrap their heads around the complexity above. These books comprise of illustrated, diagrammatic instructions. An updated version of these—the only latest, to be exact—contains a set of instructions for making a retro gaming console and making a wrist-wearable computer et cetera.
These books can also be read electronically. The downloads are free of charge.
Price: From $16
4. Cubetto Playset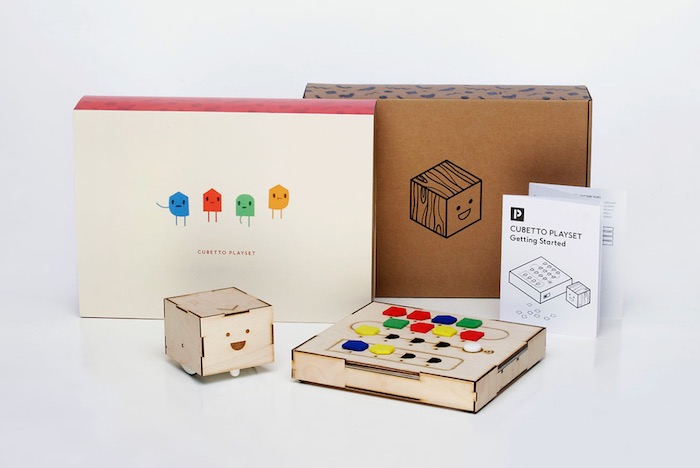 Primo Toys' Cubetto Playset is a logic-based playset that emphasizes over programming concepts. It has been psychologically designed to teach 3 to 6-year-olds programming principles before they can start to read and write.
It is a wooden robot on wheels. It can be programmed by its owner by placing direction and function instruction blocks inside a control panel board that comes with. This teeny-tiny robot requires a couple of battery juice and some Bluetooth to work. A set of psychedelic mats is included as well. The robot can be placed on these and this will also provide with a glimpse to the kids of how to instruct the robot.
Price: $225
5. Sam Labs Inventor Kit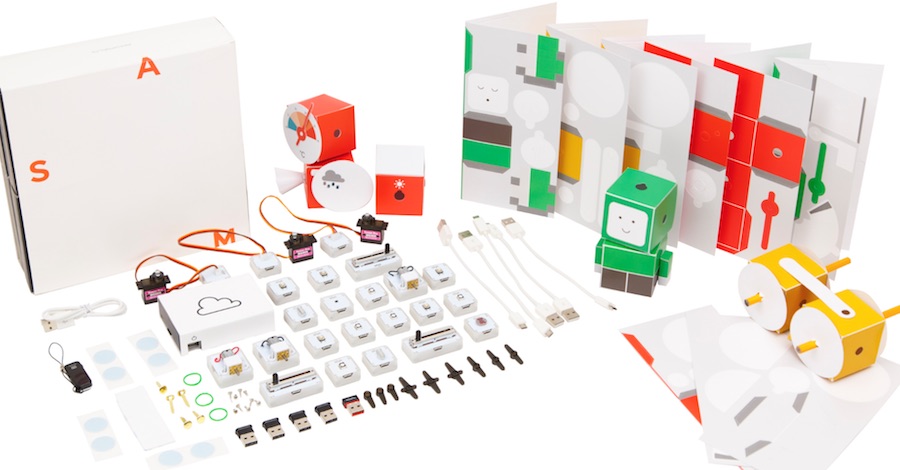 Sam Labs have pioneered this one, focusing their efforts on the simplification of coding complexities. This inventor kit now has a range of hardware bits plus a drag-and-drop coding tool so that children can make their own connected devices using a handful of its Bluetooth modules. Its coding tool can be manipulated with Javascript instructions as well, expanding learning boundaries.
Modules include buttons, LED lights, servos, sliders, tilt sensors, heat sensors, light sensors, DC motors, buzzers and more.
Sam Labs believe this tech kit is appropriate for ages seven and beyond.
Kit price: £99
Apps
Android and iOS applications have revolutionized smartphone usage fairly considerable. They have brought about collective ease in our lifestyles. There's an app out there for almost everything. Students download and use applications academically. We order cabs and whatnot. Conclusively, these applications are extremely useful and a must.
Here are some app-cum-games that are to make your kid squeal with delight.
1. Box Island Learn To Code Game
Children who already have access to a handheld device – a smartphone or a tablet, to be precise – then Box Island's Learn to Code Game seems to be something worth rooting for. It's a ten-level purchasable app with additional levels offered as in-app bonuses. However, you can also buy the entire game for just $7.99.
You get to puppet Hiro, your avatar whose mission is to solve the perplexing puzzles of the game. The gameplay is enriched with applications of basic algorithms, pattern recognition, sequences, loops, and conditionals in order to solve problems and start understanding some coding fundamentals. The creators assert that the game is gender-neutral and suitable for children of all ages.
In-app purchases from: $2.99
2. CK for Modding Subscription Service
Perfect for Minecraft fans, this is another game that encourages your child to learn to code. It centers around a 3D world of interactive levels with built-in programming concepts and basics that can be learned during the gameplay.
Kids can get access to 40+ hours of coding course materials—with videos as an added bonus—a fully customizable Minecraft server, access to CK's web-based code editor and online support.
From: $14.99 per month
3. Mimo Learn To Code App
Mimo is another app that segregates computer science basics for easier understanding. Course content includes Swift, HTML, CSS, JavaScript, Python, Ruby and SQL.
This app focuses on active learning and can be suitable for smartphone inspired teens because of its appealing UI. However, this app was not designed for any specific age group.
While Mimo offers some content for free, full access requires a subscription — with monthly, yearly and lifetime options available. It's currently iOS only but an Android version is slated as coming soon.
In-app purchases from $9.49
Electronics
It would be quite the cliché to say major advancements have been made in the world of electronics. We see objects that use principles of electronics. Students are opting for two-year diplomas in electronics along with other degrees.
The following toys will be adequately introductory to children to the workings that go behind electronic components
1. Flybrix Lego Drones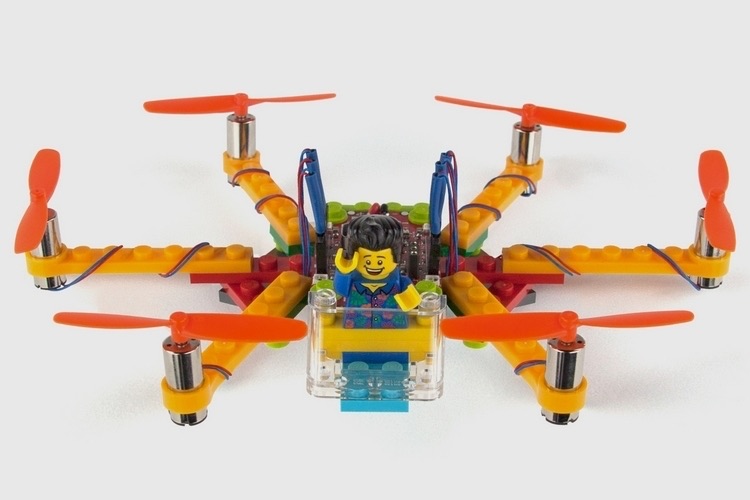 Flybrix is combining LEGO and drones in kits designed for children to build their own flying creations. It has plug-and-play logic only. Kits contain LEGO bricks, boom arms and motors, and other special design parts.
The basic kits have 40 plus parts. The also come with how-to-do manuals and ideas. The components are easy to use. These kits have been designed for ages 14 and up.
From: $189
2. Odyssey Pocket Drone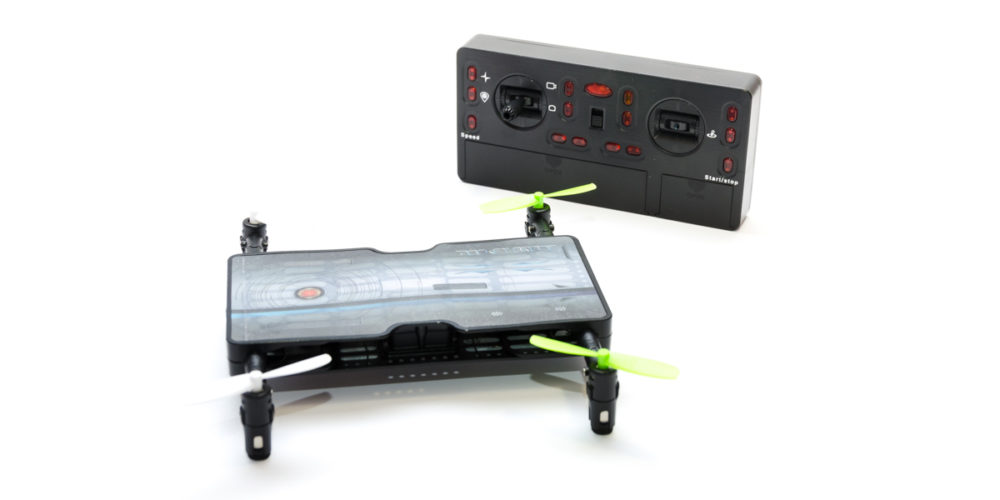 This drone is foldable and can be placed inside your pocket during travel. It has a camera that can take snaps and then stores the images onto an SD card. You can even make a video.
Its remote controller has a lot of features which need to be practiced to be mastered.
This hover-drone is meant for older children.
Price: $100
3. Little Bits Rule Your Room Kit
This one has multiple fun in just one box. Children can use the components provided to make a wireless light switch, a bedroom doorbell, and alarm system.
Price: From $85
4. CircuitMaze by ThinkFun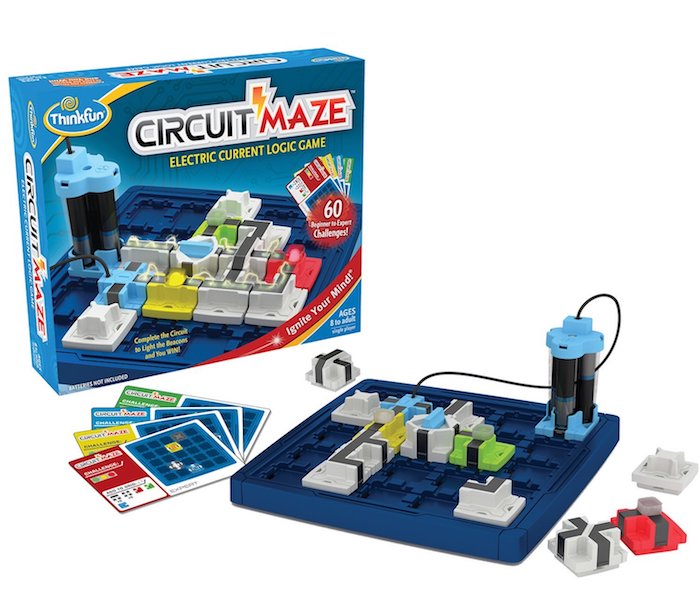 ThinkFun has created this puzzle-cum-electronics game for children of the 8+ age group. They can figure out how some basic circuits work by a casual gameplay. This puzzle set is easily available online.
Price: $20
Robots
Robotics has intrigued our youth more than any other technology. Learning about its basics through games and toys is just what our technology-obsessed children need.
1. BB-8 and the force band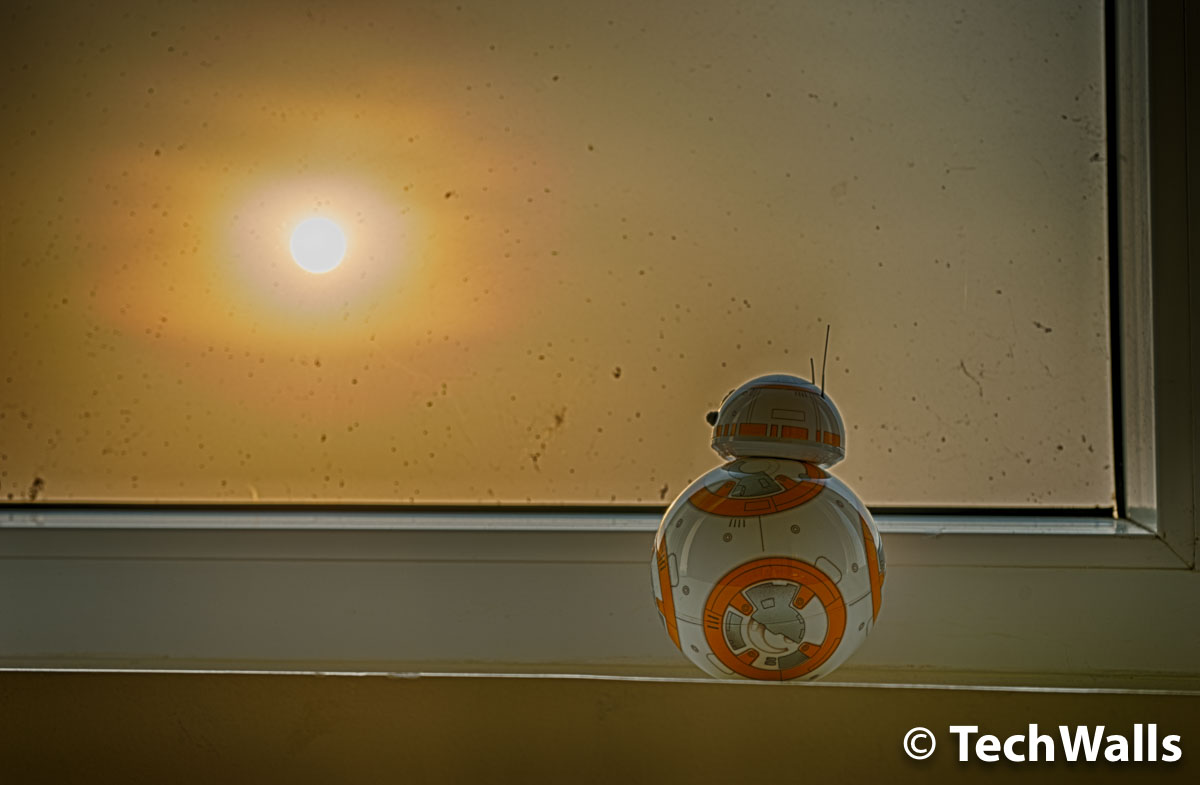 Sphero's BB-8 uncanny ability to seem like a movie prop has surprised countless. You can either buy a new one altogether or purchase a wrist-worn remote device for an old version.
This is almost like any other robot, with its visuals being the only attention-grabbing phenomenon.
Price: $200 (Full package)
2. Jimu Robot
You can make an elephant, a giant robot, and anything else with some connecting pieces and servo motors. You can use Jimo's app to program the robot's, too.
Perfect for robot-enthusiast children.
Price: $130
3. AnkiCozmo
This one is a cross between Wall-E and BB-8. This AI-powered robot can recognize faces and say your name, and it plays games with three included blocks. It can be controlled remotely, or with a handheld device. And sees things with its own little camera.
Price: $179.95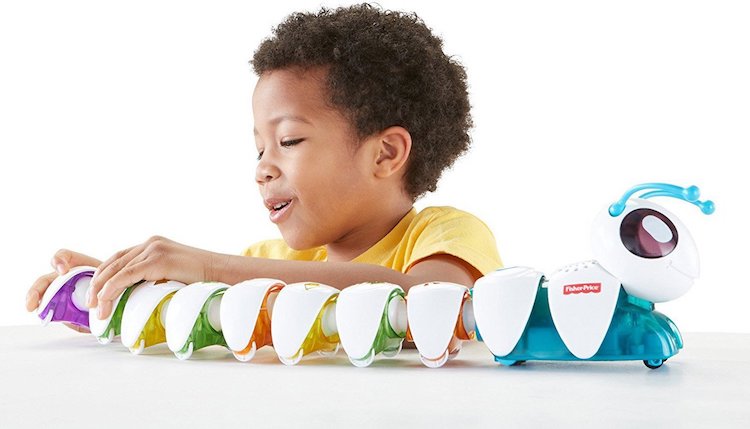 This may seem like your run-of-the-mill toy, but it isn't. Children can learn extensive coding by the make-it-yourself experience they'll get connecting this robot. This is a little Code-a-Pillar. With robotics in the mix.
Price: $49.99
5. OzobotEvo 
The little OzobotEvo is well-known for its portability. It rolls around, follows drawn lines, and the new Evo can also interact with other OzobotEvo robots. Some block-based programming can also be learned via the phone app.
Price: $99
Well, that about sums it up. Choose from these the ultimate toy for your ultimate kid. And know that you'll be investing in the right place.
Happy shopping!
Disclosure: We might earn commission from qualifying purchases. The commission help keep the rest of my content free, so thank you!