With COVID-19 forcing many out of the office, 2020 could be declared – "The Year of Remote Working." With working from home now relatively common, many sheds, garages, and basements have been converted into offices. Whether you have a makeshift office in the corner of your bedroom or within a dedicated room, gadgets and tech can always make life easier and more entertaining! With this in mind, we look at which tech can make your working week more efficient and fun.
Computer Essentials – Mice, Keyboard & Webcams
Choosing a computer will probably be the most significant investment you will make for your office, unless you will build the home office! And that would require a dedicated article to cover in sufficient detail. So let's assume that you either have your own computer, or your employer has given you one to use at home.
Even if you are using your company's computer, you may still want to invest in a wireless mouse to make your working life ergonomically easier – especially if you can claim the cost back as an expense.
Logitech provides a great range of mice. They have Bluetooth connectivity, and most of them can switch between up to 3 devices. MX Master 3 is recommended by YouTuber Justin_tech.
Justin_tech also recommends the Wireless Solar Keyboard K750, which can, as you'd guess from the name, be charged by leaving it out in the sun. Webcams of some description are a must for remote workers. Many meetings are now taking place over Zoom or Microsoft Teams, so it is vital to have a webcam. If your computer does not have a built-in webcam, or you need to showcase products or create high-quality videos for social media, then consider the Logitech Brio Ultra HD Pro Webcam. The Brio Ultra HD Pro costs around $200. If you want to stream video gaming or create YouTube videos or podcasts, consider the Logitech Streamcam.
Orbi WiFi 6 Mesh System
Orbi WiFi 6 has Tri-Bend technology. Tri-bend mesh technology delivers the internet at maximum speed – always handy when you reply on the internet for work. It covers every part of your home, providing a reliable connection wherever you may be working. The manufacturers claim that it can provide coverage for up to 5,000 sq. ft. meaning that you should be able to stream, game, and even – work; from any part of your home. It can handle up to 40 connected devices, meaning that even if you are working from home while the kids aren't in school, regardless of what gaming or Netflix-binging they are doing, you should have no problem with internet connectivity or speed.
Lap Desk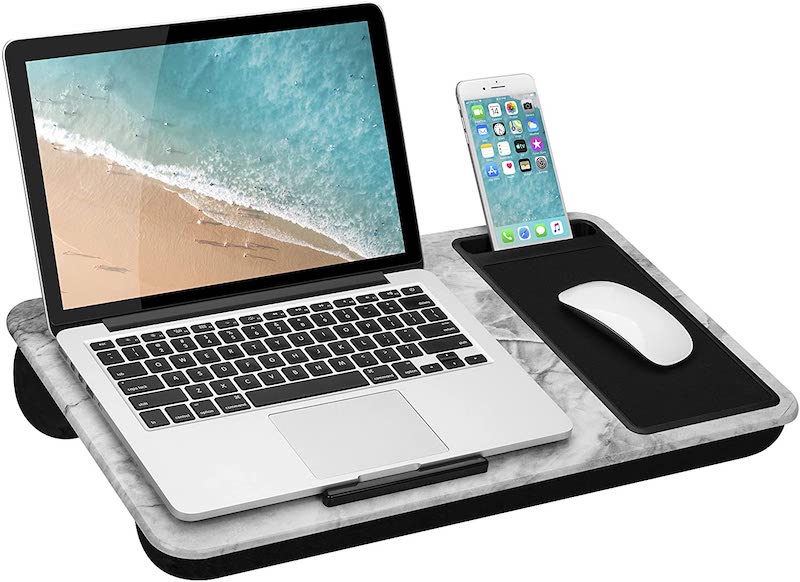 Loosely referred to as a gadget, lap desks come in all shapes and sizes from different manufacturers. They are super-useful, and they come in a range of styles. The Marble Lap Desk retails for around $30 and allows you to sit anywhere in the home and work effectively. It makes working from the living room, for example, much easier and more comfortable.
Fortunately, or unfortunately, depending on how you look at it – it provides a great way to play games, or to work, from your bed or car. Which could help or destroy your productivity if you love to wake up and play Super Mario.
LIFX 819 Smart Bulb
If you have to take photographs or make videos as part of your job, or business, then you will probably appreciate how important lighting is.
The LIFX smart bulbs are Alexa compatible, and they can combine with other LIFX products to create some fantastic lighting effects. According to the Ben Johnson Youtube Channel, the LIFX bulbs are a bit brighter than the Philips versions, and you don't need any additional WiFi devices to get them to work or sync up with your control-system – as long as you have Alexa.
If you take photos of smaller items, you may also want to consider purchasing a lightbox. They come in all shapes and sizes and cost from $10 to way over $100.
Moneypenny Virtual Receptionist App
Phone and tablet apps can make a massive difference to your working day, especially if you are self-employed. The Moneypenny app, or full personal service, is excellent because it prevents annoying interruptions during the day, which can kill your productivity and focus.
With the dedicated, 24/7 service, you will get one main receptionist to handle your calls during the working day and another from a small team to take care of your calls during the evenings and early mornings. Each receptionist will know the fundamentals of your business and employees' names and job titles so that they can provide an outstanding level of customer service to whoever calls. You can update your status using the mobile phone app – for example, you may want to set it to "Do Not Disturb" for the majority of the day if you are busy, and your receptionist will take a message and email or text you a transcript of any calls. Only emergency calls will be routed to you while in this status, and it can provide a great way to switch off during the evenings and weekends so that you can spend some time with the family without having to make sure your phone is close by.
Disclosure: We might earn commission from qualifying purchases. The commission help keep the rest of my content free, so thank you!