In today's fast-growing digital world, only the lazy would not blog or manage a website. We share information with the target audience for marketing and educational goals, and dozens of tools help us go online to write content that would communicate a message and work for our benefits.
But here's the problem:
Far from every blogger, copywriter, or digital marketer creates original content. Webmasters understand their texts should be comprehensive and plagiarism-free, but most of them find it challenging to come up with creative ideas for every post they need to publish on their blogs. So, they see nothing wrong with duplicating others' texts and present them as own.
The issue of plagiarism isn't new but at its peak today: it costs nothing for a blogger to copy texts from competitors, rewrite them, and say the authorship is theirs. So if you want to know someone steals your original content, to save it, to prove your authorship, and to avoid accusations of plagiarism – corresponding tools and resources are what you need.
Here go the best plagiarism tools and resources that will help you write original texts and check if someone copies your works.
Unicheck
Unicheck is a feature-rich plagiarism detection tool. More than 500 K-12 and Higher Ed institutions, agencies and publishing houses and around 1 million students, teachers, and professionals working with texts use Unicheck.
Unicheck's developers team is highly responsive to user requests and deliver constant updates.
Unicheck's algorithms apply hundreds of rules to detect similarities. The tool uses live web index to search for most recent matches, without outdated sources or broken links. In the similarity report, the layout is clear and color-coded that improves usability significantly. Unicheck also shows citations and references in the text, and can spot characters replaced from different alphabets.
Pros:
Unicheck can be used in any environment: the tool's organizable dashboard or in Unicheck Add-on for your Google Docs. The light-weight add-on will save time, reduce the need to jump between windows and automatically land all texts in the personal dashboard;
The tool provides an accurate similarity rate, with the list of clickable sources, possibility to skip these sources, and more;
It supports most popular academic styles: APA, MLA, Harvard, Chicago, and Turabian and recognizes citations and references formatted in these styles. There is also an option to exclude citations manually to add them to the similarities search results;
For educational sphere Unicheck provides adaptable integrations with all major LMS software: Canvas, Moodle, Google Classroom, Brightspace, Blackboard, Sakai, NEO LMS, Schoology, Edsby.
Educational institutions, businesses and personal users will find affordable and transparent pricing options;
API integration is available for personal users, business, and educational institutions;
Unicheck's support works 24/5;
All new personal users receive 5 free pages for a free trial.
PlagiarismCheck.org
One of the most effective plagiarism detection tools on the Internet, PlagiarismCheck.org works for students and educators who write tons of academic works and need to be sure of their singularity, but this resource also helps website owners, copywriters, SEO specialists, and bloggers check web texts to see if no one steals them online.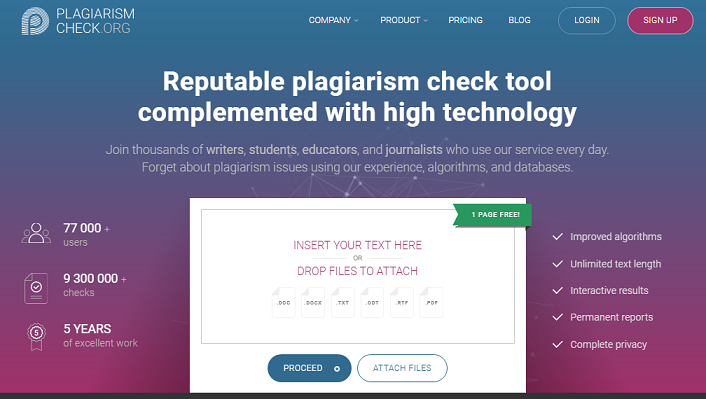 Pros:
It works for both education and business.
It's complemented with 100% accurate improved algorithms.
It detects all types of plagiarism, including the hardest-to-find such as paraphrase, synonymization, word order change, and Latin-to-Cyrillic font change.
It supports multiple file formats and provides you with permanent interactive reports to download and use as a proof of your authorship.
It's user-friendly, providing fast and accurate results within minutes.
It allows you to check unlimited text length.
It doesn't save your writings in any databases, which guarantees accurate results even after multiple checks.
You are welcome to try PlagiarismCheck.org for free to decide if it fits your needs and choose the best subscription plan (from three available) for your content to stay safe.
Dupli Checker
As well as PlagiarismCheck.org, Dupli Checker compares your writings to every published text on the Internet to find duplicated fragments. It's free to use, and it doesn't require any registrations to check your copy for plagiarism; with that, you are allowed to check 1,000 words maximum with this tool, and it works with DOCX and TXT file formats only.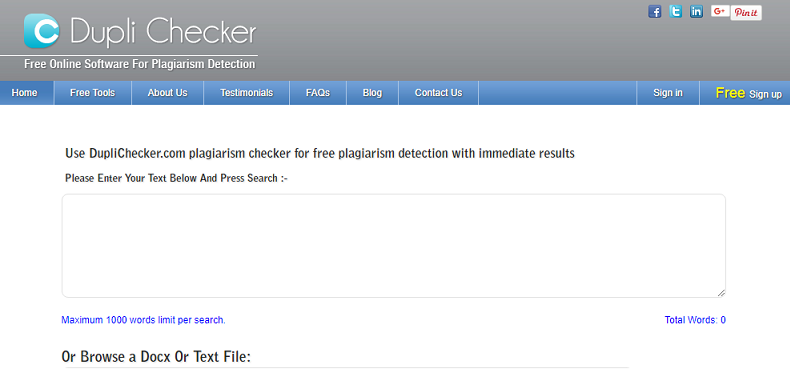 Pros:
It's free and easy to use.
Its results are instant and
It allows you to check texts by copying them in the field or uploading files to the system.
You can check up to 50 documents per day if you register at the Dupli Checker website. For non-registered users, only one page per day is available to check for plagiarism.
Copyscape
A popular plagiarism checker, Copyscape.com will help you search for copies of your web page as well as see if your newly-written texts are original enough to publish with no copyright infringements.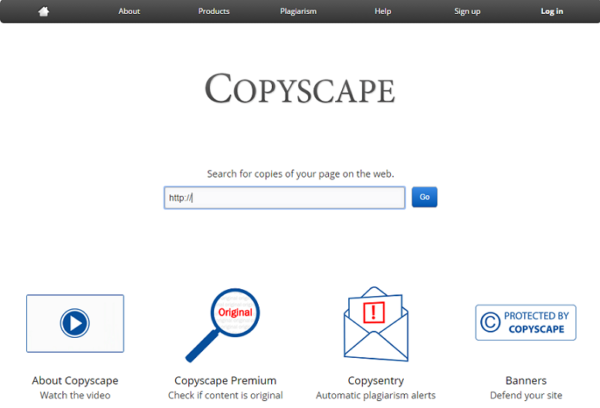 Pros:
It gives instant and accurate results.
A free trial is available, but it allows checking content via URLs only. It means you can't copy and paste a text itself to see its duplications online.
It gives you a personal database of web content and sends email alerts to you every time it finds the exact matches of your texts online.
It works with unlimited text length but sometimes fail to scan files that are longer than 2,000 words.
You can check up to five documents with Copyscape for free to understand if its features meet your needs. Once you subscribe to a premium version, it will cost you five cents per one check.
Plagiarisma
Perfect to try for students, teachers, and professional writers, Plagiarisma works on Windows, Android, and Web. This checker detects exact matches in your documents, is free to use, and provides instant results online though allows a limited number of checks per day.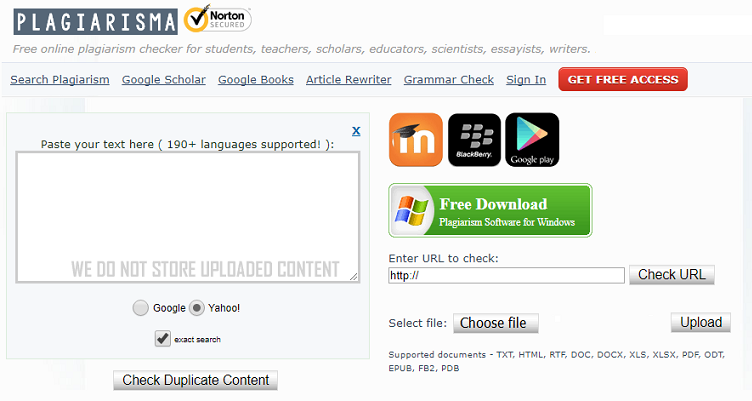 Pros:
It supports 100+ languages.
It allows you to check web content in three ways: online, via URL, and by file upload.
It works with multiple file formats such as TXT, DOC, PDF, FB2, ODT, and more.
It has extensions for both Firefox and Chrome.
It doesn't require any registrations or fees to use all features.
Plagiarisma doesn't save any files you upload, so you don't have to worry about third parties stealing your content.
Quetext
Another one for web writers and bloggers, Quetext checks documents for duplications and provides detailed plagiarism reports for you to see if anyone copies your content online. This tool has both free and PRO versions, and its available features depend on which subscription plan you choose.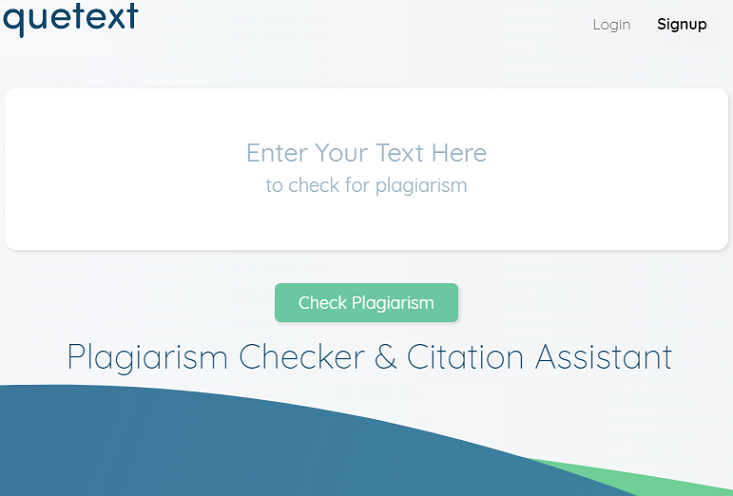 Pros:
It's complemented with the advanced algorithm. (Available for PRO subscriptions only.)
It allows you to upload and check up to five files simultaneously.
It automatically saves the results as an interactive report for you to export and use whenever you need. (Available for PRO subscriptions only.)
It allows excluding unwanted URLs from the results. (For PRO subscriptions only.)
If you choose a PRO subscription plan, Quetext gives an opportunity to check up to 25,000 words compared to only 500 words for a free version. This plagiarism check tool has a user-friendly interface, easy to use and pleasant to the eye.
It's your turn now!
When blogging to share useful and interesting information with your audience, consider corresponding technologies that will help you check content for duplications and see if someone copies your writings online. Plagiarism check tools are many, and you need to choose the best one that will save your texts from stealing and help you avoid accusations.
Just check the above-mentioned resources once again.
It doesn't seem a problem to choose the best plagiarism tool from five given, does it?
Disclosure: As an Amazon Associate, I earn from qualifying purchases. The commission help keep the rest of my content free, so thank you!