If you're planning your next pool party and you're thinking, "What could really bump this up a notch?" Well, we have the answer.
Yes, whether it's a day or night pool party, light up floating pool speakers are an essential part of a rad pool party. Instead of blasting speakers from outside the pool, bring the party directly into the water.
If you're new to light-up floating pool speakers, let us show you the best ones on the market. Let's get the party started!
Frontgate LED Floating Bluetooth Speaker
To start the list of the best light-up floating pool speakers, we have one that will truly impress guests. For the futuristic look, this LED Floating Bluetooth Speaker from Frontgate is the choice.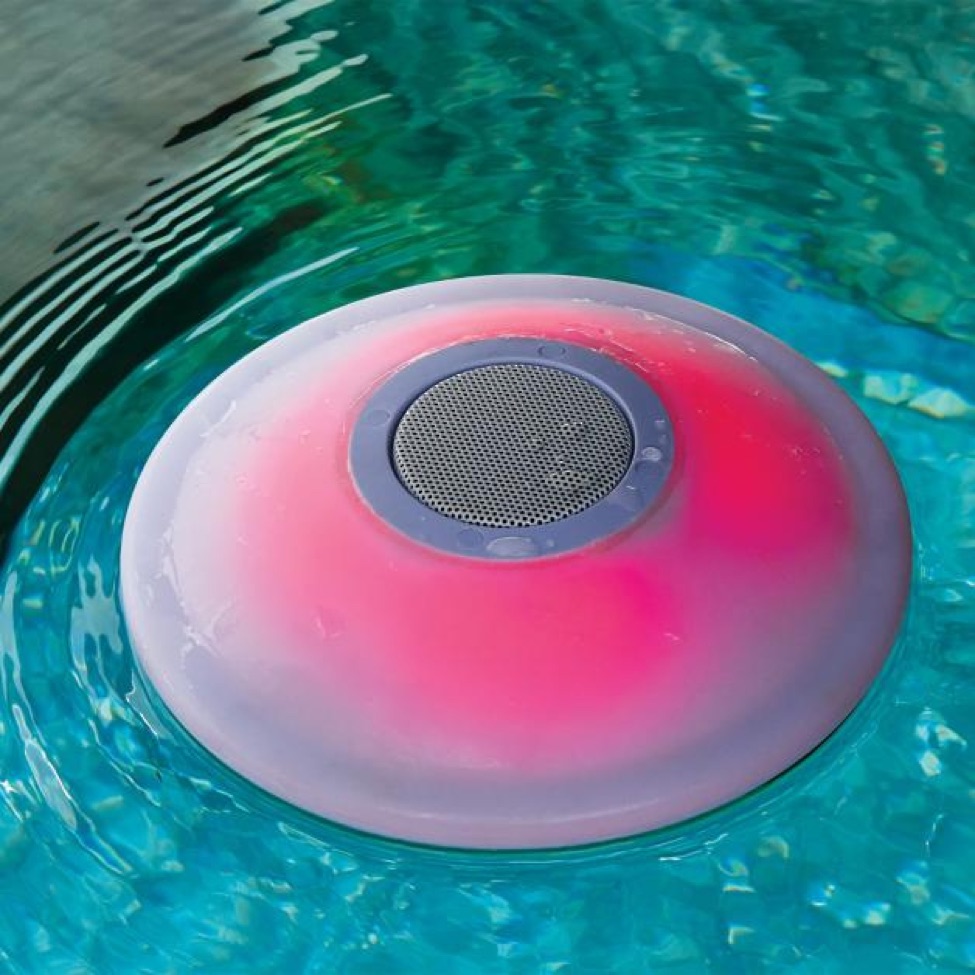 It'll just float there like a little colorful alien spaceship except it has the ability to play the most popular tunes on the charts.
You won't have to deal with cords or plugs. Just make sure it's charged, and you're good to go. It works on Bluetooth!
It'll change different colors to add an awesome vibe during the party.
Play music that's upbeat or low key – these speakers got you covered!
Swimline Pool-Tune Floating Speaker Light
Swim Outlet offers a neat floating speaker light that acts as a 3-Watt full range speaker to play your favorite music. It plays wirelessly for up to 35 feet.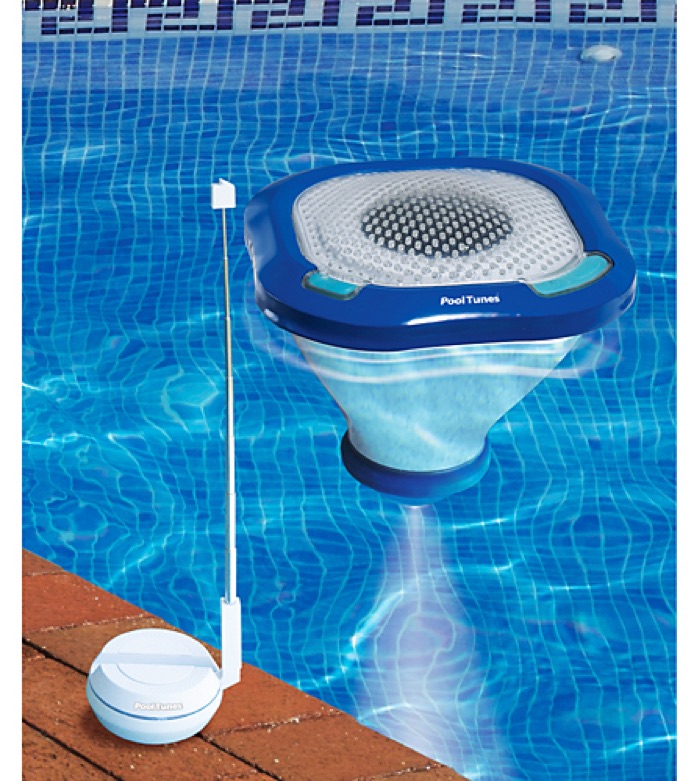 It's waterproof for up to 3 feet of submerging, so it can float atop the pool water and work perfectly.
It lights up so it's easy to spot while you're swimming in the night or during a packed pool party. It plays for up to 30 minutes and is battery powered.
Light-Up Turtle Pool Speakers
Here's something for the kids. Everyone of all ages will enjoy these speakers, but it's special for kids pool parties.
The Turtle Pool Speakers light-up in cool colors and look cute.
It comes with a convenient remote control, so you don't have to be in the pool to control the sound and lights. These speakers are compatible with your smartphone, so you can easily navigate song choices from your mobile device.
Surprise the kids at the next birthday party with something you can use for years. It's Bluetooth available and the LED colors actually change according to the rhythm of the music.
This product lasts for hours, so sit back and listen to some tunes without a worry.
But most importantly, it's just really adorable and available at everyone's favorite retailer, Amazon.
Linsay Pool Party Waterproof Speaker
Offering a great sound along with a snazzy light show, this next party pool speaker has it all.
The Linsay Pool Party Speaker from Bed Bath & Beyond is a really stylish addition to any pool and looks high end to boot.
This speaker is unique because it creates a light show underneath the water, instead of just lighting up on top.
Obviously, this is most effective at night, but it works anytime. This speaker is great even if no one is in the pool. During a backyard barbeque, throw this in the pool and have the music come from the water.
Game Pool Speaker
Another one similar to the Linsay choice is the Game Pool Speaker from Walmart. This one is a little less round but still creates an underwater light show.
It comes with a rechargeable battery and plays music and the light show for up to 6 hours. That's pretty much the length of a good party.
Pool Jam iPod Ready Speaker
Another great Walmart find is the Pool Jam Speaker.
This choice is iPod ready and it gives off a blue mood light for night time swims.
If you have a larger pool, more of these guys can be bought and they can all be controlled by one smartphone source.
SoundCandy AquaSplash Speakers
Get the party started with SoundCandy AquaSplash speakers from Jet.com.
It doesn't stop at the pool. The product description suggests bringing it to the beach, hiking, and snowboarding.
It includes a Mp3 player that works with a micro SD Card, FM Radio, and even hands-free calling.
The metal loop you see in the second photo means you can attach it to your backpack, belt, purse, or bag so you can take it anywhere.
Bluetooth Waterproof Pool Speaker
This next one is a nifty waterproof speaker that gives off a moody blue vibe.
This cool pulsing LED light floating pool speaker is awesome because not only does it look amazing, it sounds great in the pool, shower, or anywhere else there's water. It can be connected to your smartphone, so you can choose your tunes easily.
For those who want less of a light show and more of a subdued yet lit up the atmosphere, this one is great. You can find it at Sears.
Blackweb Atlantis Floating Speakers
The Blackweb Atlantis Floating Speakers might be the chicest one on the list. It looks positively slick in it's round, sophisticated blue color – this one is from eBay.
This product works on any device you have, as long as it's Bluetooth enabled. It has a safe IPX6 waterproof rating.
The description says it has a "crystal clear sound" that actually sounds the best when played in the water. The Blackweb Atlantis speaker also offers a rechargeable lithium battery. Turn on the music and listen for hours.
ULTRA Floating Speakers
If you would rather keep it simple, grab the ULTRA Floating Speaker that gives off a bright white light and lasts for 12 hours.
This floating pool speaker is durable and lights up the whole pool for a lovely night.
Start the Music
It's time to get jamming with fun top 40 party music or relaxing classical. Floating pool speakers work for whatever atmosphere you're trying to set. Any mood is possible with help from the most ideal speakers.
Disclosure: We might earn commission from qualifying purchases. The commission help keep the rest of my content free, so thank you!