FTP (File Transfer Protocol) clients have long been a staple in the toolkit of web designers, developers, and WordPress administrators. An FTP client is a software that allows users to transfer files between a computer and a web server. For WordPress users, FTP clients are especially useful when dealing with file transfers, backups, theme or plugin edits, and troubleshooting issues. For Mac users, there are several reliable and feature-rich FTP clients available. Here's a look at some of the best FTP clients for WordPress users on Mac:
How to Choose the Right FTP Client
Choosing the right FTP client is essential for smooth, efficient, and secure file transfers. Several factors come into play when making this decision, ensuring that your workflow remains uninterrupted and your data remains safeguarded.
Security and Encryption: First and foremost, security should be a top consideration. Ensure that the FTP client supports secure transfer protocols like SFTP (Secure File Transfer Protocol) or FTPS (File Transfer Protocol Secure). These protocols encrypt the data during transit, safeguarding it from potential eavesdroppers.
Platform Compatibility: Make sure the FTP client is compatible with your operating system, whether it's Windows, Mac, or Linux. Some FTP clients are platform-specific, while others are cross-platform and work across multiple operating systems.
Ease of Use: An intuitive interface can save users significant time and reduce errors. Look for clients that offer a straightforward layout, drag-and-drop functionality, and clear instructions for connecting to servers.
Transfer Speeds: Time is often of the essence when transferring large files or batches of files. An efficient FTP client should provide stable and fast transfer speeds, with capabilities like simultaneous transfers or segmented downloading.
Features and Customization: Advanced users might require features such as directory comparison, synchronization, remote file editing, or scheduling transfers. Some FTP clients also allow users to customize their interface and settings for a more personalized experience.
Support and Documentation: A comprehensive support system, including detailed documentation, tutorials, and an active user community, can be immensely beneficial. This ensures that if you encounter any issues or need guidance on certain features, help is readily available.
Pricing: While there are many free FTP clients available, sometimes premium versions offer additional functionalities that are essential for specific needs. It's important to assess whether the cost aligns with the features provided and if it offers good value for money.
Top 5 FTP Clients on Mac
1. FileZilla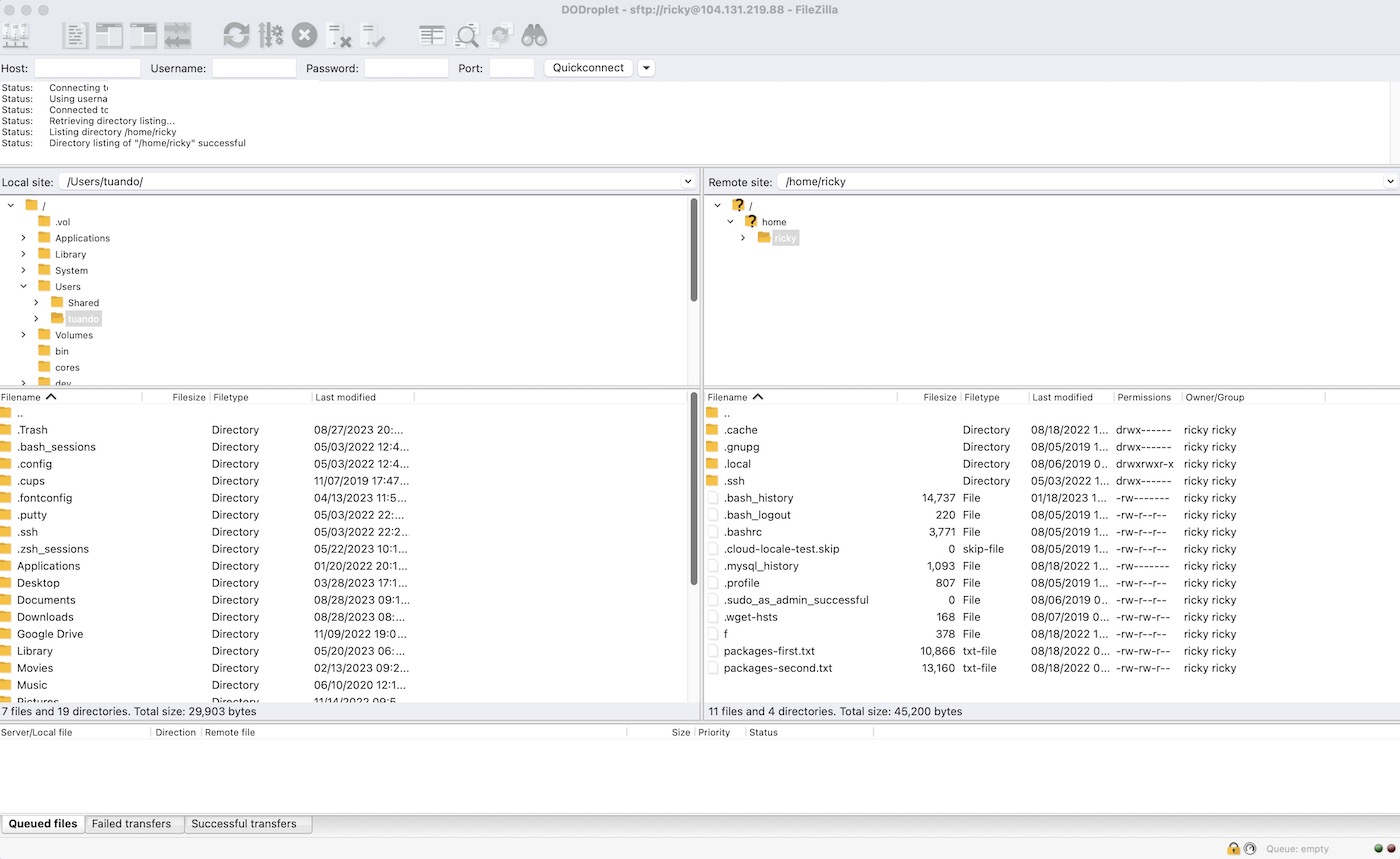 Pros:
Open Source: Distributed under GPL, which means it's free and can be modified freely.
Quick Connection: Allows users to quickly establish connections with servers.
Versatile: Supports both SFTP and FTPS protocols.
Logging and IP Filtering: Offers a detailed server log, IP filtering, speed limits, and FTP over TLS settings.
Cons:
Some users find the interface outdated.
Best For: Users looking for a reliable, free solution. Especially great for beginners with its easy-to-use interface.
2. Cyberduck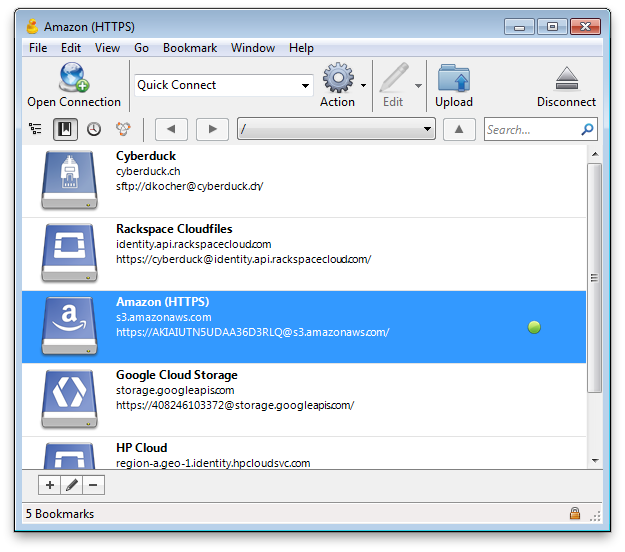 Pros:
User-Friendly: Known for its easy-to-use interface, perfect for both beginners and advanced users.
Mac Integration: Seamlessly integrates with Mac's native environment, allowing users to store login credentials in keychain and locate files in Finder.
Editor Integration: Lets users select their preferred code editor for quick edits.
Cons:
May not offer as many features as some other FTP clients.
Best For: Users seeking a straightforward, integrated FTP experience on Mac.
3. CloudMounter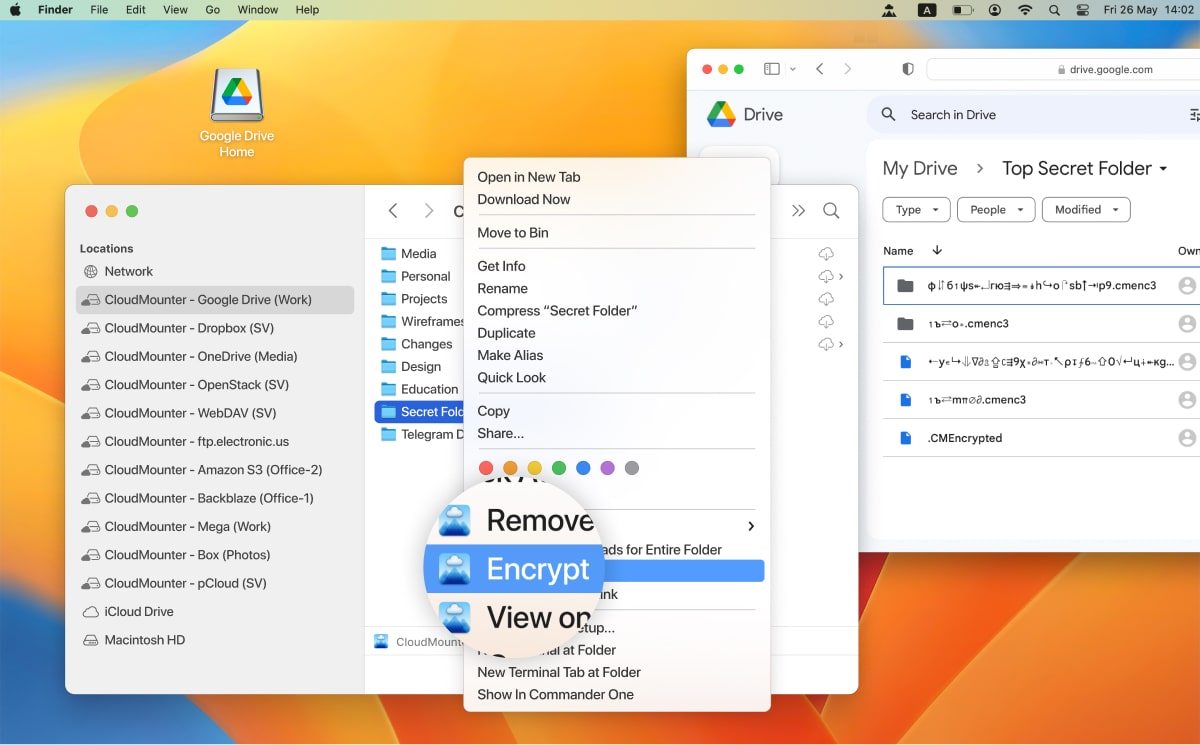 Pros:
Integrative Approach: Allows users to mount cloud services as local drives.
Security: Offers robust encryption for data, irrespective of its storage location.
Cons:
Limited to mounting functionalities and may not have dedicated FTP features.
Best For: Users seeking integration between cloud services and FTP functionalities.
4. Transmit 5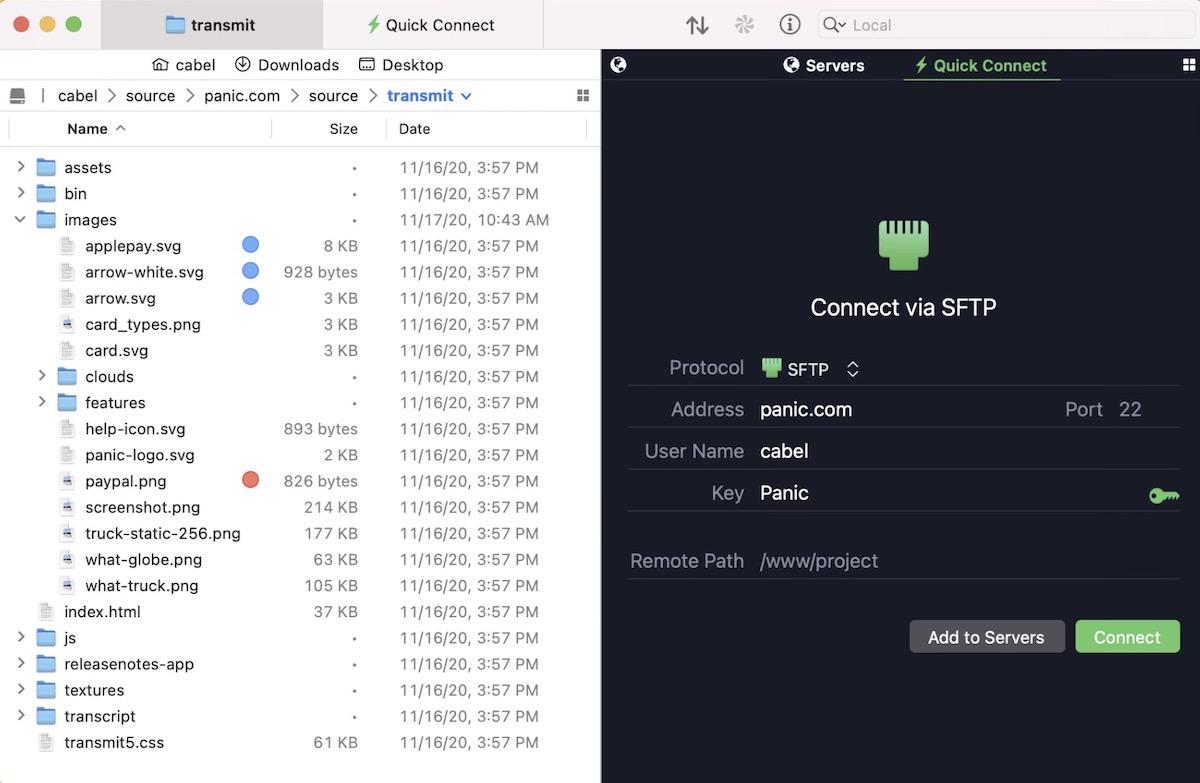 Pros:
Feature-Rich: Offers features like folder syncing, disk feature, and enhanced speeds.
Broad Compatibility: Supports Google Drive, Microsoft Azure, Box, Dropbox, and more.
Updated Interface: Allows users to monitor transfer progress easily.
Cons:
Specific to Mac, limiting cross-platform usage.
Best For: Users prioritizing speed and an extensive set of features.
5. ForkLift 3
Pros:
Versatile Connections: Supports multiple connections including FTP, SFTP, Google Drive, and more.
Simultaneous Server Connections: Users can connect to multiple servers at once to enhance file transfer efficiency.
Cons:
Premium pricing may not suit everyone.
Best For: Professional users looking for advanced features and are willing to invest in a premium tool.
Conclusion
While all these FTP clients offer unique sets of features, the best one largely depends on individual needs and the level of functionality desired. For beginners, FileZilla and Cyberduck offer a good start, while professionals might lean towards Transmit or ForkLift 3 for advanced features. Always prioritize security, ease of use, and compatibility with your WordPress setup when choosing the right FTP client.
Disclosure: We might earn commission from qualifying purchases. The commission help keep the rest of my content free, so thank you!