The market of Bluetooth speakers has been quite boring in the last few years, therefore, I was quite excited when hearing BenQ brings back the electrostatic driver technology to their Bluetooth speakers. In this post, we're going to check out the BenQ treVolo S Bluetooth electrostatic speaker.
Unboxing Video
Design & Features
BenQ might manufacture products in many different categories but all of them have one thing in common, that is the amazing build quality. The BenQ treVolo speaker is not an exception, I'm so impressed with its sturdy and solid body. The exterior is made of metal and plastic, and it feels way heavier than I could imagine. Specifically, the speaker weighs 2.2 lbs and it is claimed to be the smallest Bluetooth electrostatic speaker.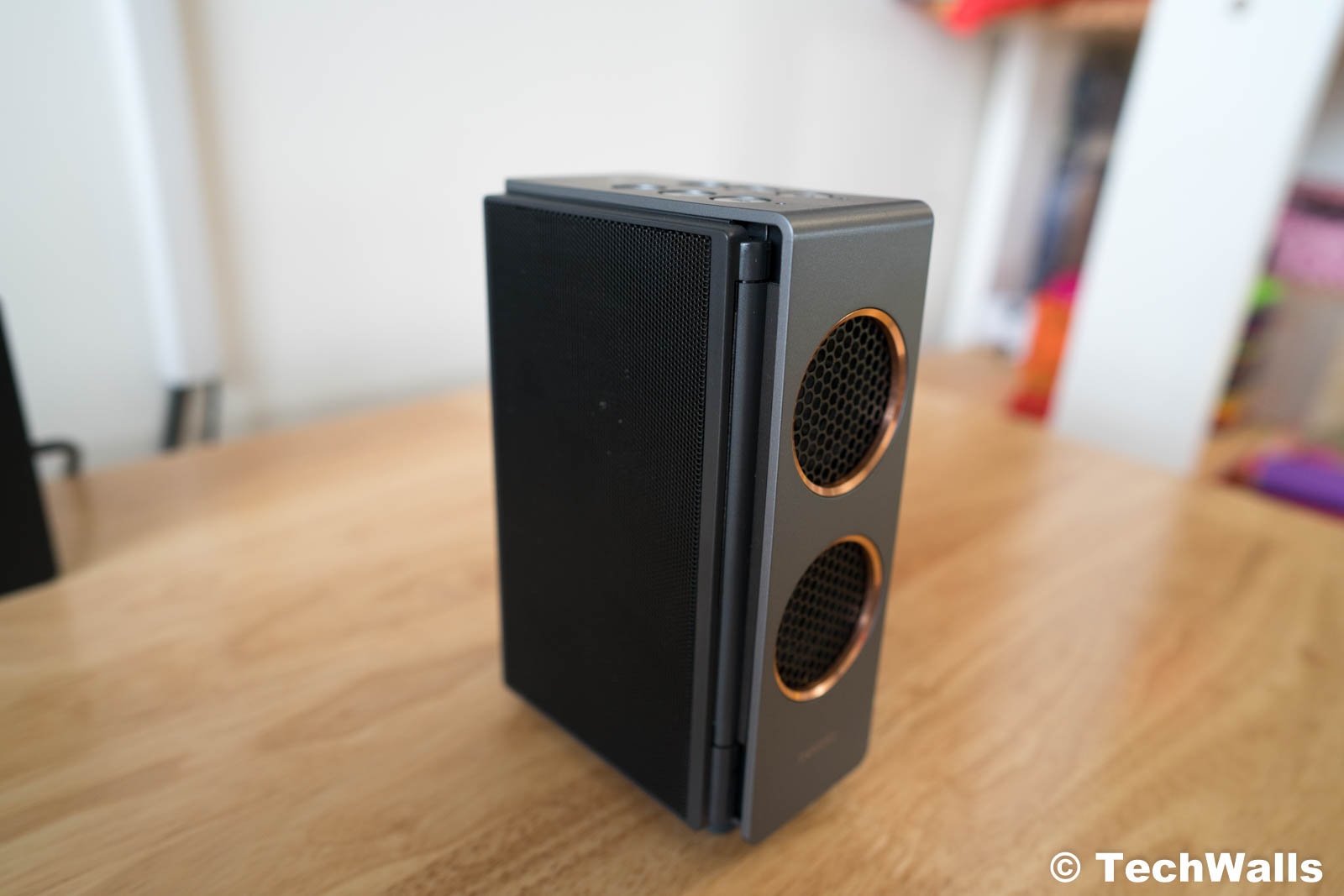 The speaker is quite compact but once you open the two panes on the sides, it is transformed into a much larger-sized speaker. They are electrostatic panels and they are used in conjunction with two traditional drivers at the center. This is really a cool and unique design.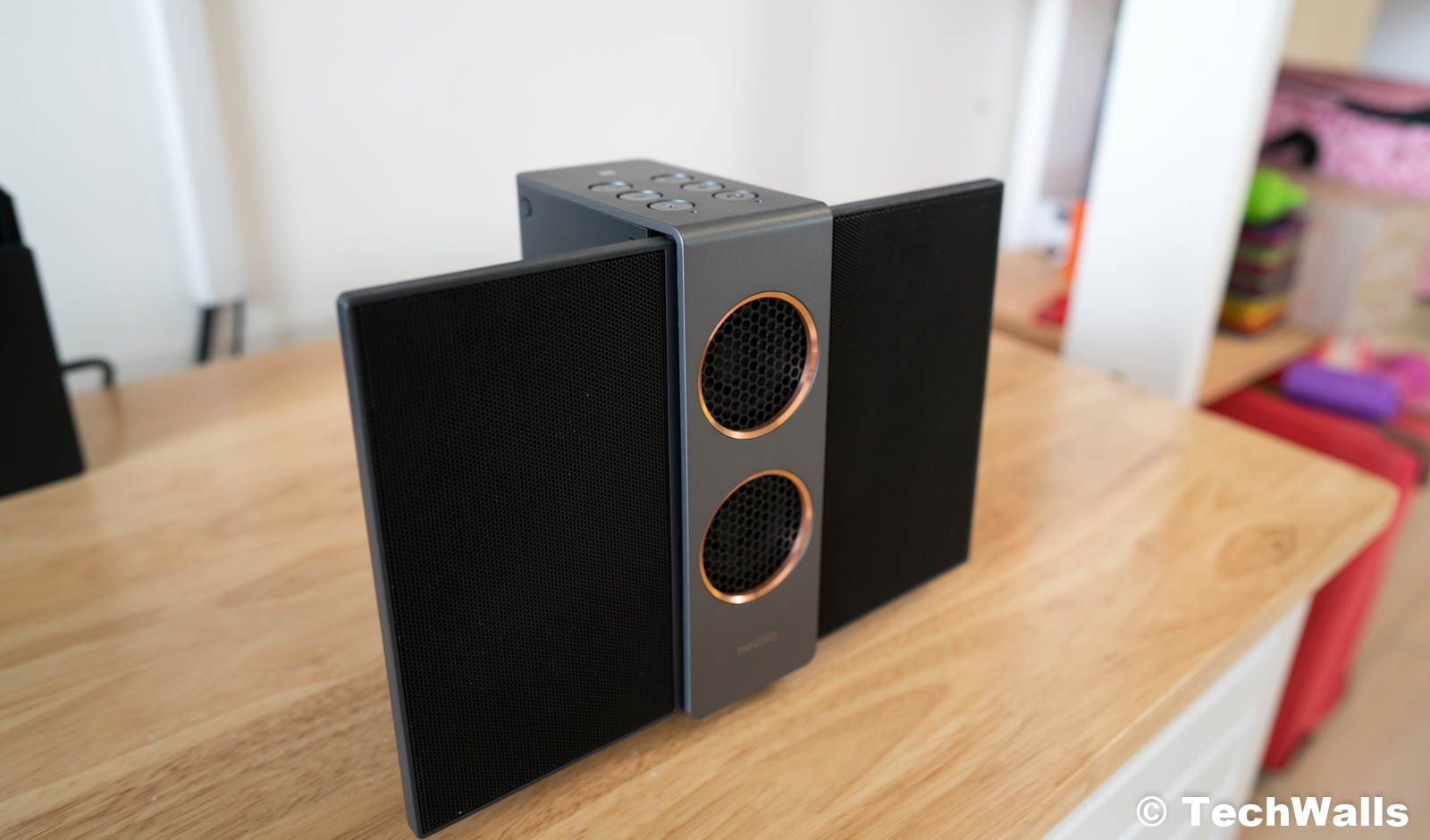 All controls are placed on top of the speaker. You can find the play/pause, mode, volume up, volume down, Bluetooth, and power button. I highly recommend you to activate the non-distorted 3D mode by pressing the Mode button. The treVolo S supports NFC, so I could connect my smartphone to the speaker in no time.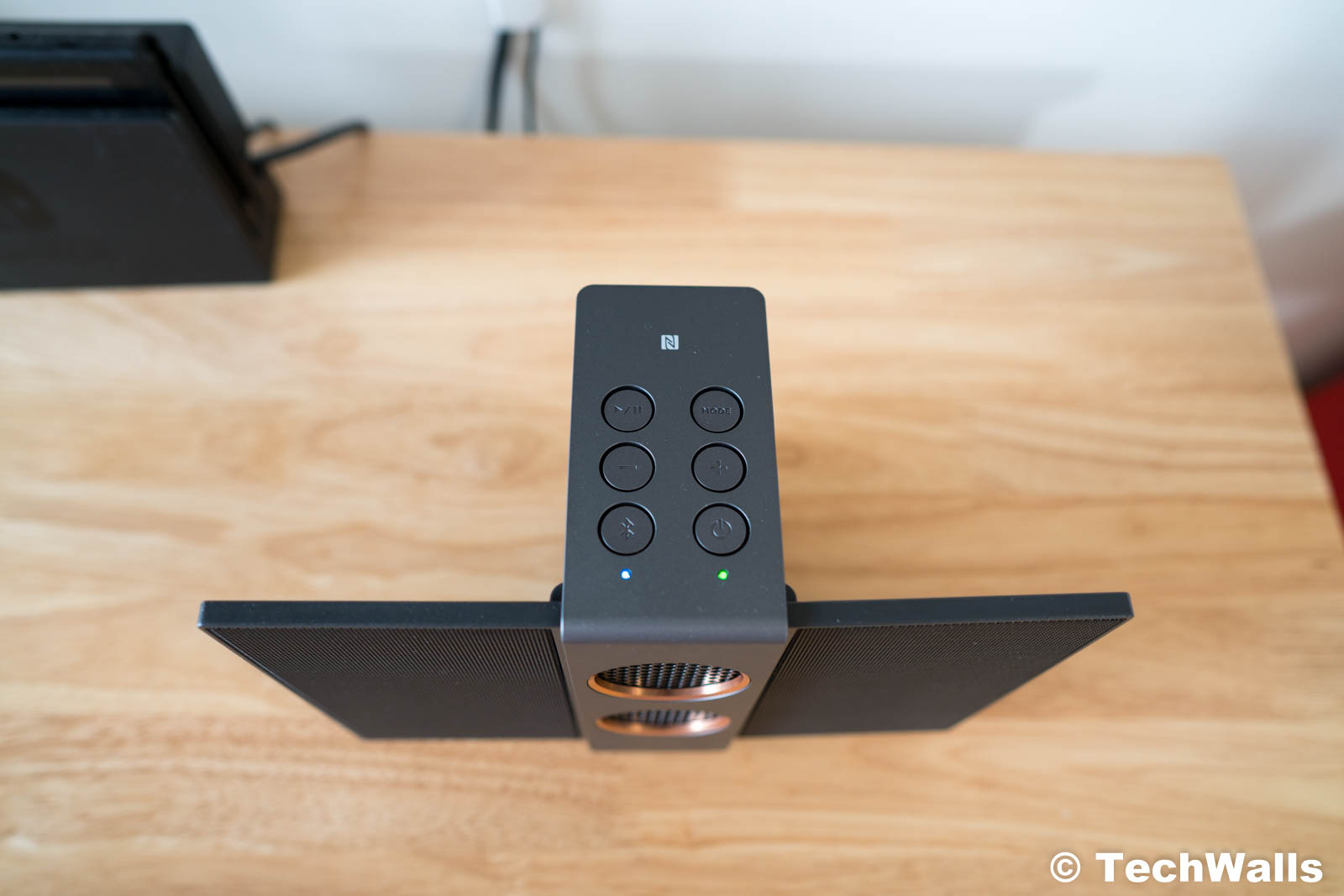 On the back, we have a microUSB port and a 3.5mm audio port. BenQ recommends using the two ports for the best audio quality; the microUSB port is not just for charging but you can also connect it to your computer and use it as a DAC. Having said that, I use it in Bluetooth mode only because it's much more convenient.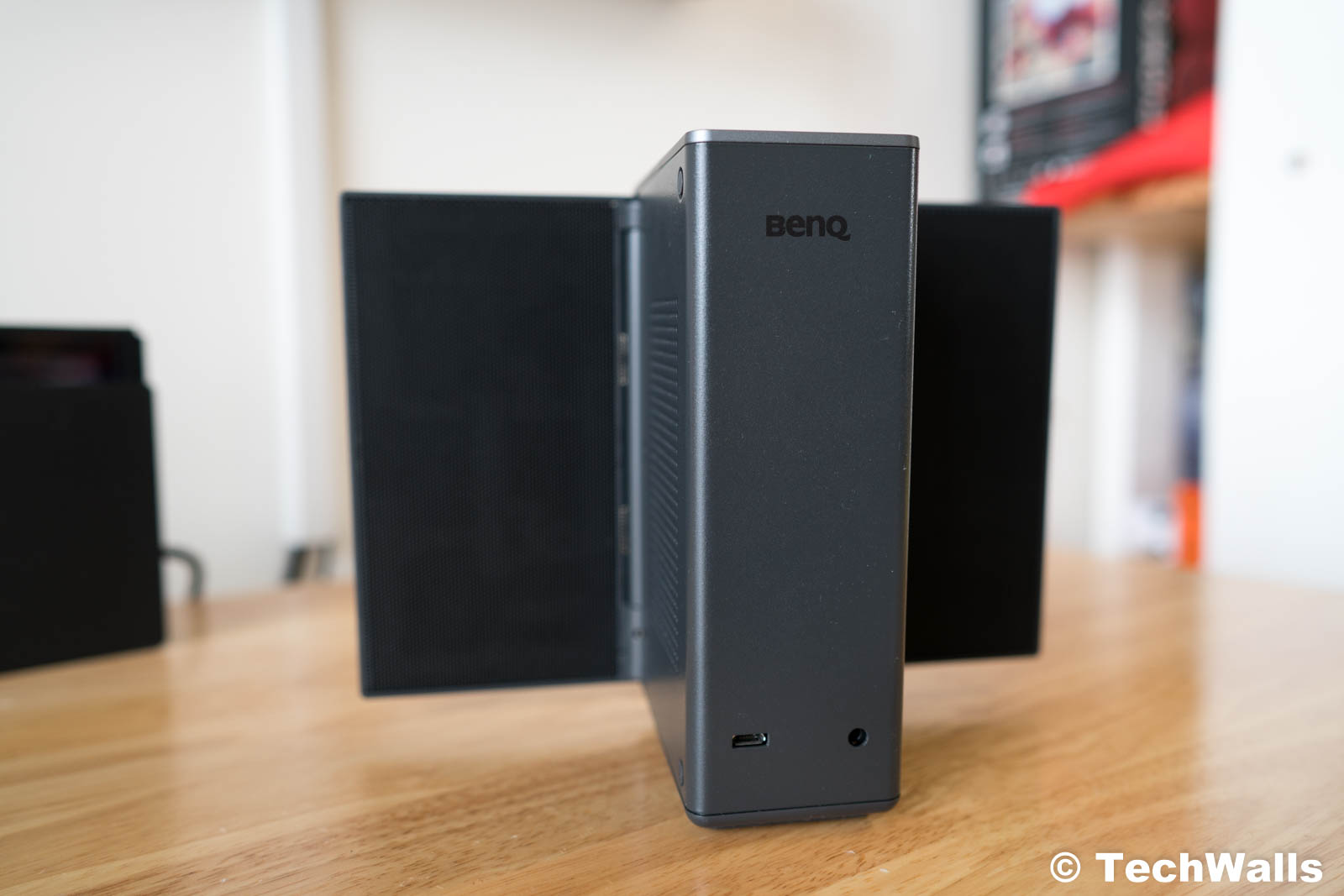 Another advantage is the long battery life. It is rated at 18 hours and during my test, I don't have to recharge the speaker after 12 hours of music playback. This is absolutely better than the industry's average.
A nice feature that I can't try is the Duo mode. Basically, you can buy two treVolo S speakers and pair them together to create a stereo system.
Audio Quality
With such an amazing design and promises of electrostatic technology, I expected the treVolo S could provide a great sound, somewhat similar to planar magnetic speakers. Unfortunately, the sound couldn't wow me. It has some advantages but some limitations can't be overcome.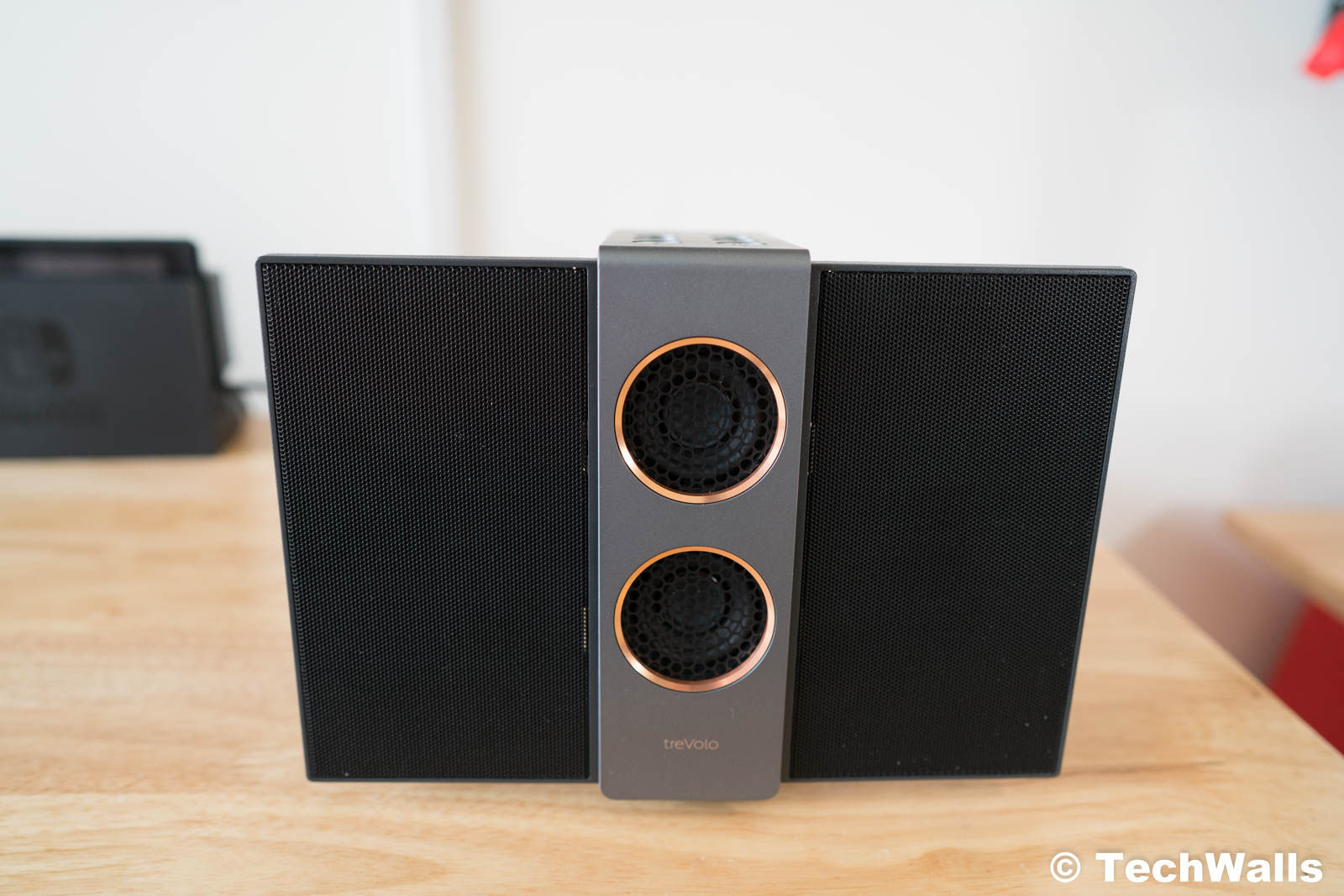 The best thing about the sound is the bass response. Most Bluetooth speakers at this size couldn't deliver such a deep and tight bass. I'm also surprised that the soundstage is quite spacious. It doesn't sound boxy despite a small body, this might be the effects of electrostatic panes.
Now, let's come to the shortcomings. The speaker has low distortion but it is because the sound is processed. Obviously, the sound is not pure like it's claimed to be. When I play some busy tracks, the speaker just can't handle it and the volume level suddenly becomes very low. This is not a powerful speaker at all. I end up turning the volume level to maximum on both my smartphone and the speaker but it is just enough to play in my apartment. Therefore, no way you can use it for outdoor parties.
The sound is overwhelmed with the bass response, so it might be tiring after a while. I'd prefer more present mids and clearer highs.
Conclusion
Pros
Brilliant design
Great bass
Cons
Underpowered
Processed sound
Expensive
Overall, the BenQ treVolo S is really a great speaker for display. It is quite difficult to justify its expensive price tag since the sound is just average. I only recommend the product when its price comes down to around $100.
TechWalls Rating
Design & Features - 9
Audio Quality - 6.5
7.8
Good
A beautiful Bluetooth speaker with an average sound.
Disclosure: As an Amazon Associate, I earn from qualifying purchases. The commission help keep the rest of my content free, so thank you!