We already have the access to the whole world in our hand. Smartphones have changed our way of thinking and living being constantly improved and evolving fast. The way you use it for navigation is also changing.
It means that modern GPS and up-dated shoots of location and patches of land are so enhanced that we can easily rely on their accuracy. And here is not to the point of simple routing, here is about the tracking we can have in a real time. An array of GPS apps for smartphones makes it so easy to fit your needs. The concept of location tracking of fleet and workers has been realized by Uboro company, a GPS tracking platform for fleet management and employees. Track your employees & fleets. It offers inevitable benefits, which in general can be over viewed as an optimization tool for your business. Though it is as well convenient for in-personal use.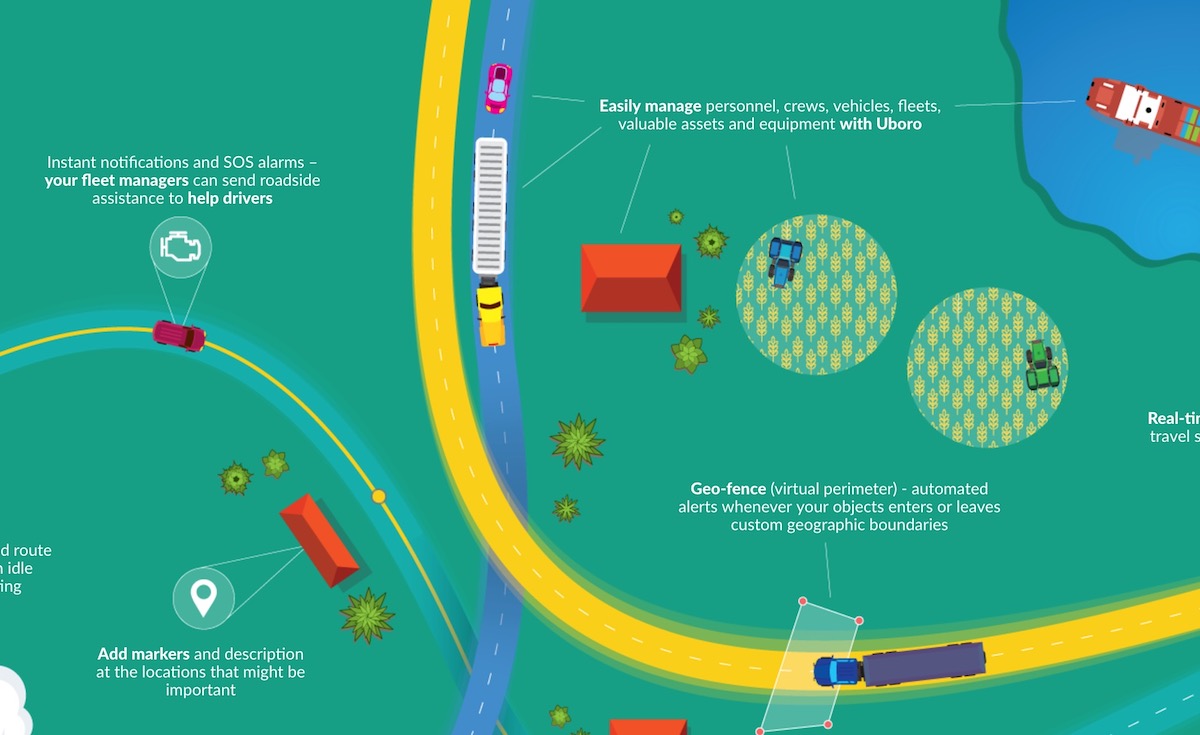 What can such platforms offer in terms of fleet management?
1. Any unit which has a tracker will be on hand.
It can track any transport (trucks, small cars, ferries, separate inventory – containers and ULDs, building machines – excavators, ships, vending, etc).
2. Geo fences
You will know about the visual perimeter (whether your vehicle enters or leaves customs geographic boundaries) with the help of automated alert.
3. Time, speed, route and petrol optimization.
These are actually those KPI which will describe your business processes and show whether they work efficiently or not.
4. Help alarm or notifications.
In case the driver will need help or other means of support.
5. Benefit of such platform for drivers
They can assess the quality of roads and traffic jams, so if the time is in the priority they can easily change their route, though for GPS this is the shortest way.
6. Benefits for newcomers
Most apps are now in free access. They do usually offer a trial period (like the Uboro company do it for 90-days free use, so you can test whether those functions are really a good fit for you).
Map against Smart GPS Apps
A lot of discussions were against the new GPS which suppose to replace a common map because the general GPS hardware is okay until it works correctly. Only a few situations may not get into reception, or come with significant distortion or delay. It is not a point of serious worries. Accuracy in woods and mountains are still better navigable by GPS rather than with the help of overhead photos from satellites and airplanes.
The real drawback is for sure battery charge. If you are not using a vehicle where you can charge the device and you are to move on foot such problem can occur, but it is more inherent for personal use, hikers, who blame smart technologies with this con. As for business, it is very rare and not without reason, which can be handled.
Disclosure: We might earn commission from qualifying purchases. The commission help keep the rest of my content free, so thank you!