ZERO BREEZE is a tech-driven outdoor living brand founded in 2016 by a group of passionate outdoor lovers. They are dedicated to making innovative and easy-to-use products for campers, RVers, boat owners and everyone else. Their founder felt uneasy to camp overnight in summer without a portable air conditioner. Since there was no existing solution, they came up with their own idea of inventing a real portable AC. ZERO BREEZE Mark 2 is the newest portable air conditioner by the company.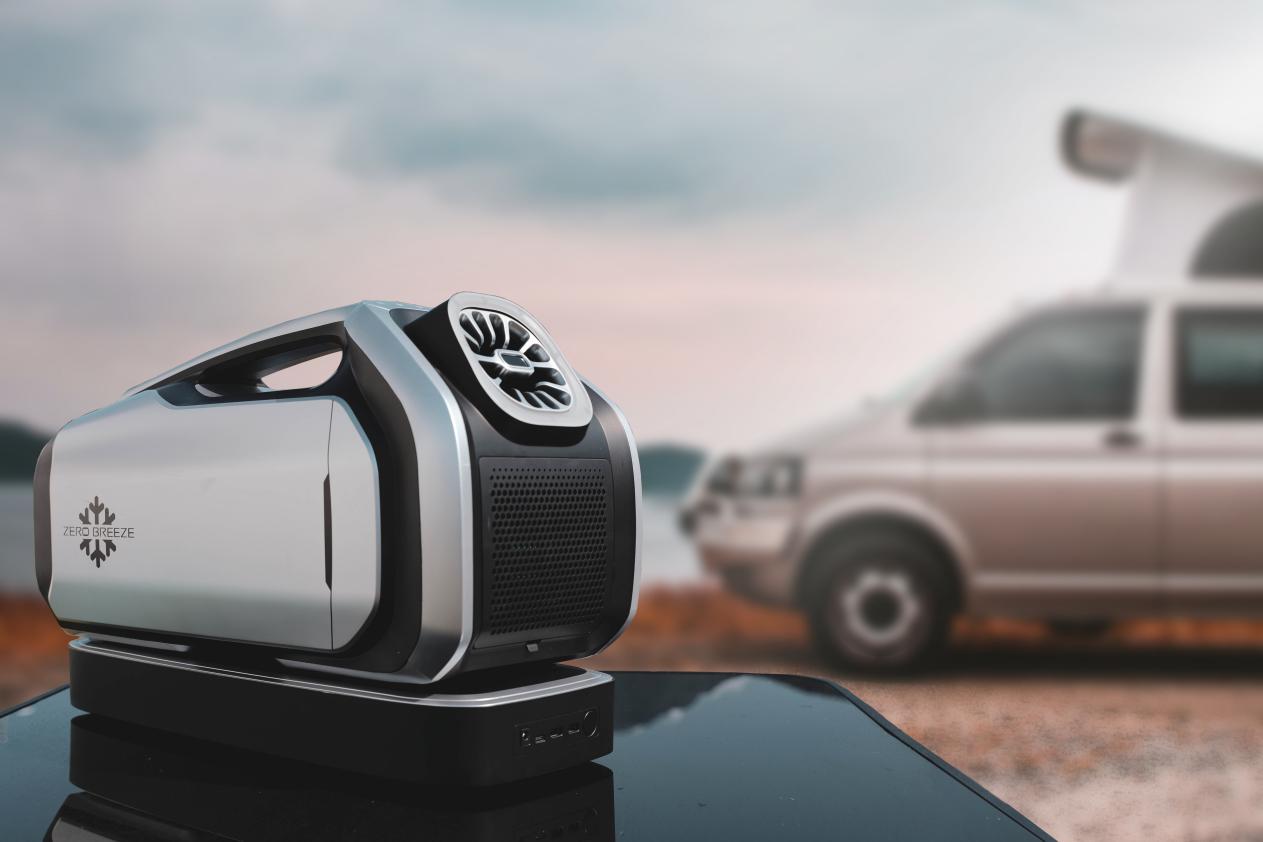 ZERO BREEZE Mark 2 Specifications
| | | |
| --- | --- | --- |
| Design | Cooling | Battery |
| A/C Size: 20"L x 10"W x 11"H | Working Mode: Cool, Fan, Sleep, Rocket | Type: 18650 Lithium-Ion Polymer Battery |
| A/C Weight: 16.5lb | Wind Speed Level: 4 | Capacity: 24V 35Ah/ 840Wh |
| Battery Size: 20"L x 8.6"W x 2.3"H | Cooling Power: 2300 BTU | DC Charge Input: 18V-36V (Recommended input voltage: 21V-27V) |
| Battery Net Weight: 12lb | Climate Type: T1 | Full Charge Time: About 6 hours (by official power adapter) |
| | | DC Jack Output: 12V/5A Max |
| | | USB Type C: PD(5V,9V,12V,20V/45W Max) |
| | | USB Type A: 5V/2A Max |
| | | Operation Temperature: 0°C-60°C / 32°F-140°F |
| Moisture Protection | Sound | Input |
| Rating: IPX4 | Level: 52dB(A) | Cooling Rated Input: 240W |
| | | Rated Voltage: 24V DC |
Features
Summer all over the world becomes hotter, longer, and more dangerous than ever but you shouldn't let it stop you from exploring new places. As long as you and your family get prepared for this type of intense heat, you will still be able to stay cool and healthy. The company believes that ZERO BREEZE Mark 2 will help people enjoy outdoor activities as long as they wish. The product is even adopted for professional use and recognized by NASA engineers, IndyCar events, rescue team, and expedition team.
Real Portable AC
The most important feature of the ZERO BREEZE Mark 2 is its real portable design. It weighs just 16.5 lbs and it is just 1/3rd the size of traditional air conditioners. Specifically, it features a compact horizontal design, measuring 20"L x 10"W x 11"H.
To reach the balance between weight and performance, the AC utilizes a micro twin-cylinder compressor which is just the size of a cola can. ZERO BREEZE is the industry-first to adopt the compressor, it also brings a unique self-designed duct system and air outlet assembly to the small-sized unit.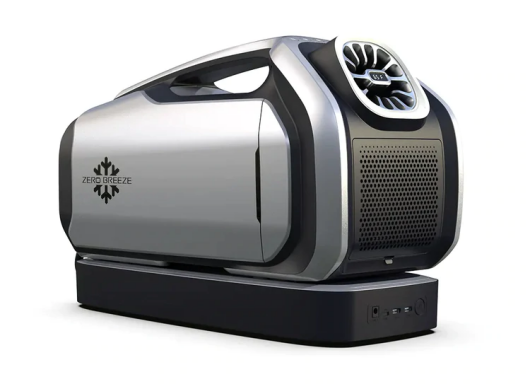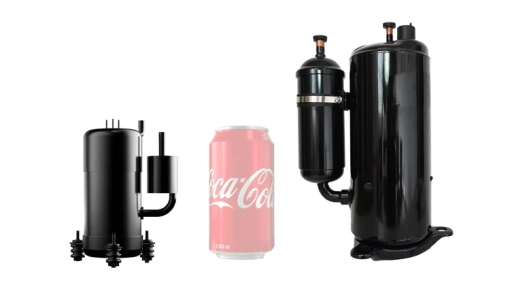 Notably, the AC is powered by a 24V battery which could last up to 5 hours of normal use. Additionally, users can get solar panels or in-car plugs to extend the battery life under off-grid conditions.
Held like a duffel bag, it allows outdoor enthusiasts to go an extra mile closer to adventure. Passionate campers can set the tent further off-road and closer to the nature with this portable AC to offer the cooling experience. Users can also bring it along anywhere for personal cooling. For example, truck drivers, race car drivers and outdoor workers could really benefit from it.
Spot Cooling
Featuring "spot cooling" concept, ZERO BREEZE Mark 2 is designed to cool down the temperature surrounding users. It provides a comfortable environment for a limited area with less power consumption. It manages to lower the temperature by 30°F in 10 minutes (2,300BTU). This ensures that you will always feel cooler even on the hottest days of the summer.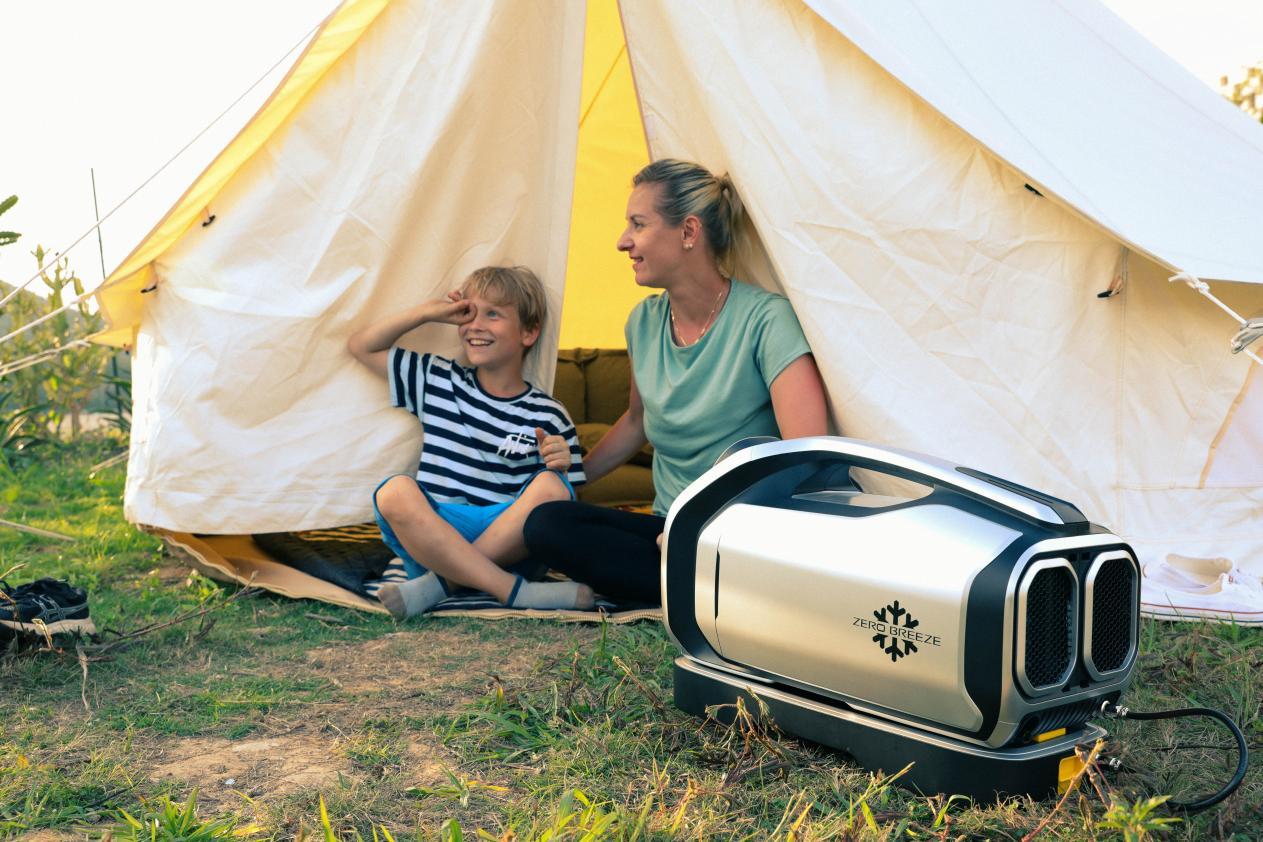 If you have plans for outdoor activities with your family this summer, you absolutely don't want everyone to get sweaty during 100°F nights with high humidity. The ZERO BREEZE Mark 2 will be a great solution as it could blow cold air up to 30°F lower than the ambient temperature and you can feel the difference in 10 minutes.
"No more sweating at camping nights." The ZERO BREEZE Mark 2 eases the sleeping experience of overnights under outside conditions, and enables friends and families, especially with kids and pets, to enjoy the nature with comfort. It would also be a real life saver when the temperature and humidity is high, being used outdoors as a cooling unit, inside of a tent setup, as a supplement to built-in RV air conditioning, and possibly as an emergency backup.
Mark Your Coolest Moment
With its footprint in more than 40 countries and regions, the ZERO BREEZE Mark 2 is leading a trend by offering the cooling experience to outdoor lovers. The company recently upgraded its product solutions, and is going to launch its 1st Fans Day soon in July. They invite fans to mark their coolest moments and share their inspiration.
The product is available for $999 on their website. We have a discount code for ZERO BREEZE Mark 2 and batteries: TECHWALLS – $50 off orders of min. $599, valid till 7/12/23.
Disclosure: This is a sponsored post, we were compensated to publish it on our website.
Disclosure: We might earn commission from qualifying purchases. The commission help keep the rest of my content free, so thank you!