Getting in shape during 2021 is on a lot of people's minds. It can be an overwhelming task to take on if you are worried about nutrition or finding the right gym. Or even finding the time to go to a gym or yoga studio.
While working out with others on the same path is great, it's not always possible to fit into our already busy schedules. Mobile fitness and wellness apps are a great tool to use for workouts at home or on the go. You can fit them into your day at your convenience and work towards your goals with ease. They still offer the same accountability as a personal trainer or workout buddy but without meeting with someone. Here are seven apps that will help you with your health goals in 2021.
1. Charity Miles Gets You Moving
Charity Miles is an exceptional workout app that provides a different kind of motivation. For many folks, they need to simply start walking. Others might upgrade to bicycling and running. You can easily rack up miles with just 30 min to an hour a day. This free app works with corporations who will donate a few cents for every mile you walk, run, or cycle. You can choose a charity to receive those donations. What could be a better motivator than to help others while you are taking care of yourself?
A side note regarding walking, running, and bicycling; the sore muscles. It's normal to be sore after many exercises and for some people, this can deter their efforts. Especially if you have been mostly sedentary prior to this new lifestyle change.
2. Noom Is Your All-In-One
If you want help with every aspect of getting in shape and being more healthy, Noom is your one-stop-shop. They provide daily interact content to keep you interested. You will get a personal goal coach to stay in touch with and cheer you on.
What is most important, is they teach you the psychology tricks you need to redefine your relationship with food. Noom costs at about $60 a month (some monthly plans are higher) or $199 a year. Consider it an investment in your health and wellness.
3. 8Fit Is Your Personal Plan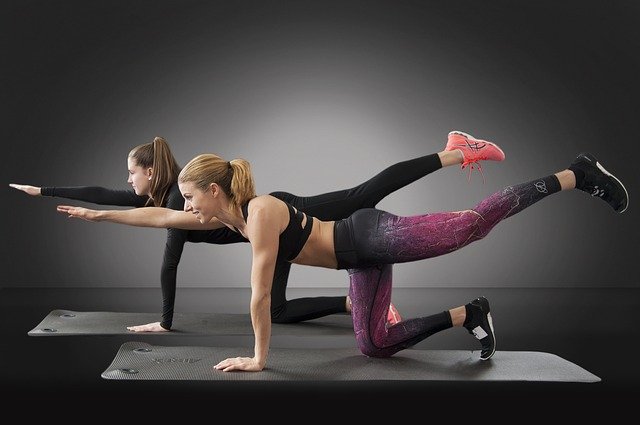 Are you someone who needs a lot of guidance, instructions, and reminders? If so, 8Fit is the best app for you. You begin with choosing a goal; get fit, lose weight, or build muscle. From there it helps you break down some specifics for your goals. It takes into consideration your lifestyle when choosing the best plan for you.
You can then choose your workout videos, create a meal plan, and even create shopping lists. There is a free version of the app is limited. It's a great way to test it out and see if you enjoy it. If you choose to purchase a plan, they range from monthly to yearly. Currently, you can expect to pay $19.99 – $59.99.
4. The Seven Minute Workout
If you are a busy person, a short workout might be what you need to jumpstart your goals. Johnson & Johnson came out with this free app and it has been gaining popularity amongst many folks.
Each move is demonstrated for you and then you have 30 seconds to complete that task. Within seven minutes, you will get a good workout and still have time for your other responsibilities.
5. Fit Radio For Better Inspiration
Many people use Pandora and Spotify to create their own playlists for working out. Fit Radio stands apart by offering a coach who encourages you to increase your pace when you start to falter. All playlists are based on different types of workouts; weight, running, treadmill, etc. Some playlists are guided workouts with the music.
Fit Radio offers a free version with limited access to some playlists. If you choose to buy the app it is $27.99 per quarter or $99.99 a year for premium access.
6. Forte For The Atmosphere Of Group Workouts
One of the greatest motivators for many people is group workouts. There is a comfort knowing others are working towards similar goals. For a busy person, this can be a barrier. Having to drive to the gym and finding a group workout of your choice at a time you can squeeze in becomes stressful. Forte offers a simple solution to the problem. With Forte, you can access live workouts right from home and join in with a group.
If you are worried about someone seeing you or hearing you, you don't have to. While you can see and hear everything the instructor says, no one in the class can hear you. Be warned that some classes will require equipment for use during the workout.
Some just require a mat, others may require free weights or a stationary bike. There is a free option on the app called Practice Squad. The free option gives you access to one free class a month. You can at least try it out and see if you like it before investing in other plans. Paid plans range from $39 – $288.
7. Lifesum For Better Nutrition
With all the workout options, it does pay to pay attention to what you are putting into your body. Lifesum is the calorie counting app to help you learn how to better manage your intake. Looking at calories can also teach you to make better food choices.
You enter your goals and based on those goals, it will give you a calorie balance for each day. If you get frustrated with meal ideas, there is a wealth of meal suggestions this app can offer you. There is a free version but it is limited in its offerings. A paid version will cost $14.99 – $30.99. It's a great investment to support your workout efforts.
We hope these apps provide you enough inspiration to try them out and see which ones work best for you and your lifestyle. While the apps work to motivate you, have a friend become an accountability partner. You can check in with each other every month over text or direct messaging. It will further support your efforts and have something to look forward to.
Disclosure: As an Amazon Associate, I earn from qualifying purchases. The commission help keep the rest of my content free, so thank you!