Kindle readers encompass a cross-section of individuals who are such avid readers that it allows them to consume as many books as they can handle without carrying it all around, or for the light readers who don't want the commitment of purchasing a paper book and want to casually read their novel by the pool.
For the latter group, at least, Kindle Unlimited, is welcomed news! Being able to pay a monthly cost of $10 to read as much as you want is great! Today, we will take a look at what Kindle Unlimited includes, both its pros and cons, and whether or not if it's for you.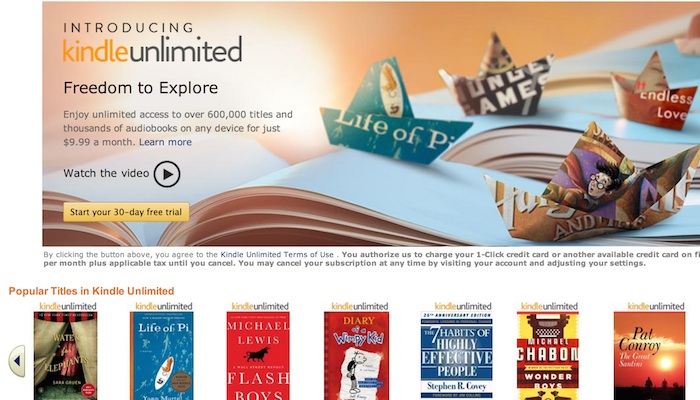 More on the Program
The program known as Kindle Unlimited allows Amazon customers to choose from their selection of over 600,000 books and 2,000 audiobooks, downloadable for free after paying for the subscription fee of $9.99. As long as you keep the subscription up each month, the books stay in your library. You can even keep the highlighting and other notes if you miss a month and pay that following month.
The Book Selection
Like many of these all-you-can-eat programs, especially though Amazon (Prime and Prime Music are great examples), you are limited in what you can actually consume. Because your selection is based on the agreement of publishers to have their content practically for free due to how you aren't directly paying for the content, just the service, not all publishers are on board with the idea just yet. In addition, Amazon hasn't explicitly approached all or finalized agreements with all publishers, so it could range from their disapproval to simply the ink not being dry yet.
What Does this Mean for Publishers?
Ultimately, this doesn't put a sweet taste in the mouth of all publishers with Amazon. Some have found that their disagreement stems from long before Kindle Unlimited was public. Some publishers feel that even in the marketplace of Amazon, known to be very generously priced with books, is leaving publishers by the waste side in terms of negotiating a fair price.
This, some feel, only adds salt to a wound. This must mean that for those in the agreement, they must have a sweet piece of the revenue pie. The publishers involved aren't simply offering their less popular titles, many of them are offering the big names like Hunger Games and Life of Pi among others. It is certainly true that once Amazon works out publisher disputes, they will find themselves with a larger selection of books that will ultimately draw in more avid readers willing to pay $10 a month for this buffet of books.
The Verdict for Competitors
Amazon, of course, isn't the only player in this game. Along with Oyster, other websites that offer a subscription-based book consumption service includes Scribd and Entitle. They may find that working their marketing magic to bring in more publishers is a necessary next step to ensure their survival that some feel could be in jeopardy.
However, even without publisher disputes, Amazon's larger stage can even bring in the unsigned, beginning writers who want to get their work out there. That may seem like a segment of the writing community that shouldn't matter. However, as we can see with the birth of Harry Potter and Twilight, publishing hits start from unsigned beginners.
Could Kindle Unlimited be great for readers, or will the limited selection cut avid readers away? Let us know about your thoughts and don't forget to also check out Kindle Unlimited's 30-day free trial to see for yourself if this is a service that is right for you. Remember that at the end of the month, you will automatically have your account rolled over to $9.99 a month.
Disclosure: We might earn commission from qualifying purchases. The commission help keep the rest of my content free, so thank you!