The world of laser engraving is a realm where precision, speed, and power converge. AlgoLaser emerges as a trailblazer, designed with commercial users in mind. Perfect for those exploring fresh business avenues, steering a boutique custom venture, or aiming to level up their business game, AlgoLaser promises to be the catalyst that transforms visions into intricate, tangible creations.
Disclosure: This is a sponsored article; We were compensated to publish it on our website.
The brand's standout feature? Unparalleled simplicity. AlgoLaser offers a seamless setup process paired with an intelligible operating system, ensuring that users can swiftly transition from conception to execution. Beyond its user-friendly interface, this laser engraver prioritizes safety. With a robust safety framework, users can craft with both precision and peace of mind, assured by real-time monitoring and proactive alerts.
Within this realm, the AlgoLaser Alpha 22W Laser Engraver proudly sits atop the throne, boasting features and capabilities that put it in a league of its own. Here's an in-depth look into the marvel that is the AlgoLaser Alpha 22W.
A Glimpse Into Advanced Engineering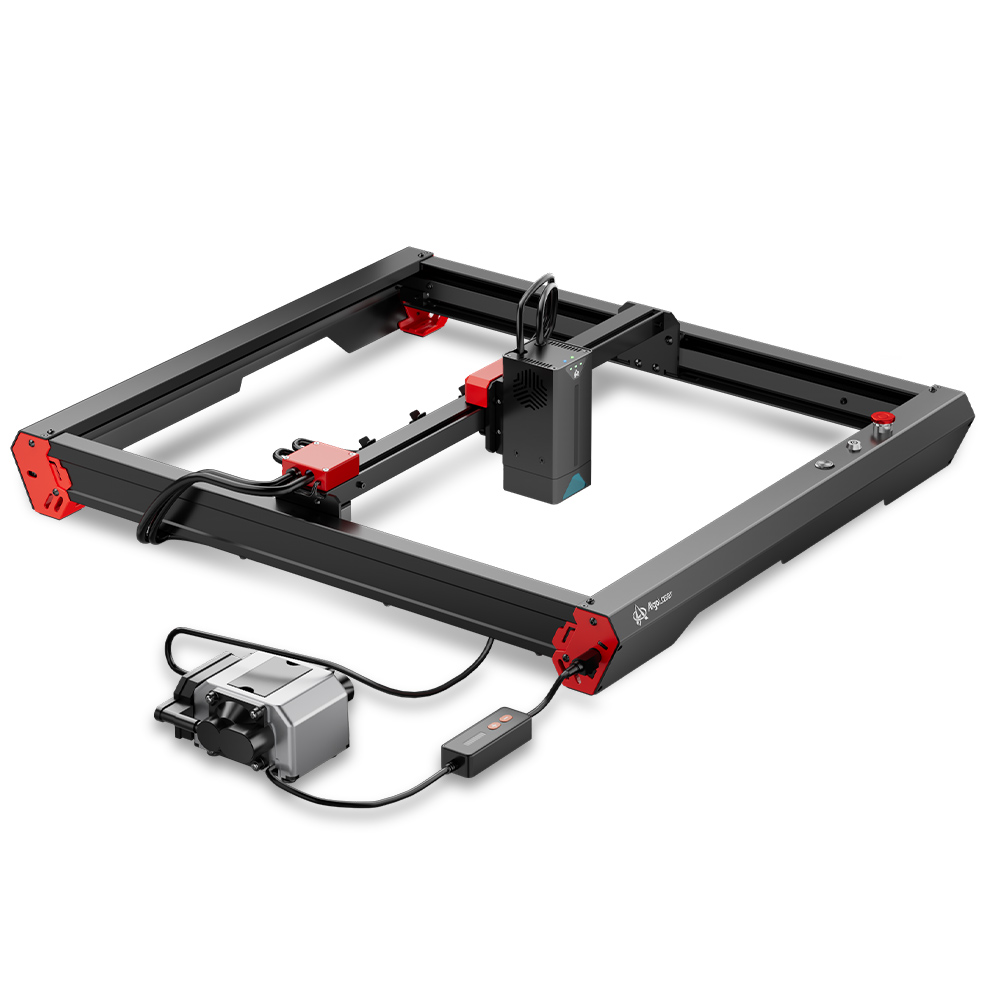 At its core, the Alpha 22W boasts the revolutionary second-generation COS system. This ground-breaking technology leverages a polarized beam combination, catapulting the performance of the laser beam by a staggering 40%. Unlike the average 20W laser engravers, this beast fine-tunes laser spots from a rectangle to a square, ensuring meticulous detailing in every project with its unrivaled precision.
Artistry at Its Best
The AlgoLaser Alpha 22W is not just a tool – it's an artist's dream. With over 500 vibrant shades obtainable through the oxidation of stainless steel during engraving, it's a game-changer. Every project is now a canvas, ready to be adorned with lasting colors, lending depth and allure to creations.
Cutting Mastery
Beyond engraving, the Alpha 22W showcases a masterful cutting ability. With its unparalleled 22W laser module, it sails through various material thicknesses with ease. While competitors lag, requiring multiple passes, the Alpha 22W achieves in one – an epitome of efficiency and prowess.
Unrivaled Performance and Upgradeability
Driven by a formidable dual-core CPU, it promises a whopping 32% surge in CPU performance, combined with 50% enhanced energy efficiency. It's designed for the future – equipped with expansive memory and storage, and flexible firmware upgrades via OTA and SD card.
Time – A Precious Asset
Time-efficiency is redefined with the Alpha 22W as it delivers an engraving speed soaring up to 400mm/s. In real-world performance tests, what takes others 270 minutes, the Alpha achieves in just 36 minutes. Complete large projects, like a full image size of 210 x 280mm, in just over half an hour, showcasing its unmatched efficiency.
Intuitive Design and Functionality
A symphony of user-centric features like the magnetic and detachable laser metal cover, integrated laser protective lens, and an organized cable management system underscores its ergonomic design. Moreover, automatic airflow adjustment and compatibility with software like AlgoLaser app, LightBurn, and LaserGRBL elevate user experience, making operations smoother.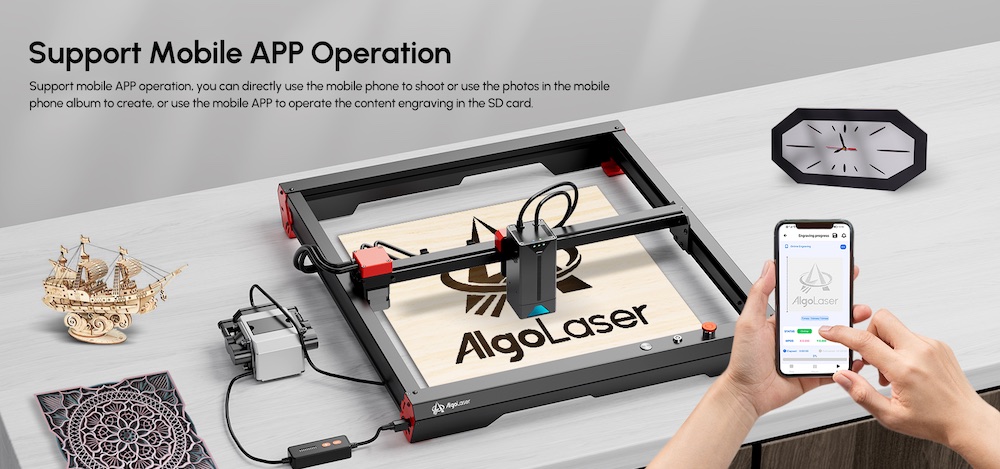 Prioritizing Safety
Nothing is more paramount than user safety. With a comprehensive suite of 7 safety protections, including machine offset and tilt detection, beam and voltage protection, and an emergency stop switch, users can operate with complete peace of mind.
Offline Capabilities and More
For those who prefer working offline, the AlgoLaser Alpha 22W is a treasure trove. It offers diverse modes, an extensive font gallery, built-in drawing tools, a template library, and more. Every facet of the machine, from adjustable raisers to safety key switches, is meticulously crafted for a seamless experience.
Affordable Excellence
For a limited time, early birds can avail the AlgoLaser Alpha 22W at a promotional price of $799, down from its regular price of $1,099. The first 10 orders bag a one-year free subscription to LightBurn and a 400x400mm Honeycomb Panel, worth $139.99. Orders from 11th to 300th also receive the Honeycomb Panel, a $79.99 value. Explore the early bird promotional page for more insights.
In summary, the AlgoLaser Alpha 22W is a testament to the zenith of engraving technology. With its blend of advanced technology, artistic flair, and thoughtful design, it's a worthy addition to any professional's toolkit or a hobbyist's workspace.
Disclosure: We might earn commission from qualifying purchases. The commission help keep the rest of my content free, so thank you!