It is still a true fact. If you spend less, you will be able to save more if you curtail that money into some sort of a savings medium. This can be, for example, through the building of your investment portfolio or in a savings account. However, that was the best formula for saving money, until Acorns was developed.
Through Acorns, you are able to truly spend and save at the same time. Whenever you make a purchase with a debit card or checking account, purchases are round up, with the spare change sent off for saving. Could this be a good first step for someone looking to dip their foot in investing, or is it simply a novelty? Today, we will take a look at what Acorns is all about, when it is supposed to be available to the public, and the pros and cons of this service.
What is Acorns?
Acorns works by tracking the spending of the user that connects either one or multiple debit and/or checking accounts to their Acorns account. From there, the application is able to tally the purchases made, and round them all up to the nearest dollar. The difference of the rounded price and the price paid is subtracted and that is the amount that is curtained off for savings.
Once this mini-bank of money hits $5 or more, it is available for investing. Unlike other services through banks, which sit in a bank and may gather less guaranteed interest than you might like, investing it allows you to exponentially increase the amount investing. However, just like with any form of investment, your initial capital could also not make a huge profit either.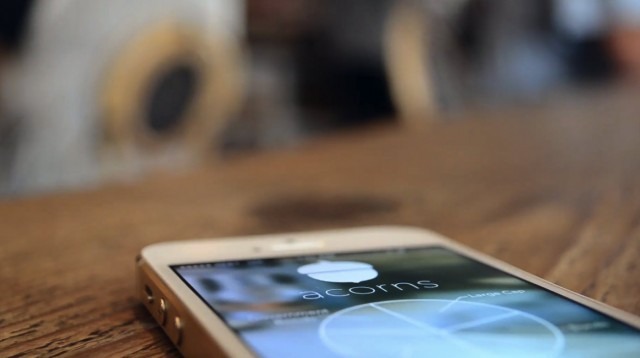 A Little About Micro-Investing
The micro-investing that Acorns encourages is a great introduction for individuals looking for a painless way to invest without essentially feeling the pinch of having to physically fork over the amount consciously. Instead of making a conscious decision to, say, invest a said amount into a company, you are making an investment piggy bank without much effort on your part. The small deposits also make it an investing option with little risk. Money then goes into a choice of one of five investment portfolios through Acorns. Seems pretty seamless, right? That's why we can't wait to see Acorns go live. But it does have its share of cons along with the pros.
The Good and Not-So-Good
Again, there is a lot to love about Acorns. It is a great introduction to investment, on a mobile platform available for both Blackberry and iOS users. It is invest done in the background, intertwined with your daily purchases. The $7.03 Chipotle lunch turns into $0.97 added to an investment piggybank to increase profitability.
In addition, new users are given $5 to get started once Acorns goes live and its free to download, along with the ability to withdrawn whenever you see fit. However, investment does come at a cost. For $1 a month and 1% taken out each month to keep Acorns running, you aren't necessarily given a free ride. However, as we detailed with the Chipotle example, your $1/month fee is essentially paid for after you make a daily purchase or two.
Conclusion
Acorns, set for public release this month on the App Store, offers a ton of benefits for the individual looking to make the most out of every dollar spent. They may not necessarily look into being the next big profits trader, but they do what to reap the rewards of that daily latte even after it is finished. Acorns does come with its fees, however they are easily paid for before you're halfway through your week of spending, from making groceries to paying bills. Interested in trying Acorns? Keep tabs on their website and sign up to be notified once they are live.
Disclosure: As an Amazon Associate, I earn from qualifying purchases. The commission help keep the rest of my content free, so thank you!