It's difficult not to mention GetResponse and AWeber when it comes to discussions about email or newsletter marketing. These are two of the most popular and highly effective solutions when doing online marketing.
They offer some of the best combination of features and usability for those who need an easy way to do a marketing campaign online. However, you can't just use both of them if you want to take advantage of the different pros they offer. You can only pick one so consider using the following points as your guide.
1. Deliverability
Both GetResponse and AWeber offer high levels of deliverability. GetResponse claims to have a 99% deliverability rate while AWeber has a marginally modest claim in having a 98% email deliverability. AWeber does not specifically mention this on its website but simply refers to its deliverability as "industry-leading." You will not go wrong with either choice since their deliverability rates are essentially the same. Assuming these numbers are accurate, the difference will only be palpable if you already target hundreds of thousands of subscribers.
2. Autoresponders
One of the most important features of email marketing solutions is the autoresponder since it makes it easy to interact with the target recipients, especially when there are already thousands of them. Both GetResponse and AWeber have autoresponders. GetResponse, however, has the better autoresponder system since it supports both time and action based functions. AWeber's is limited to time-based automatic responses. What makes GetResponse's autoresponder even more superior is its ability to indicate the number of contacts that have already completed a particular sequence so they can be assigned to a new sequence.
3. A/B or Split Testing
When it comes to A/B testing, GetResponse can be considered as the slightly superior option since it offers this feature in a considerably easier to access and use manner. A/B testing with GetResponse can be immediately run while composing an email marketing content. It enables a partial testing so the rest of the campaign can be pursued based on what is deemed better after the partial testing. AWeber has a good enough split testing feature, which is not really that different from what GetResponse offers.
4. Templates
GetResponse and AWeber both offer a multitude of templates. These templates look good enough and even include some outstanding selections. What's great is that both of these email marketing solutions provide templates that are responsive (i.e. email counterpart for responsive web design) so they can be comfortably viewed regardless of the display size or resolution used to view them.
5. User-friendliness/Intuitiveness
In terms of intuitiveness, the two email marketing solutions in this comparison are good enough. It's not difficult figuring out how to use them even for those who are new to using email marketing solutions. Choosing which one to use boils down to preferences. GetResponse is rather conventional and has a quite familiar look and layout while AWeber is mostly minimalistic. As long as you have a decent Internet connection, both GetResponse and AWeber should be responsive enough. Difficulties in using the drag and drop interfaces may only be affected if your Internet connection is crawling.
6. Pricing
The price should not be made the main point of comparison, but it also shouldn't be disregarded. When it comes to pricing, GetResponse easily takes the cake. Its relatively low rates coupled with generous discounts is a very tempting advantage. For 1,000 subscribers, GetResponse's rate is only $15 compared to the $19 charged for 500 subscribers. AWeber's price hence is more than twice for the lowest subscriber package available. However, for 25,000 subscribers, the prices charged by GetResponse and AWeber tend to be similar. The former's is priced at $145 while the latter's is at $149. The prices for subscribers higher than 25,000 are no longer detailed by AWeber on their website (GetResponse has clearly stated prices for 50,000 and 100,000 subscribers at $250 and $450 respectively) so you will have to make a call to inquire about AWeber's prices for more subscribers.
As mentioned, GetResponse offers generous discounts, which make its already low prices even lower than those of AWeber's. For those who sign up for annual billing, discounts of up to 18% can be availed. For example, if you sign up for the 25,000-subscriber plan, you will only have to pay $118.90 per month or $26.1 less compared to the standard price.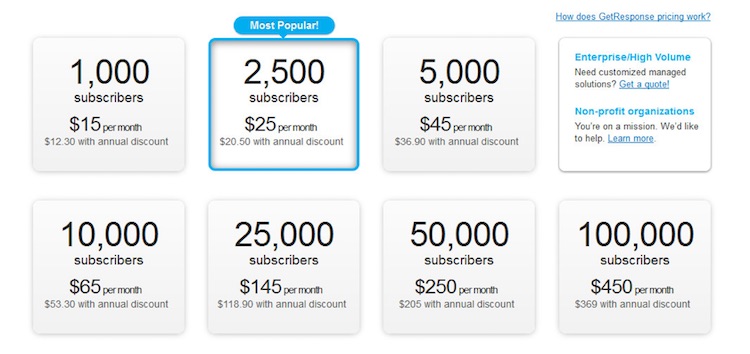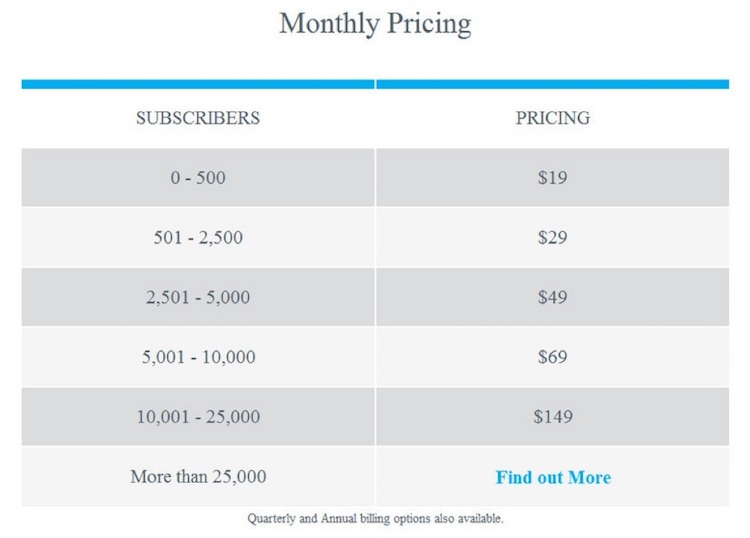 7. Analytics and Reporting
Similar to the intuitiveness factor, making a choice will be mostly dependent on preferences. Both provide the details email marketers need to properly evaluate campaigns. As a general description, it can be said that GetResponse tends to present summary data first with links or buttons through which more information can be accessed. AWeber has a different approach as it shows most of the data in its reports or analytics pages.
8. App/Service Integration
As it's getting obvious now, GetResponse is clearly the winner of this comparison. However, if there is one point of comparison wherein it can undoubtedly emerge as the winner, it will be in the area of app or service integration. The creators of AWeber were mindful enough in making sure that integrating online services and apps like LeadPages, WordPress, PayPal, Facebook, and more will be a straightforward affair. AWeber's integration is faster and easier compared to how it works with GetResponse since GetResponse requires Zapier, a third party application, to do integration.

Verdict
This comparison hails GetResponse as the better option. However, AWeber is by no means not a good choice for email marketing. It also does a great job. It has enough of the features and functions to undertake a good email marketing campaign. It's also reliable and has a good level of deliverability. There are pros and cons for each. It's up to the prospective user or customer to evaluate specific aspects or points of comparison to determine which is the best one to choose.
Disclosure: We might earn commission from qualifying purchases. The commission help keep the rest of my content free, so thank you!