In the current mobile scenario, businesses of all sizes are realizing the need to keep up with the mobile trend. Mobile apps are proving to be more advantageous than mobile websites in meeting customer expectations and increasing sales. These apps allow customers to access business information quickly, thus changing the traditional ways of communication. The technology allows for faster execution of transactions and better data storage as well.
Let's take a deep dive to understand how mobile app development can prove to be a smart decision for your business.
Why Is a Mobile App Needed For Your Business?
Taking this into account, you should weigh out all the benefits of app development that can assist in achieving your marketing and business goals. Let's take a look at the possibilities for a business with a mobile app:
1. Customer Engagement
Keeping customers engaged is a challenge that brands can overcome with an intuitive mobile application. Discounts, loyalty programs, ongoing feature upgrades (innovation), and segmented targeting are some of theexcellent features that lead to higher engagement levels.
An amazing mobile experience will also boost how frequently your customers interact with your products/services, promotions, and other offerings. Businesses can take this engagement further with custom app development. Since the app is exclusive to the business, it will create an immersive user experience.
2. Direct Communication and Geo-Targeting Marketing
Mobile applications are more accessible and interactive than traditional websites. An app opens the door to direct, two-way communication for the business and the user. With these communications, you have an added channel to track user behavior and gather key information like geographical locations, demographics, and shopping behavior.
This data will help shape your location-relevant content, customers' buying experience, and marketing strategies for greater ROI.
3. Brand Recognition and Customer Loyalty
Creating awareness of your brand gets so much easier with an app. The regular interactions with your target audience through personalized product recommendations and notifications can foster trust and encouragecutomers to listen to your sales pitch. Research shows that a customer is more likely to shop on a familiar app (from a trusted brand) than to deflect to competitors.
4. More Sales and Profit
There is no denying that most of our web searches are made on the go on our smartphones. This is when mobile apps come in handy!
Once your app establishes a direct relationship with your customers and gains loyalty, sales should increase. Features like quick load time, ease of use, and in-app payments can create a quick, frictionless purchase experience, encouraging them to buy.
5. Get Recognized
Customers today have an abundance of options, but limited attention. However, an app can differentiate your brand from the competition. Since mobile apps still aren't a standard fare, you can attract potential buyers and seize a significant size of your target market through an app.
6. Competitive Edge in Your Niche
Signboards, hoardings, newspaper ads, social media marketing – the world of advertisement is noisy. However, an engaging mobile app can add that element of uniqueness to your brand necessary for recognition.
No need to make outlandish promises to get heard. Simply combining an app with a smart ad will give your brand the voice that people hear and trust.
7. Instant, Better Customer Service
A great customer experience happens when communications are instantaneous and time lags are minimal. Mobile customer service via an app is beneficial for both the business and the customer. Increased accessibility that comes with an app allows customers to voice their concerns and get a resolution of their complaints in just a few clicks.
For businesses, a mobile application offers smart options to establish fast and seamless customer service processes.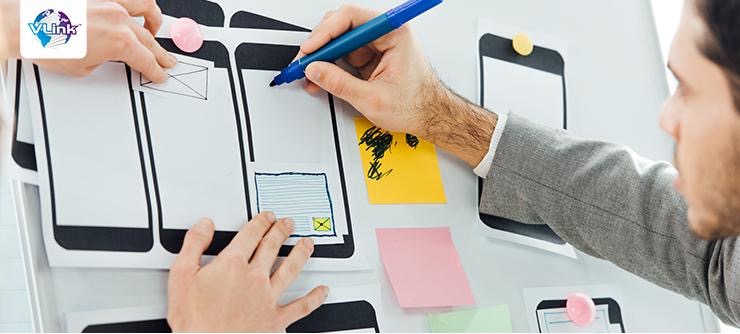 Mobile App Development Trends for Small Businesses and SMEs
The current trends in Android and iOS app development have broken the misconception that mobile apps are only for big brands. Small businesses, entrepreneurs, startups, and mid-size companies are recognizing the power of apps in boosting brand awareness and business sales.
In this article, we will analyze some of the top mobile app development trends.
1. Cloud-based
Cloud-based apps are scalable and resource-intensive and offer superior data backup, flexibility, and recovery capabilities. They are great for video streaming and data storage.
2. Predictive Analytics
Most of the data-driven apps use predictive analytics as it offers better visualization of data. It will be the backbone of apps that offer effective strategy planning in the future.
3. Blockchain
With decentralized data storage and non-copyable data distribution, blockchain, despite being controversial, offers higher transparency and faster data sharing.
4. Internet of Things (IoT)
IoT-powered mobile apps allow people to stay connected with devices, facilitate multiple processes, and allows businesses to collect rich user data.
5. Artificial Intelligence and Machine Learning
Integrating AI and machine learning in mobile applications is enabling businesses to solve difficult problems and create better and personalized experiences.
6. Hybrid or Cross-Platform App Development
Cost-effectiveness, high performance, and faster development are all benefits that are driving the demand for cross-platform mobile applications.
7. Virtual Events Streaming
Coronavirus has changed the landscape when it comes to virtual events. Access to mobile applications that enable users to interact with people across the globe and create virtual events have now become essential.
Other trends include virtual reality and augmented reality, mobile enterprise applications, beacon technology, blockchain, on-demand apps, and wearable apps. These innovative trends have elevated the power of apps in today's commercial world.
Conclusion
With time, it has become increasingly evident that you can gain distinctive advantages in building your own mobile application.
However, if you are still undecided about mobile app development services, let the professional app developers at VLink show you how our efficient mobile strategy can work wonders for your business. With an expertise of over 15+ years, they are always on top of the app development trends, providing technologically sophisticated solutions to various industries.
The developers specialize in iOS and android app development, hybrid app development, IoT app development, mobile app deployment, SDK development &back-end development, automated mobile app testing and wearable apps while ensuring an end-to-end partnership.
From sales and customer support to promotional activities and branding, almost every key department of your business will benefit from mobile development. Get started to build your future-ready mobile strategy today!
Disclosure: As an Amazon Associate, I earn from qualifying purchases. The commission help keep the rest of my content free, so thank you!