The number of freelancers contracting for larger companies is increasing on a daily basis.
There's a huge demand for 'pay as you go' skilled workers, especially in a world economy that's seeing huge numbers of startup companies opening their doors every year. At the same time, there are more and more people ditching the 9-5 and working on their own terms.
If you're going to stand out in a growing marketplace, you need to streamline your way of working – and one way of doing this is by using the right tech. You already know you need a computer and a smartphone – but what else could help?
We've talked to some high-earning freelancers and asked them about the tech they wouldn't be without…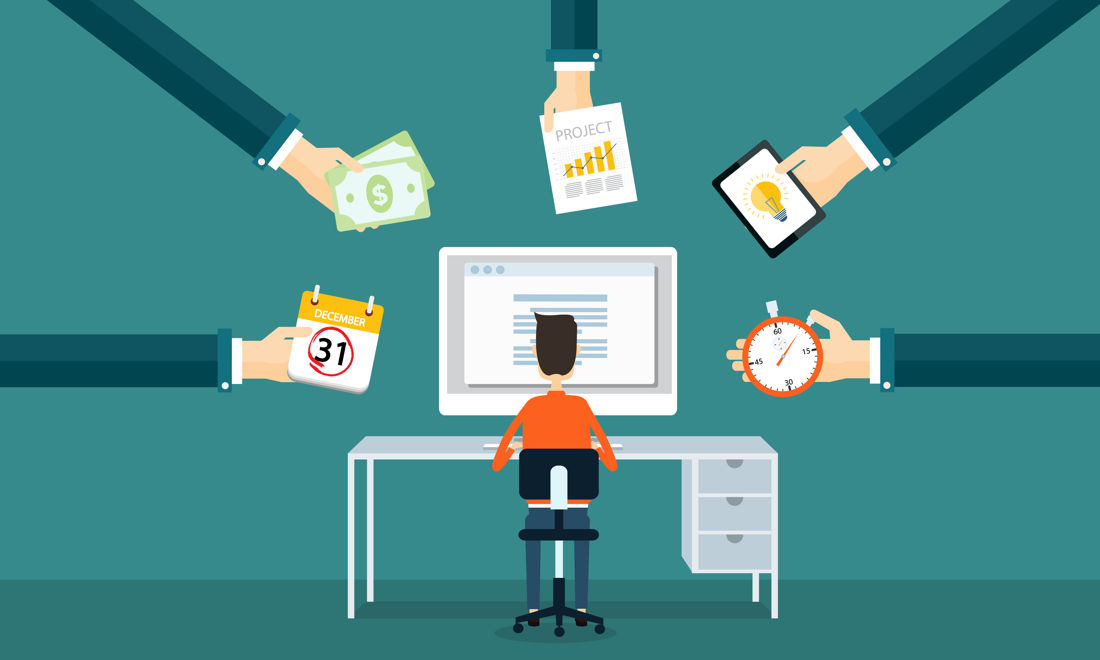 Wireless talking
There are few time-saving hacks as effective as doubling-up on your activities – and since taking a phone call really only needs and ear and your mouth – it makes sense to be doing something else while you talk.
Now, we're not suggesting you become a pro-multi-tasker, quite to opposite in fact. Calls are a great time to be doing the stuff that would otherwise take you away from your keyboard as a freelancer – and let's face it, if you work from home, there are plenty of tasks like that.
A Bluetooth headset might not be the pinnacle of fashion, but it'll mean you can get a lot done while still being 100% focused on your call – free from wires too. Want a more stylish option? Go for some Apple AirPods or the Bose SoundSport Free Wireless earphones.
Get in the habit of doing mindless or simple tasks while you chat – and you'll see your productivity bump up significantly.
4G Router
The idea of working freelance is sometimes more exciting than actually doing it – and part of that reason is that you need a solid internet connection – especially if your role involves more than just browsing.
Sure, you can get some great services that'll offer decent broadband in your home – but why not opt for something a little more portable?
A 4G router gives you all the convenience of a wired home broadband connection – but with portability, that'll outperform your phone.
That point about your phone is important – you might be wondering why we're not just telling you to tether to your phone – but the performance difference between your phone and a 4G router is going to be significant.
Many 4G routers carry slots for more than one SIM – and they bond the connection together, regardless of SIM carrier, meaning greater speed, better reliability – and often, better coverage. Freelancing can now truly be done from the beach. If a 4G router sounds good, this guide will help you pick one that suits your needs.
A big screen
The majority of freelancers opt for a laptop – an ideal choice if the flexibility of working at home, on client sites or even in a coffee shop sounds appealing.
The only snag is, portability is small – meaning you're often going to be working with a 11″-13″ screen.
An external monitor changes all of this – and it'll help with your posture while you're at it.
Laptops encourage terrible sitting positions – hunched over, looking down, eyes too close to the screen – etc. So rather than strain and get uncomfortable, pick up a decent size monitor, make sure it's at eye-level and you'll see your productivity and comfort go through the roof.
You've still got the flexibility of a laptop if you're out and about – but you've also got a more professional workspace when you're at your desk.
Portable storage
Sometimes there's just no replacing the good old flash-drive or external hard-drive when you need to move data around – especially when you're heading to client sites.
More than half of the freelancers we talked to complained of issues when trying to access cloud storage on guest WiFi or not being able to connect to client networks. Now, it's important that your (and their) security is up to scratch before you go sharing files – but there's a lot to be said for the hero that comes along and says "I've got it here on a USB drive".
It's a good idea to install some security that means your info won't fall into the wrong hands – but there's a host of software options that make that simple.
A good backup service
When you're a freelancer, there's no IT department to blame when your machine or systems go down – hence, it's absolutely vital that you keep a good back up.
It's not just client work that you stand to lose either – most of the freelancers we talked to discussed losing vital admin when they've lost a device to a hardware failure.
The good news is, there are some solid backup options – and even if they're not free, they're certainly very cheap.
If you work on an Apple device you've got the ability to create a time-machine backup drive – which is great if you don't mind backing up manually – however, for the absent-minded amongst us, there are some great cloud-based options that'll steadily tick-over in the background, making sure you're always protected.
Services like BackBlaze and Carbonite both backup on a minute to minute basis – and both are scaleable too, meaning your secure backups grow as your business does.
Voice AI
Voice is quickly becoming the must-have accessory for freelancers who've got an eye for productivity and efficient ways of working.
Our laptops or desktops tend to operate as an all-in-one digital control centres – which is great; but can also mean that you're pulled away from your core focus when it comes to checking diary dates, changing your music, ordering lunch, sending a message – and so forth.
Whether you opt to use Siri or the Google Assistant – or one of the many alternative voice AI interfaces that are coming to the market – you can remove some of your PC's workload, allowing you to stay on task at all times. As voice becomes more established, you can expect to see multi-tasking between your PC and voice AI become second nature…
Disclosure: We might earn commission from qualifying purchases. The commission help keep the rest of my content free, so thank you!