One of the best investments you can make for your next travel destination is to purchase the best universal plug adapter, which will allow you to use any electrical device in any country. These amazing gadgets are compact and take up very little space in your luggage. In this post, we'll discuss 10 features that you should look for when purchasing a universal travel adapter so that it best suits your needs.
What is a Travel Adapter Plug?
A travel plug adapter is a compact device that allows you to use your electronic devices (cell phones, laptops, tablets, etc.)in any country. There are lots of travel adapters on the market, it is best to buy one that is best for your needs.
What Features Should I Look For?
Number of countries supported: You'll want a travel adapter that supports different plug types to many countries as you're likely to visit. If you only plan on visiting the U.S., Canada, and Mexico, then a compact and cheap three-way adapter may be best for you. However, if you're planning on traveling to Europe or Asia then a travel adapter that supports both 110 and 220 volts will be essential.
2 AC Ports
Traveling can be extremely stressful- unpredictable connections, long journeys, and jet lag take their toll. Add to that the number of necessities you need when navigating an unfamiliar country: different adapters for your electric gadgets, as well as chargers. For people who find themselves constantly asking where they can charge their electrical devices, choose a travel adapter that has 2 AC ports, 1 US and 1 Universal.
This feature will allow you to charge two electrical gadgets that require plugging simultaneously. Plus, you won't have to worry about if your gadget has a US style plug just like your hairdryer, or hair curler because with a US AC port you can safely plug it wherever you are in the world.
Number of USB Charging Ports
Some adapters come with two outlets but only one USB port for charging your devices via an outlet. If this is the case, make sure it is a USB port that can charge your device at its best charging speed. You'll want to make sure it is an "intelligent" charger (like smart technology used with Apple devices) because many cheap adapters often offer slow and faulty charging speeds for all devices regardless of the brand you use.
Number of Outlets
Some international travel adapters come with four or even six outlets. If you're planning on sharing the adapter with your family, then this could be best for you.
Compatibility
Ensures that all of your devices are compatible with whatever device you purchase. There are a lot of universal adapters on the market. However, not all support certain devices like tablets or laptops because they require more power for charging purposes.
Size: You will want to make sure that your adapter is compact enough to fit in your carry-on bag but also powerful enough to charge multiple devices at once without overheating while you're on the go port.
Power Supply Options
Find one with multiple power supply options such as USB and AC outlets (the type found in your home), so that it best suits your electronic devices.
It has a high-power port.
Look for a travel adapter that offers at least 45W of power, which is best to support larger devices like laptops. Apart from that, it can charge your devices fast and avoid overheating.
The best travel adapters come with both an AC outlet (the type you find in your home) and at least two USB ports for charging multiple devices simultaneously while on the go. This adapter is best to keep all of your devices fully charged without having one drain power from another device.
Price of the Best Universal Plug Adapter
There are lots of different universal travel adapters on the market, so finding one that best suits your needs while being within your budget is essential to ensuring you have a comfortable and safe trip without needing to worry about whether your devices will charge upon arrival at your destination.
It has multiple built-in safety features: Make sure it has a 10A dual fuse combined with multiple built-in safety features to protect your devices from overcharging or overheating. It must be made fire-resistant and be made with sliding safety covers that protect your children and pets from each unused outlet and any unexpected electric shock.
A universal travel plug adapter can be a very useful piece of equipment for any traveler. If you're in the market for a universal travel plug adapter, then I highly recommend the Agile Charger and Universal Travel Adapter.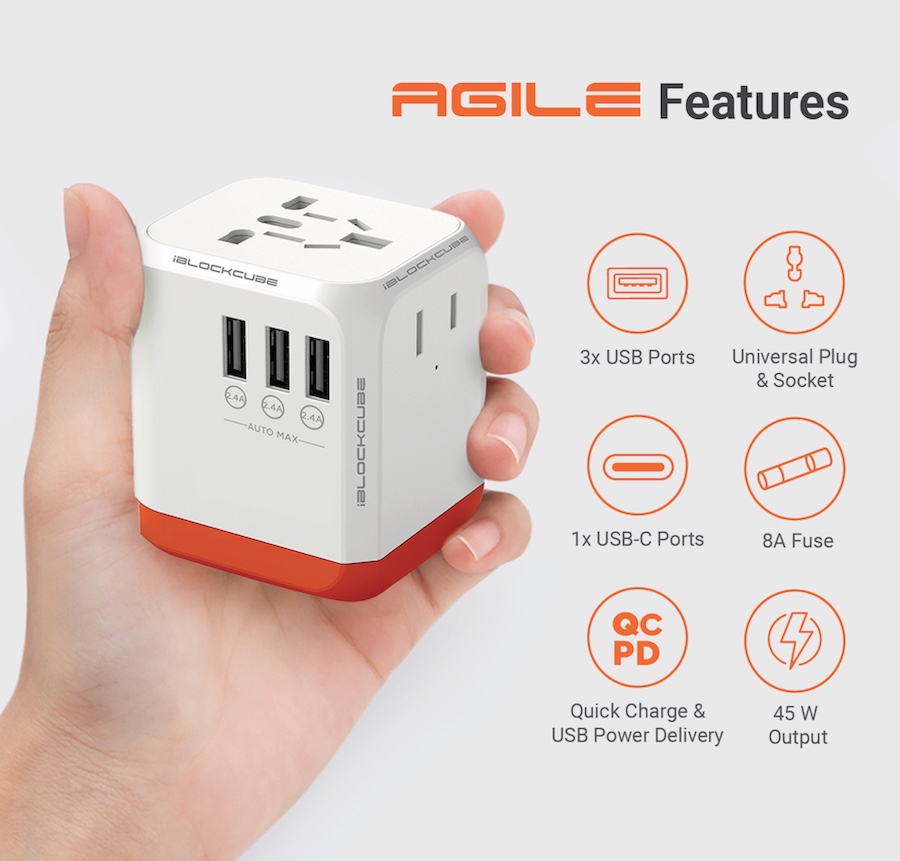 This universal travel adapter is small, light, and robust, and it works in over 150 countries. With two AC connectors, four USB ports, and one USB-C port, you may charge up to six devices at once. Aside from that, it includes a 45W QC/PD type C output, a high-power connector that can supply precise current for all of your devices, and it charges your devices 2.5 times faster than a standard charger. With a 10A fuse and built-in safety system, you can be sure that your devices are always safe from overcharging or overheating.
To top it all off, Agile is the only travel adapter in the world with 2 AC ports (1 US and 1 Universal). With this, you can charge two of your electrical devices that require plugs at the same time!
The US AC Power Adapter is ideal for hairdryers, curling irons, and other appliances that require US plugs, but it also lets you utilize foreign ends on chargers, Apple charges, and other items plugged into a Universal AC power outlet. All of these combine to make the Agile Travel Adapter the ideal travel companion!
If you want to get Agile Charger and Universal Travel Adapter for as low as 35$ then visit their website at https://agile.iblockcube.com/ today and avail of their early bird promo!
Disclosure: This is a sponsored post, we were compensated to publish this article on our website.
Disclosure: We might earn commission from qualifying purchases. The commission help keep the rest of my content free, so thank you!