Disclosure: We were compensated to review this product. We spend time testing it to make sure the review is honest and unbiased.
We all have been in the "disinfect everything" mode since the start of the COVID-19 pandemic in February. Despite being frustrated, we spend a lot of time cleaning our smartphones, eyeglasses, keys, watches, as well as wash face masks and gloves. Using disinfectant wipes to clean those stuff is a terrible idea because they are not only costly but also not compostable; Even biodegradable wipes can cause grave consequences on our environment.
A sanitizing bag is a much more effective solution to clean our belongings. In this post, we are checking out a bag from 59S.
Unboxing & Testing Video
How Does It Work?
Instead of wiping every single item, the 59S sanitizing bag is much easier and faster to use. What I love the most about the product is its portable and lightweight design. It has a handle on top so you can carry the bag anywhere. Just notice that it requires plugging into a power outlet to work.
To start sanitizing your stuff, you need to plug it in, put your items inside the bag, close the lid, and finally press the button on the front to start the process. It takes just about 3 minutes to complete the cleaning process.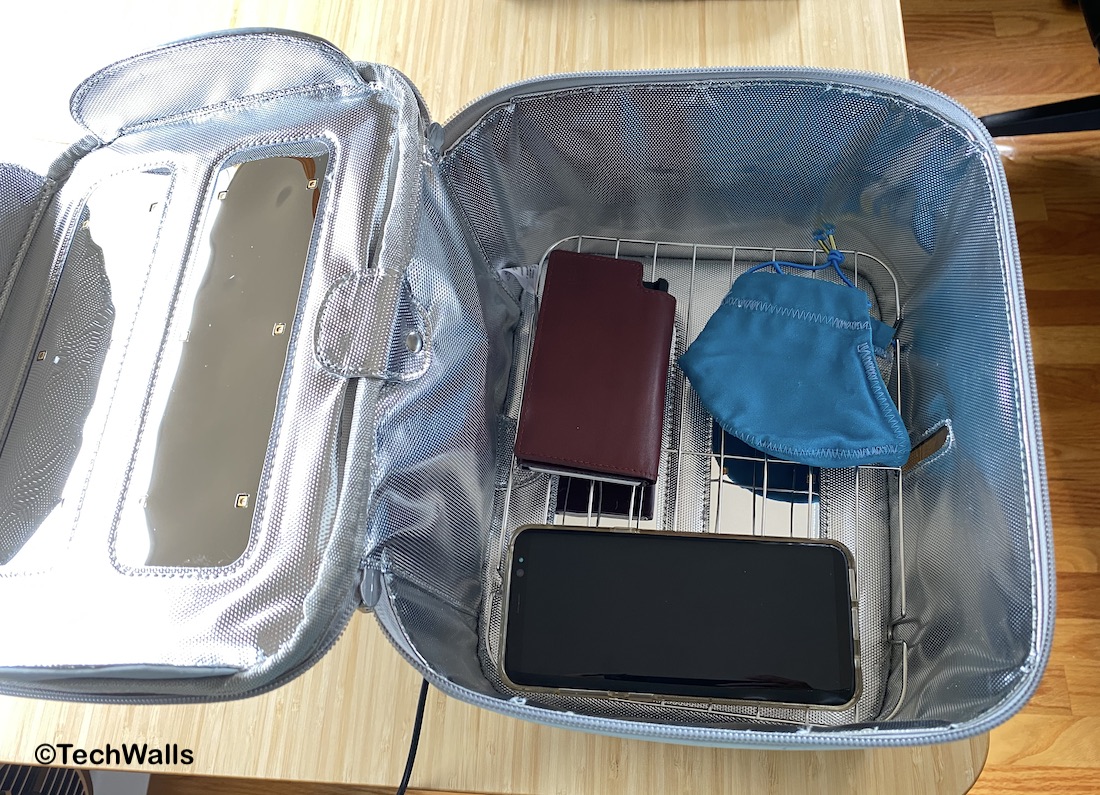 The bag measures 9.5 x 7.7 x 5.9 inches and it is spacious enough to clean all my essential items at once. I can easily fit my iPhone, wallet, a face mask and some other small items inside.
It has a rack to put your items on. You shouldn't place items too close or on top of each other because the 59S bag uses UV light and it needs to reach all surfaces for a complete disinfection. It uses an array of 24 LED lamp beads on the top and bottom; The interior also uses a shiny silver surface to reflect the light.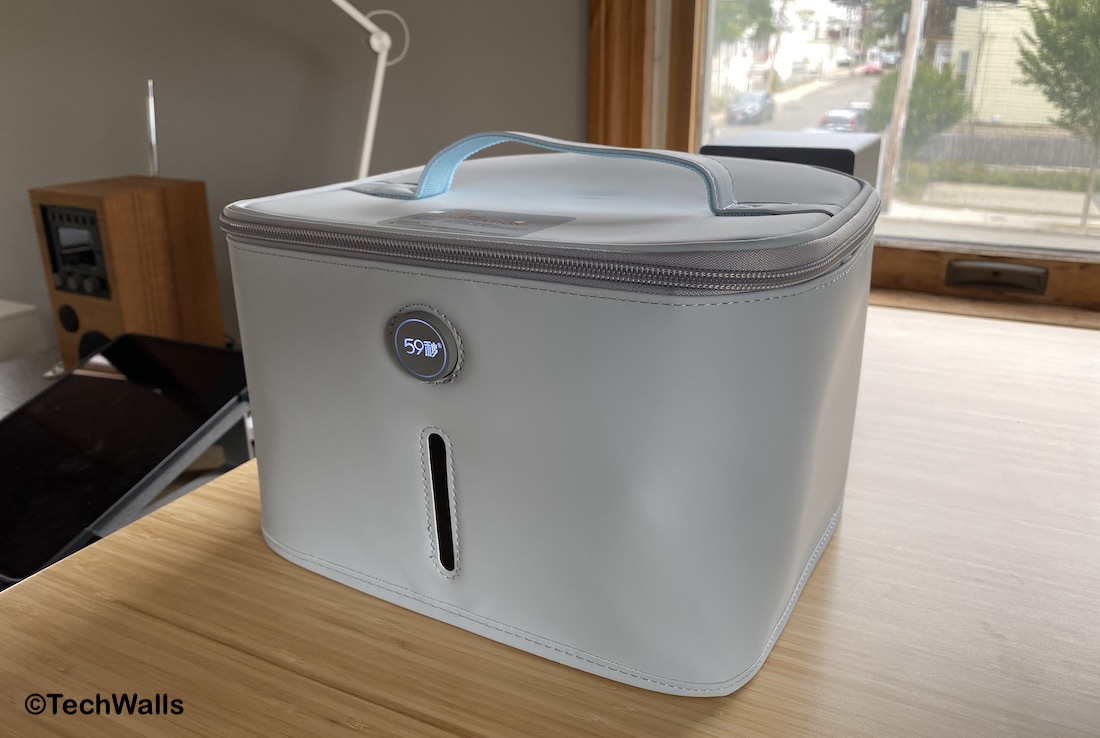 UV-C radiation has been known for killing germs, bacteria and viruses including SARS-CoV-2 (COVID-19). However, we don't know the wavelength, dose, and duration of UVC radiation required to inactivate the SARS-CoV-2 virus yet. This product uses UV-C light with short wavelength of 260-280nm in 3 minutes. An advantage of using LED light is that it doesn't contain mercury, however, it might be less effective because of the smaller lighting surface.
The light can be dangerous for your eyes and skin, fortunately, you won't be exposed to the UV-C light when using this product. Even when you accidentally open the bag when it is working, it will turn off automatically to avoid the exposure. It has obtained FDA certificate, EPA filing, and passed SGS sterilization test.
Disclosure: We might earn commission from qualifying purchases. The commission help keep the rest of my content free, so thank you!