Mental health apps are not a novelty. One of the first meditation apps, Headspace, was created in 2010 by certified meditation consultant Andy Paddicombe.
He was formerly a Buddhist monk. His main goal was to make meditation accessible to ordinary people. Since that time, more than 2,500 apps have been added to the app stores. Is there a space for your own meditation startup? Definitely, yes. But how to create a meditation app that could survive in this highly competitive environment? Keep reading to learn the basics of meditation app success.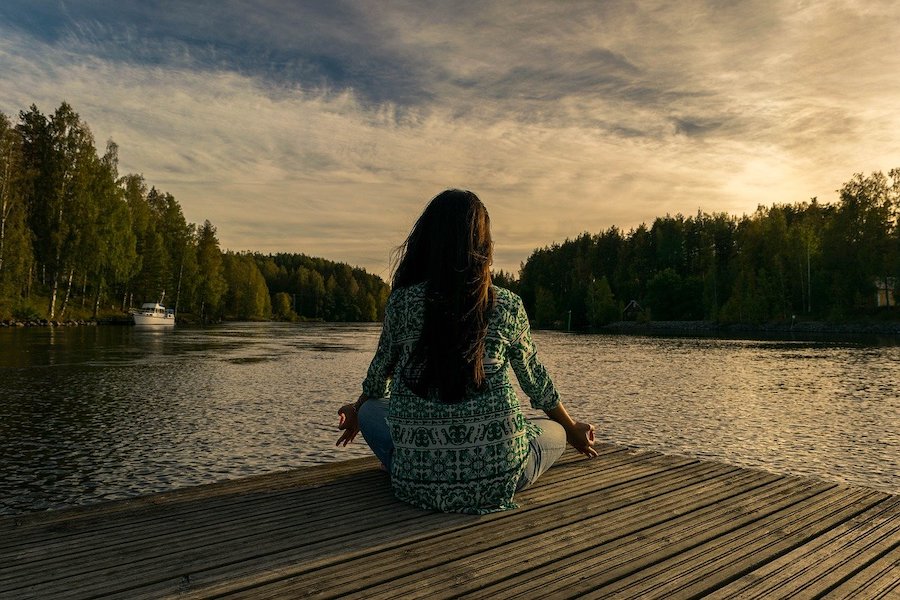 What Are the Key Features of a Mindfulness App?
It is not always the financial resources that determine the success of an application. In most cases, it is well-chosen functionality that attracts users. The top features to consider are:
Onboarding Tour. Your product should be equally friendly to both beginners and experienced meditators. You should provide users with complete guidance on it. A meditation guide will help them learn how to meditate and practice breathing.
Personalized Profiles. People love attention and the ability to trace personal progress. A product without personalization is doomed to failure, and a meditation app is no exception. The individual achievement system will keep your users extremely motivated. You can also add an element of gamification to it.
Nice UI Design. When it comes to mind-healing practices, every little thing matters — sound quality, guide's voice, background music, simple words, effective techniques. People using meditation sessions pursue two main goals. They learn to relax and focus. The app's interface should help them achieve it; so avoid bright colors and cluttered layouts.
Meditation Sessions. Users should be able to customize and manage their meditations. Ideally, the app will include sessions for beginners, intermediate and advanced meditators. It is vital not to limit the functionality of your app to meditation only. Consider adding other activities like help with sleep, anxiety, or stress relief.
Push Notifications. This feature plays an important role in attracting new users. It is considered a retargeting tool that helps keep users engaged.
Do Meditation Apps Bring Profit?
There are several ways to monetize any application, including meditation apps.
Paid download. Note that this method is not popular today as users are getting increasingly reluctant to download paid apps. But if you offer a nominal price, it may work.
Subscription. It is the main strategy for generating revenue in applications. The registered user gets access to all the services by purchasing a monthly, quarterly, or annual tariff plan. But note that people want to test what they are paying for. It is advisable to offer a trial period for everyone to see that the content is really worth attention.
In-app purchases. For meditation apps, usually, it is access to advanced content. You may offer individual consultations with experts or specific meditation sessions.
Advertisement. You can choose to earn via ads. However, it is not the best idea for this type of app. If a person gets constantly interrupted during a meditation session, they are likely to give it up.
The best approach is to consider at least two monetization strategies for your app to increase the chances of getting revenue.
Action Plan for Creating a Meditation App
Define your goals and audience
You should clearly understand what you are creating and who will use your product. Bear in mind that many novice users are skeptical about meditation. There is a huge variety of meditation apps, and you need to think in advance about what problem your product will solve. You should decide whether it is going to be a music therapy app or a yoga app. And the crucial point is to reach out to as many age groups as possible.
Select a platform
The majority of modern apps are created for Android or iOS. The winning approach is to develop a product that will run on both operating systems. It is easily achievable with the React Native framework that allows you to build products compatible with both platforms. This approach will help you cover a wider audience and get faster feedback in the short term.
Develop an MVP
It is a vital stage of the whole process. It will allow you to grasp the user attitude to your product prior to making huge investments. MVP development allows releasing a full-fledged product even if it has limited functionality. It will allow you to better understand your average user and their behavior patterns. Testing enables developers to finalize a feature list and a screen map — a kind of a draft for further design and development. Even if your idea fails, you will not incur excessive losses.
Work on UI/UX design
The competition in the market is so high that you need to be really inventive about your interface to catch users' attention. Successful design is not only about beautiful pictures and stunning animations. The product should solve the user's problem and not overload them with information. Always keep to a minimalistic yet functional design. Moreover, you would want to introduce machine learning algorithms to make the app as personalized as possible.
Choose a monetization strategy
We've touched upon this issue already, but it's really worth highlighting once again. It would be best if you thought in advance about how your application will make money. Even if you are at the very beginning of your path, do not underestimate the importance of this step. The future app development stages greatly depend on it.
Conclusion
Just a decade ago, nobody would think that mindfulness apps could become a successful business, but a growing focus on mental health proved the opposite. Meditation apps are in particular demand today when millions of people are looking for affordable and easy ways to decrease stress. Many companies even implement such programs at a corporate level. Once you have an interesting idea of how to help people, it is high time to fulfill it via an app. If you approach development through the eyes of your clients, your app may top the lists very soon.
Disclosure: As an Amazon Associate, I earn from qualifying purchases. The commission help keep the rest of my content free, so thank you!