We might not have flying cars now. But we can certainly control all appliances in our home with a mobile phone, talk to our digital assistants, and receive every service to your doorstep. In other words, we have technology deeply integrated into our lives.
Today, students have more access to technology than ever before. They use it to find academic resources, connect to a paper writer, and collaborate with other students from across the globe. This has led to learners excelling at innovation in all areas, including technology.
In this article, we will take a look at how students have succeeded in using their creativity and technical skills to develop these brilliant gadgets.
Robotic Guide Dogs
Taking inspiration from gaming consoles, a student at Loughborough University has come up with a digital version of a guide dog. The industrial design and technology student Anthony Camu decided to find the alternative, as not everyone would be able to use guide dogs due to cost, housing constraints, and other issues such as allergies.
His device essentially replicates the function of a guide dog into a handheld robotic device. The device called Theia is portable and light enough to be carried around. It can be used by the visually impaired to guide them in outdoor environments as well as large indoor spaces.
Theia is still in its prototype stage and has a few more fine-tuning to get done. But the concept is promising, and one that has a lot of potential in the industry.
Sweat-Powered Smart Wearables
We have had devices running on all kinds of energy. But if someone told you you could power devices on your sweat, that, of course, raises eyebrows.
The engineers at the University of Glasgow in Scotland have developed a technology that converts sweat as the energy source for wearable devices and smart textiles.
The flexible supercapacitor uses sweat as the electrolyte in the batteries. It takes only 20 microliters of the fluid and can be powerful enough to last for 4000 cycles of flexes and bends that it might endure during usage.
The technology is said to be highly innovative in fitness wear and tracking devices. As such devices are gaining more popularity, this invention offers an eco-friendly means of producing sustainable power.
Pantelligent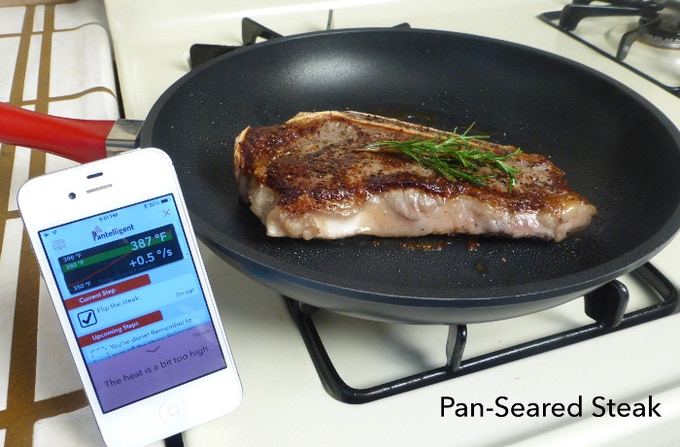 Students are way too familiar with the struggles of cooking as a campus resident. Humber Evans and Mike Robbins from MIT went through the same and soon realized the potential in their idea.
Pantelligent was born, a device that can make cooking easier for you. The students combined what they learned during the classes and sought the help of two MIT alumni, Kyle Moss and Yuan Wei. Together, they've created the first-ever smart cooking pan.
Now, here is the twist. The pan uses Bluetooth and a secret heat sensor to cook meals. It measures the temperature with these sensors and transmits the data to your phone via Bluetooth. You can use a programmed recipe or a freestyle mode that will only read the weather.
LuminAR Robotic Lamp
In 2010, MIT student Natan Linder developed a prototype for a robotic lamp that could beam the information on a surface, where you could interact with the projection. At the time, the lamp turned the traditional idea of bulbs and lights into a new concept of digital information divide.
The LuminAR Bulb has a projector, camera, and wireless computer in a compact form combined into one. It has a self-contained system that uses a gestural interface and could be screwed into light fixtures. After a decade, we are certain that the concept has contributed in many ways to innovations that followed.
The Baby Saver 2000
If you thought only university students could reach for the skies, here are a couple of teenagers from Arkansas in the US to prove you wrong. In 2017, their robotics teacher challenged them to enter a competition. Tyler Duke and Mason Convington came up with a car seat design, the Baby Saver 2000.
Due to very high temperatures in the US, many children die in hot cars due to organ failure across the country. With this in mind, the students decided to use the sensors and other in-built technology in cars to make the seats affordable and easily manufacturable.
If the sensor picks up a higher temperature, it will set off a panic button alerting the driver. The team went on to receive the Arkansas Children's Foundation and were finalists in the Samsung Solve for Tomorrow competition.
Wrapping Up
Though it might seem like these devices had little consequences in the real world, the students continue to be an inspiration for everyone who wants to chase their dreams. From a smart cooking endeavor to a safety device for babies, determined learners always find ways to bring ideas to life.
Disclosure: We might earn commission from qualifying purchases. The commission help keep the rest of my content free, so thank you!