The world is advancing with technology and each day the capacity of electronic gadgets is increasing. The reason lies with a huge amount of researches that are done behind the technological progress. We have now computers that are hundreds of times more powerful than their ancestors. Competing with the processors the memory cards have now reached a very high level.
People are generating more information than any time in the history. Every single day thousands of terabytes of information is shared over the internet. The world is very fast now generating a huge amount of information. At individual level, we can see the spread of smartphone has resulted in a revolutionary change in how we produce data from our day to day lives. Missing data, which is sometimes very important to us, happens pretty commonly in our lives. In this cases, data recovery system software plays a big role in saving our precious data.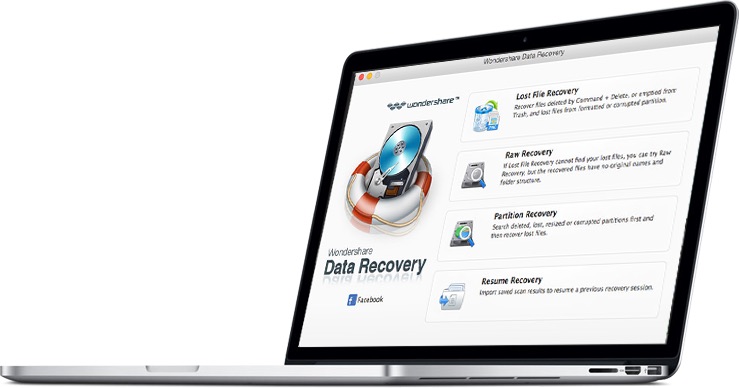 Wondershare Data Recovery System for Mac is an excellent option for you to revive your lost data. It is highly user-friendly and superbly efficient, featuring an intuitive and simple User Interface (UI) design. Let us find out more.
Design
The initial or opening UI shows several options of recovery:
Lost file recovery: This allows the user to revive deleted or emptied files from the Trash. It can recover files from internal or any external hard disk source.
Raw Recovery: This options lets you recover files as raw format.
Partition Recovery: It searches deleted, lost, resized or corrupted partitions and recovers them to original form.
iPhone Recovery from iTunes: This option recovers lost files of iPhone, iPad, iPod from iTunes backup file. This option works only if these gadgets were synchronized with iCloud.
Resume Recovery: This is another important part of the recovery software. If you once pause the recovery during the recovering process, this option lets you resume from where you stopped.
However, the design is neat and clean. The interface is very intuitive and anyone with least computer literacy would be able to use it. That is the best part of any application. User friendliness of the interface helps people use the app easily with minimum disturbance.
Many data recovery apps do not have as many functionalities as this one. It is also lag free. There are two kinds of lags that we experience while using such types of apps. One is internal application lag and the other one is the adjustment or the compatibility issue. Mac users are well aware of internal application lag is they use an older version of Mac. This may cause the app to open slowly and function with glitches. However, the app we are discussing today does not have those issues so far. It is butter smooth all the way.
Functionality
Wondershare Data Recovery System for Mac comes with exceptional ability to function without any glitches. It has super ability to find out any image, video, document or audio file that was deleted. We often have disks that have been formatted completely. Usually, data recovery system finds it hard to recover all the files from a formatted disc because of the nature of the loss. During formatting, the disk removes its data more deeply from its core. So, not all recovery software can revive functional files from such disks. May be they are successful partially, but in most of the time hundred percent data recovery is very difficult. Wondershare Data Recovery system literally does wonder in this sense by reviving almost all the data from a formatted hard disk.
Advantages
Deep Scan
When normal scanning of the disk is not enough, deep scan is needed. Wondershare would let you do the deep scanning option to apply. This way more lost files from the disc can be revived. Sometimes, we format disks not just one time. There are occasions when we do the formatting multiple times at a stretch. As a result, data get severely distorted. In this cases, deep scanning is essential for proper recovery of those data.
Raw Recovery
In many occasions, regular raw file scan may not show any result from this software. In those cases, Raw Recovery option will work.
Preview Found File
A formatted disk may have many deleted files. Not all of them are useful to us. So recovering them would be a waste of time and energy. Instead, if we can choose what files we need to recover, it becomes easier for us. For that we would need a proper preview function and Wondershare has that preview of the lost file option. So, in this sense it is a highly useful option to have.
Recover Broken Partition
Wondershare has this unique property to recover broken partition as well. It can also recover saved iPhone files from iTunes.
Super-Fast UI
The software is smooth and fast. Users of old iMac machines may find other software running slow on their computer, but while running Wondershare they would not see any of such problem. It is mostly because of its brilliant and flawless programming design. The software would never cause any hang in the Mac.
Tutorial
The software can be bought from the official website of Wondershare Data Recovery System. But before you buy it, you should use the trial version. The trial version has all the functionalities intact but the recovery amount has a limit. However, for initial testing it is enough. If you are satisfied with the software you can buy it from the same website. They have digital payment system which is also secure. So, you would not have to worry about payment.
After installing it in your Mac you can run it by clicking on the icon of the softer from the desktop. You can also run it from your iMac App Launcher.
Final Thoughts
This particular data recovery software would get 9 out of 10 in the rating for not only its functionalities, but also for its performance. If you need a data recovery system for you Mac, you can grab it immediately.
Disclosure: As an Amazon Associate, I earn from qualifying purchases. The commission help keep the rest of my content free, so thank you!